TORONTO, February 20, 2020 – The 2020 Queen's Plate Winterbook was released today featuring a list of 92 three-year-old Thoroughbreds nominated to the Canadian Triple Crown, topped by rising star Malibu Mambo.
Malibu Mambo has been assessed as the early 4-1 favourite in this year's set of predictive rankings for the 161st running of the $1 million Queen's Plate, the first jewel of the Canadian Triple Crown set for Saturday, June 27 at Woodbine Racetrack. Woodbine's annual Winterbook is evaluated by Ron Gierkink and Alex Campbell of the Daily Racing Form.
"Obviously, it's exciting when you have a horse leading up to a race like that chosen as the Winterbook favourite," said trainer Kevin Attard, whose 2020 Triple Crown hopefuls include another top-ranked contender named Clayton and the filly Blessed Truly, half-sister to last year's Queen's Plate winner One Bad Boy. "I figured he'd be one of the choices. I was a little surprised that he is the Winterbook favourite but, needless to say, I'm excited to have him in the barn."
Stronach Stables' homebred Malibu Mambo, a colt by Point of Entry out of the Tiznow mare Polyantha Rose, won at first asking over seven furlongs on the Tapeta last August and made two subsequent stakes starts during his freshman campaign. He rebounded from an off-the-board finish in the Cup and Saucer turf stakes with an exciting second-place effort in the Coronation Futurity, where he circled the field and closed relentlessly to finish just a head short at the wire.
"I was real high on the horse from the get-go," said Attard. "Before we ever ran him, I thought he was going to be a nice colt and the first time he ran to expectations. I was very disappointed in his race in the Cup and Saucer. I thought going into that race he was doing really well, he breezed really well over the turf and just never showed up that day. I'm still kind of puzzled by that race. He worked good again going into the Coronation and I was glad to see him come up with a big race. It was a tough way to get beat, but I was happy to see him rebound back into form."
After some R & R at Adena Springs this winter, Malibu Mambo is back in training at Gulfstream Park, where he has recorded two short works this month including his latest on February 17.
"So far so good, he looks well," said Attard. "Mentally, I think he's got the right tools for that kind of race date with the long post parades and big crowds. I think he's got the tools to be the horse for a mile and a quarter on that Saturday in June."
Attard's best finish in the Queen's Plate to date was with 2007 runner-up Alezzandro, who went on to win the Prince of Wales Stakes.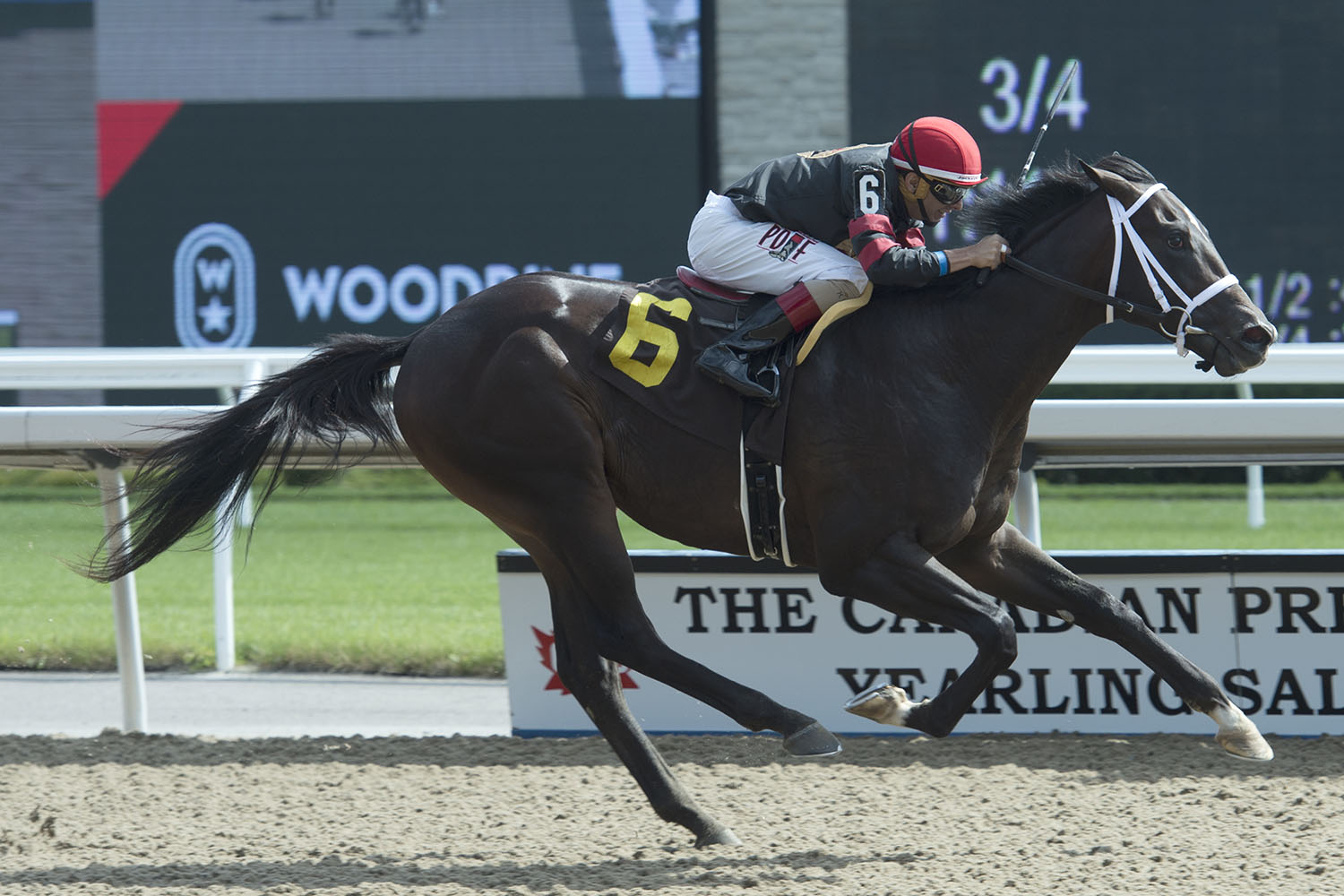 Chiefswood Stable's homebred Edge of Fire is the 5-1 second choice in the Winterbook following an impressive debut on February 1 at Gulfstream Park. The Curlin-Leading Edge colt is trained by Jimmy Jerkens, winner of the Canadian classic in 2017 with Holy Helena.
Ranked number three at 6-1, Curlin's Voyage is one of 14 fillies nominated to the Canadian Triple Crown. Five fillies have won the Queen's Plate this millennium including two of the last three editions by 2018 champion Wonder Gadot and Holy Helena. The Curlin-Atlantic Voyage miss inherited the Grade 3 Mazarine title last year and closed out her six-race season with another stakes win in the Ontario Lassie for Hill 'n' Dale Equine Holdings and Windsor Boys Racing. She is trained by Josie Carroll, who campaigned last year's Winterbook favourite Avie's Flatter and is the only female trainer to have won the Queen's Plate (Edenwold, 2006; Inglorious, 2011).
A total of 58 fillies have been nominated to the 65th edition of the $500,000 Woodbine Oaks Presented by Budweiser. Woodbine will host the first leg of the Triple Tiara on Saturday, June 6 along with the Plate Trial.
The top 10 and complete Winterbook rankings, listed in alphabetical order, can be viewed below.
Premium grandstand tickets for the 2020 Queen's Plate Festival are currently on sale at Ticketmaster.ca. Visit QueensPlate.com and follow @WoodbineTB for the latest updates on #QP20.
Top 10
Malibu Mambo (4-1)
Edge of Fire (5-1)
Curlin's Voyage (6-1)
Halo Again (8-1)
Famished (10-1)
Elusive Knight (12-1)
Auburn Hills (14-1)
Clayton (16-1)
Dotted Line (18-1)
Corsi (20-1)
Abilene Trail (40-1)
Artie's Princess (30-1)
Awesome Tiger (40-1)
Barilko (40-1)
Belichick (50-1)
Big Time Gizmo (50-1)
Blessed Truly (25-1)
Bold Victory (30-1)
Capilano Canyon (40-1)
Captain Hank (50-1)
Casanova Kitten (40-1)
Checkerboard Floor (75-1)
Cool Devil (75-1)
Creative Force (50-1)
Curlin's Thrill (40-1)
Deviant (40-1)
Embrace My Uncle (50-1)
Enchant Me (50-1)
Entry to Heaven (50-1)
Excelling (75-1)
F B I Guy (50-1)
F F Rocket (50-1)
Final Eclipse (75-1)
Fort Hope (75-1)
Galileo's Wildcat (75-1)
Glorious Tribute (40-1)
Golden Wave (50-1)
Google It (40-1)
Green Growth (30-1)
Gun Society (30-1)
Handsome Devil (75-1)
Holy Saint (50-1)
Holyfield (50-1)
I Love Gold (50-1)
Icomefromdowntown (75-1)
Keep On Truckin (25-1)
Kunal (40-1)
Last American Exit (40-1)
Loch Garman (50-1)
Malibu Edge (50-1)
Merveilleux (25-1)
Meyer (40-1)
Mighty Heart (50-1)
Muskoka Giant (40-1)
Muskoka Gold (25-1)
Muskoka Storm (50-1)
Mysterious Love (75-1)
Northern Conquest (75-1)
Northern Thunder (40-1)
Olliemyboy (50-1)
Orsay (40-1)
Owlette (30-1)
Palace Coup (40-1)
Parmigiano (40-1)
Perfect Revenge (40-1)
Phantom Dance (50-1)
Pleasecallmeback (25-1)
Priceless Will (40-1)
Red Giveaway (25-1)
Red Storm Risen (50-1)
Restraint of Trade (75-1)
Sansa's Vow (50-1)
Seatime (75-1)
See Forever (40-1)
Silent Causeway (40-1)
Small Talk (40-1)
St. Paddy's Daddy (50-1)
Stormy Soul (40-1)
Swanky Knight (50-1)
Sycamore Run (25-1)
Tecumseh's War (40-1)
The Reign Man (30-1)
Tomcat Black (30-1)
Torontotoro (75-1)
Torpedo Max (40-1)
Total Destruction (50-1)
Truebelieve (30-1)
Truth Hurts (30-1)
Underscore (50-1)
Uplifting Spirit (50-1)
Voltamour (75-1)
Waltzing Champ (50-1)