TORONTO, June 17, 2021 – Multiple stakes champion and fan favourite Pink Lloyd goes after his fifth straight Grade 3 Jacques Cartier Stakes crown, Sunday at Woodbine, part of a 12-race card that also features the $125,000 Woodstock Stakes.
A seven-time Sovereign award winner, including Horse of the Year honours in 2017 and four straight (2017-2020) Male Sprinter titles, Pink Lloyd, owned by Entourage Stable and trained by Canadian Horse Racing Hall of Fame inductee Robert Tiller, will launch his 9-year-old campaign in a race he has dominated since 2017.
With regular rider Rafael Hernandez on the sidelines after an injury suffered in an opening day spill on June 12, Daisuke Fukumoto will take the reins of the speedy son of Old Forester in the $150,000 Jacques Cartier.
Tiller, who has campaigned the ultra consistent chestnut since his first start in 2016, will take a race-to-race approach with Pink Lloyd this season.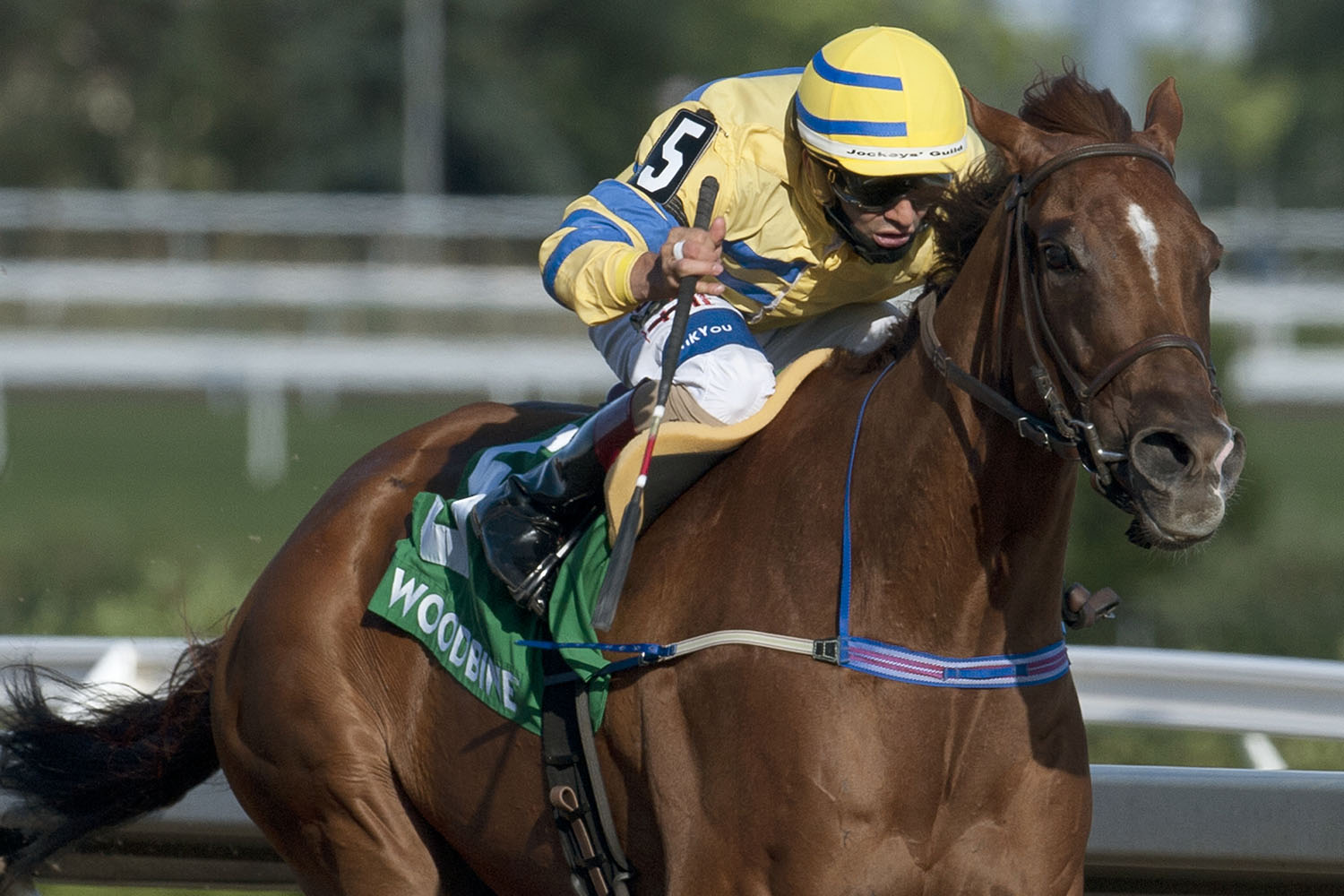 "You're dealing with a 9-year-old," said Tiller, who won the first race of the 2021 Woodbine Thoroughbred meet with Five Days in May. "This horse, his career will be over this year at some time. He will be retired this year. He's been a wonderful animal, he's earned over $2 million, and he loves racing. He's happy and he's sound right now – that's why he's running. We're going to take it one start at a time and make a decision after each start."
Bred by John Carey, Pink Lloyd launched his career five years ago, winning his first three races, including a victory in his debut on August 28, 2016, a 1 ½-length score over six furlongs on the Woodbine main track.
The veteran campaigner hasn't missed a beat since then, racking up a slew of stakes triumphs while filling his connections' trophy cases with hard-earned hardware.
"We have a lot of challenges for this race," noted Tiller. "He carries high weight again. If he runs a good race like he did in his last race of 2020, I'll be happy and we'll see how he comes out of it. The horse is doing well and he has every right to run in this race."
When Pink Lloyd is retired, he'll be sent to LongRun Thoroughbred Retirement Society to enjoy his post-racing life.
As Tiller noted last year, "He'll be a movie star there after being a rock star on the racetrack."
Other contenders include Wesley Ward trainee Joker On Jack, 2020 Jacques Cartier runner-up Malibu Secret, Zilli Racing Stables' 5-year-old Readyforprimetime, Live Oak Plantation homebred Souper Stonehenge, and stakes winner Dixie's Gamble.
***
Listed at 25-1 in the Queen's Plate Winterbook, Derzkii, a 3-year-old son of Frac Daddy, will make his 2021 debut in the Woodstock Stakes, traditionally a key prep on the road to Canada's most famous horse race.
Owned by Fieldstone Farms Inc., and trained by Carlos Grant, the two-time winner from six starts closed out his 2-year-old campaign with back-to-back scores, on October 18 and November 12.
Grant saw potential in Derzkii early on, but waited until after the dark bay's first race to see if his confidence was warranted.
"Some of them will fool you, so you just have to wait until they start racing. When he was a yearling, he'd be running around the paddock like a madman. There would be ice and everything in the paddock, and he'd be going like a madman. I always told my wife and my brother-in-law, 'He's a freak.' Nothing will faze him. That's what you want in a horse.
"He just can't stand it when you leave him in his stall. I have to train him first in the morning and when he comes off the track, he's still full of energy. He's got no shortage of energy. He's a beautiful horse to be around."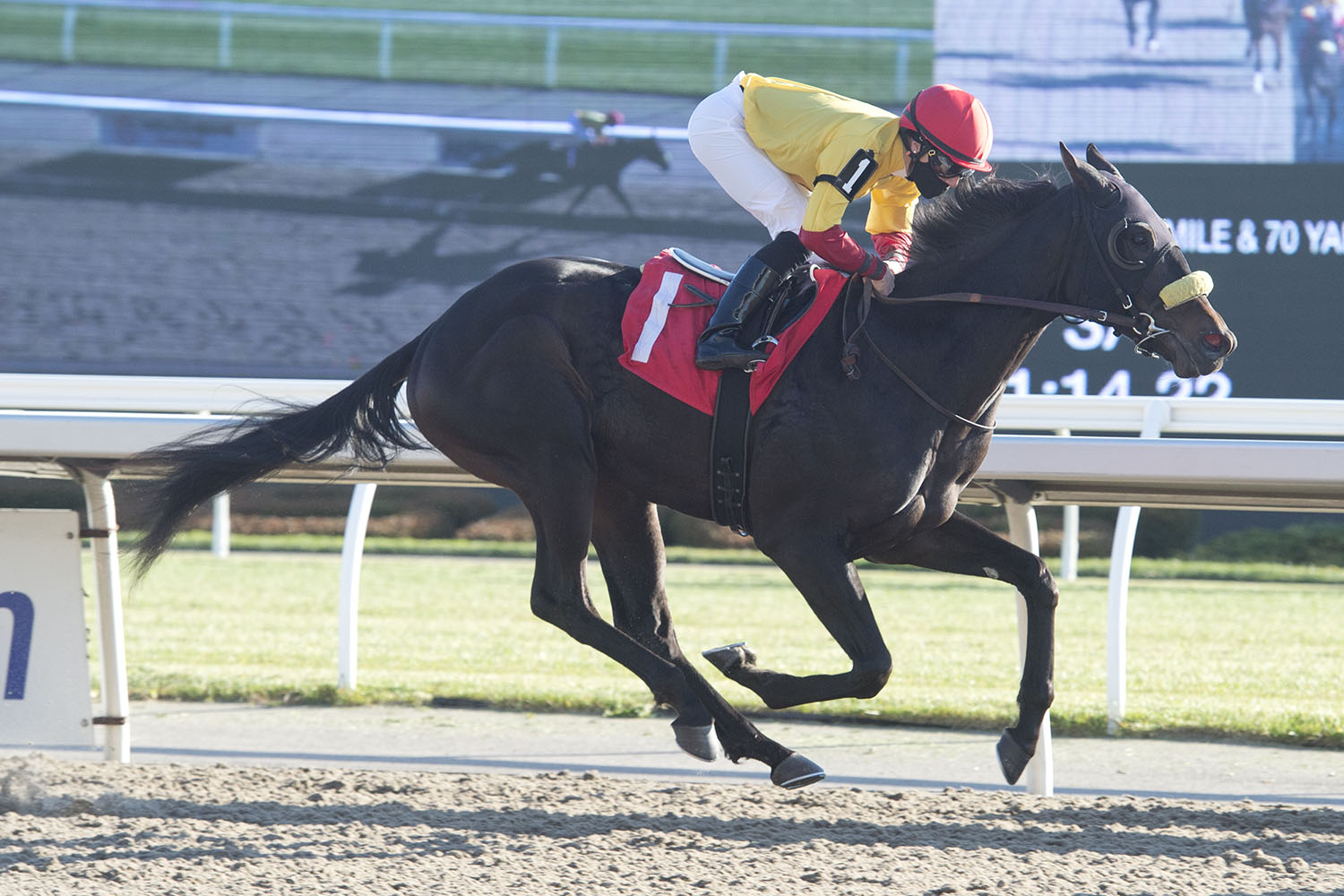 After a third, fourth, fifth and second to begin his career, Derzkii, bred by Megan Allan and Lesley Kraus, hit his best stride in his past two performances.
Grant was thoroughly pleased with his rookie campaign.
"He had a beautiful year. He came out of all the races very happy and he showed us all what he could do out there. I usually give my horses three days off, depending on how they come out of the race, but he was ready and raring to go again the day after his races. During his training, I realized he wanted to go further. After every work, I would say, 'This guy wants to go long.' In his third start, I noticed him looking around, so we put the blinkers on. We made that adjustment and that was all he needed."
This will be the second stakes appearance for Derzkii, who finished fourth in the 2020 Simcoe Stakes.
His connections are hoping it's the start of even bigger things to come.
"I dream about it [Queen's Plate] every day, every single minute," said Grant. "Racing in the Plate would be a dream come true. We have to keep our fingers crossed."
The field showcases stakes winners Chasing Artie, Jaxon Traveler, Master Spy, and Outadore, along with multiple stakes placed Sky's Not Falling, and Saturday George, who broke his maiden with an impressive turf triumph last September at Woodbine.
FIELD FOR THE JACQUES CARTIER
Post – Horse – Jockey – Trainer
1 – Joker On Jack – Emma-Jayne Wilson – Wesley Ward
2 – Pink Lloyd – Daisuke Fukumoto – Robert Tiller
3 – Malibu Secret – Kazushi Kimura – Martin Drexler
4 – Readyforprimetime – Justin Stein – Michael De Paulo
5 – Souper Stonehenge – Patrick Husbands – Mark Casse
6 – Dixie's Gamble – Luis Contreras – Josie Carroll
FIELD FOR THE WOODSTOCK
Post – Horse – Jockey – Trainer
1 – Chasing Artie – Kazushi Kimura – Wesley Ward
2 – Outadore – Justin Stein – Wesley Ward
3 – Saturday George – David Moran – Michael De Paulo
4 – Jaxon Traveler – Luis Contreras – Steve Asmussen
5 – Sky's Not Falling – Gary Boulanger – Michael Trombetta
6 – Derzkii – Emma-Jayne Wilson – Carlos Grant
7 – Master Spy – Patrick Husbands – Mark Casse
The Jacques Cartier is scheduled as race seven. The Woodstock goes as race 10. First post is 1:20 p.m. Fans can watch and wager on all the action via HPIBet.com.