TORONTO, June 1, 2019 – Fans have been along for the thrilling ride and have witnessed the undeniable bond between Canadian sprint champion Pink Lloyd, jockey Eurico Rosa Da Silva and Hall of Fame trainer Robert Tiller—a ride of a lifetime that just continued for the endearing chestnut and his connections in the $125,000 Greenwood Stakes early Saturday afternoon at Woodbine.
"You know what? In the backstretch he said, 'Eurico, enjoy the trip. I'm going to take care of this.' And in the turn, he just kicked," said Woodbine's leading jockey of his latest winning trip aboard the 2017 Horse of the Year. "I took him a little bit outside and he said, 'Hold on because I'm going to accelerate!'"
After settling mid-pack while his stablemate Circle of Friends and Sumarian Bell dueled through opening splits of :21.56 and :44.25, Pink Lloyd launched outside in the turn and won the six-furlong sprint going away in 1:08.98. Late closers Marten Lake and Call Me Wally chased in vain to pick up the minor spoils.
Formerly known as the Achievement Stakes, the Greenwood Stakes was originally slated for May 25, but was rescheduled when a late afternoon thunderstorm that day prompted a rain delay following post parade and subsequent cancellation.
However, the postponed running of the Greenwood Stakes was no concern to Tiller or Da Silva, who described the veteran gelding as a different horse this year who has been very relaxed.
"Deep down inside I wasn't worried about it," said Tiller. "I knew we had him in good order, I knew he was happy. As long as everything goes good with the gate thing and his little issues last fall, I knew he was going to run a big one. I really wasn't concerned about the delay. He's a smart horse."
Fresh off a victorious season's debut in the Grade 3 Jacques Cartier on May 4, the seven-year-old son of Old Forester was the overwhelming 1-5 favourite and returned $2.70 to win.
Pink Lloyd, who won the Achievement Stakes twice amid an 11-stakes win streak, now boasts 18 victories from 23 lifetime starts and nearly $1.4 million in purses for the Entourage Stable.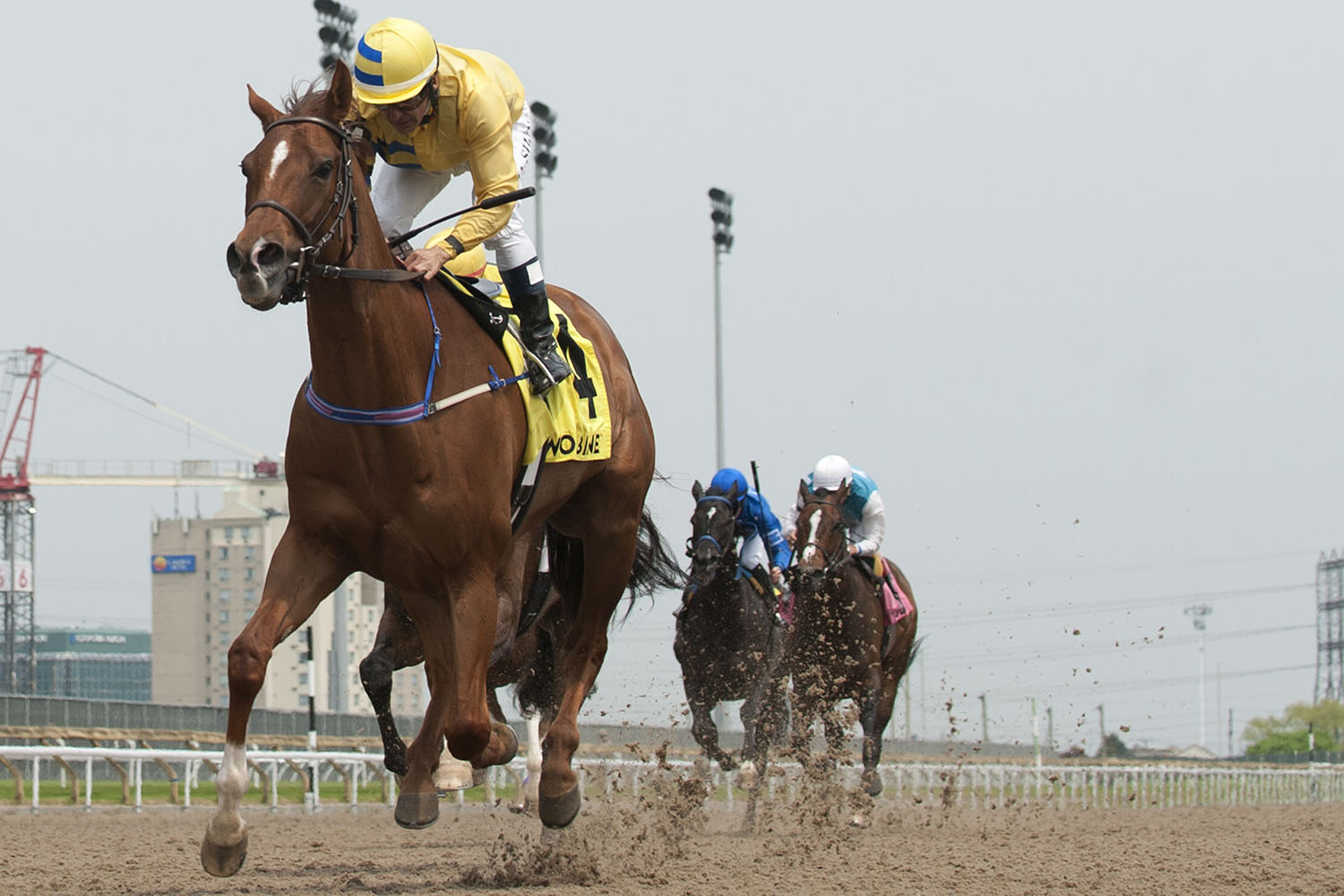 Live Thoroughbred racing continues on Sunday at Woodbine, featuring the $100,000 Bold Ruckus Stakes. First race post time is 1:05 p.m.