EARLY LOOK AT THE JUNE 30 QUEEN'S PLATE PROBABLE FIELD (16)
PROBABLE FIELD FOR THE 159TH RUNNING OF THE QUEEN'S PLATE
Horse / Trainer / Owner / Jockey
Aheadbyacentury / John Ross / Jack of Hearts Racing and J.R. Racing / Luis Contreras
Alternative Route / Al Stall, Jr. / Spendthrift Farm LLC & Town and Country Racing, LLC / Mitchell Murrill
Boyhood Dream / Michael Maker / Kenneth and Sarah Ramsey / Alan Garcia
Cooler Mike / Nick Nosowenko / Mike and Nick Nosowenko / Jesse Campbell
Dixie Moon / Catherine Day Phillips / Sean and Dorothy Fitzhenry / Eurico Rosa da Silva
Inge / Norm McKnight / Bruno Schickedanz / TBD
Marriage Counselor / Michael Maker / Kenneth and Sarah Ramsey / Jalon Samuel
Neepawa / Mark Casse / Chiefswood Stable / Florent Geroux
Pawnbroker / Michael Maker / Kenneth and Sarah Ramsey / Joel Rosario
Real Dude / Sid Attard / Stronach Stables / David Moran
Rose's Vision / Stu Simon / Chiefswood Stable / Javier Castellano
Say the Word / Graham Motion / Sam-Son Farm / Rafael Hernandez
Silent Poet / Nick Gonzalez / Stronach Stable / Gary Boulanger
Strike Me Down / Graham Motion / Sam-Son Farm / Jose Ortiz
Telekinesis / Mark Casse / Stonestreet Stables LLC / Patrick Husbands
Wonder Gadot / Mark Casse / Gary Barber / John Velazquez
AHEADBYACENTURY SEEKS A TIMELY END TO PLATE JINX
The so-called curse of Apollo, under which no horse had won the Kentucky Derby when unraced as a 2-year-old since 1882, was lifted this year by Triple Crown winner Justify.
Canada has its own version of that now extinct jinx, as no horse since Norcliffe in 1976 has parlayed victory in Woodbine's Coronation Futurity into success in the Queen's Plate.
And that is a conundrum since the Coronation Futurity, at 1 1/8-miles, is the longest race in the country for 2-year-olds and logically should be a predictor of success in Canada's most famous race.
John Ross, who won last year's Coronation Futurity with Aheadbyacentury, is aware of this fact but sees no logical reason for the drought.
"We're going and try to put an end to that," said Ross. "He's good and fit, and he's ready. Now we just have to keep him happy and healthy."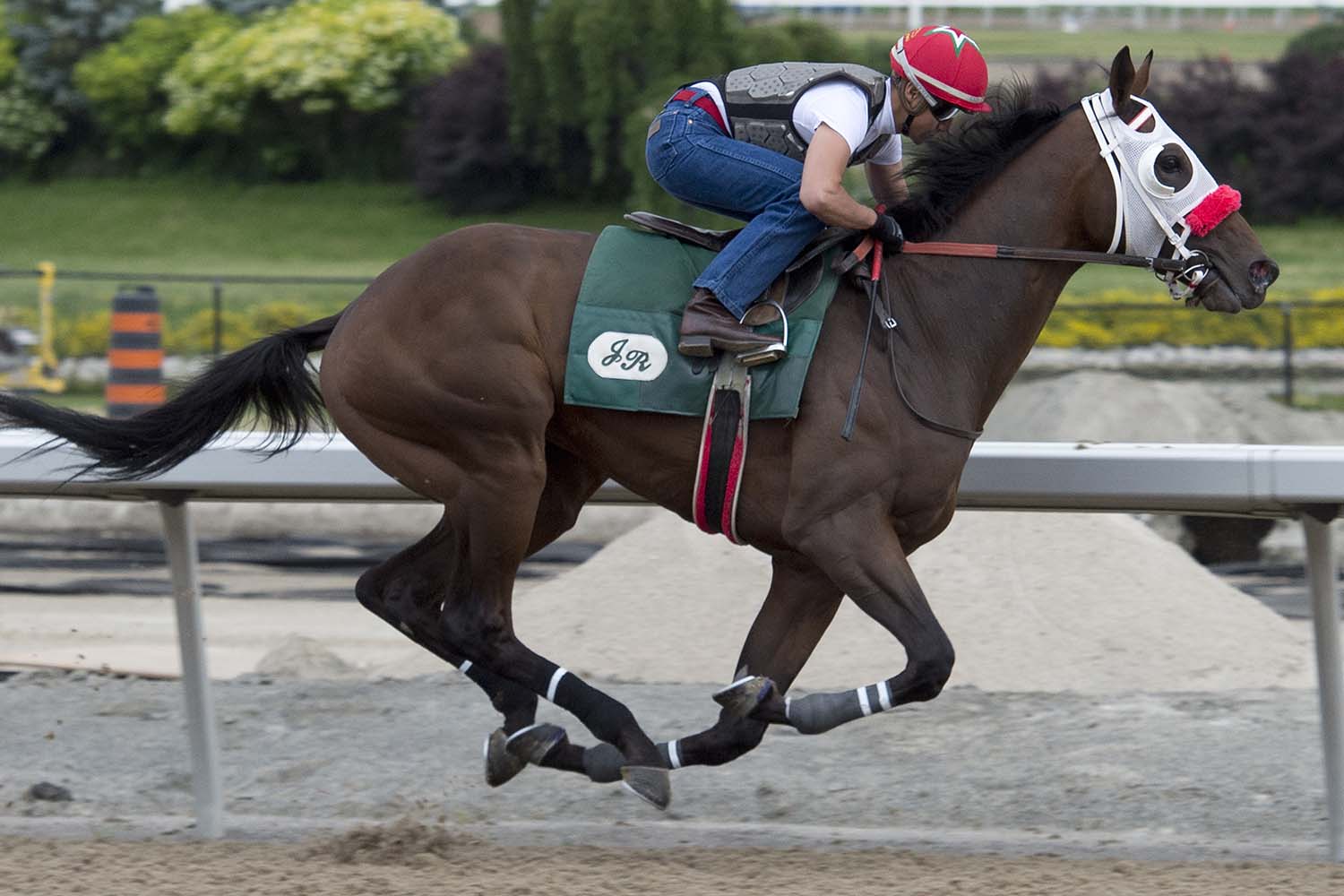 Aheadbyacentury, named for the Tragically Hip song which was the encore at that group's farewell concert in their hometown of Kingston, Ontario, caught the eye of Ross at the local select yearling sale and was purchased for $67,000 in partnership with the newly-formed Jack of Hearts Stable.
And while Aheadbyacentury performed well when making his first two starts in stakes sprints, Ross had always believed that his forte would be two-turn races.
"He was coming from the back, and he'd come on," said Ross. "You could tell he wanted more ground."
Aheadbyacentury verified his trainer's opinion by graduating at 1 1/16-miles and then doubling up in the Coronation Futurity.
"It worked out pretty good for us, to finish up his 2-year-old year like that," said Ross.
This year, Aheadbyacentury has been on the fringes in three starts here, beginning with a fifth-place finish in the seven-furlong Queenston Stakes and continuing with thirds in both the 1 1/16-mile Marine and 1 1/8-mile Plate Trial, running similar races on both occasions.
"He was coming on well," said Ross. "Now we've just got to up the ante a little bit more; his numbers are just a shade lower than I'd like. But I think that the horse is going to come into the Plate even better. When he worked the other day (June 20) it was just a little maintenance work but he galloped out in 1:14. Luis (Contreras) was on him and all the time he was working he was on the bridle, and he had lots of horse. That's what we loved about it."
Aheadbyacentury, who had raced without blinkers for the first time in the Plate Trial, will be reverting to his shaded state for this most important appearance.
"He's a little more attentive to things, with the blinkers on," said Ross.
PLATE CONTENDERS ON THE WORK TAB
Rose's Vision, runner-up behind probable Queen's Plate favourite Telekinesis in the 1 1/8-mile Plate Trial, breezed five furlongs in 1:03.60 here Saturday morning.
With exercise rider Kevin Mayers in the irons, Rose's Vision worked outside stablemate Unbounded Spirit, pulling away in the closing yards. Head clocker Ernie Perri caught Rose's Vision's final quarter in :23.80.
"He went a very easy first quarter and came home fast," said Stu Simon, who trains the homebred Rose's Vision for Chiefswood Stable. "Then he had a long gallop-out. It was just the way you'd like them to work, coming into a mile and a quarter race."
Unbounded Spirit, a maiden 3-year-old, was timed in 1:03.80 under exercise rider Ryan Bott.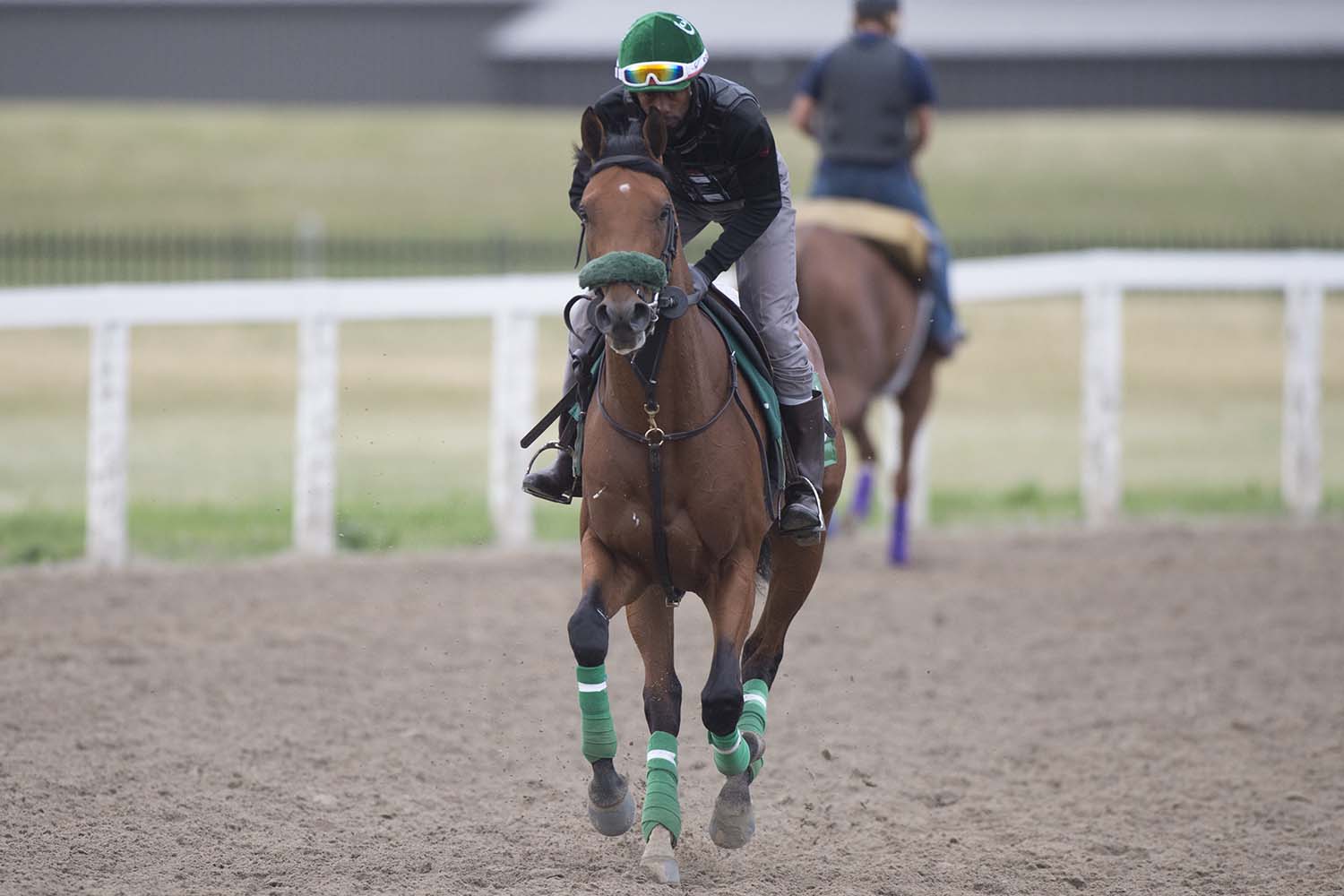 The Woodbine Oaks winner also prepped for the Plate this morning as Dixie Moon breezed four furlongs in :47.20 and galloped out five furlongs in 1:00.20 according to Perri's watch.
Regular rider Eurico Rosa da Silva was aboard Dixie Moon, who was accompanied by stablemate Gilded Splinters.
"I was very happy with her," said Catherine Day Phillips, who conditions the homebred Dixie Moon for Sean and Dorothy Fitzhenry.
Gilded Splinters, a 5-year-old mare who is a four-time winner while racing exclusively on turf, also was timed in :47.20.
Neepawa, who also will contest the Plate for Chiefswood but is trained by Mark Casse, breezed an easy four furlongs in :49.20 while outside stablemate Rosemere.
The homebred son of Scat Daddy is coming into the Plate off a good third-place finish in a 1 1/16 mile first-level allowance race won by Cooler Mike, who also is Queen's Plate-bound.
Rosemere, a 3-year-old filly, is a stakes-placed winner of two races.
Pawnbroker and Boyhood Dream, who will contest the Plate for trainer Mike Maker and owners Ken and Sarah Ramsey, worked five furlongs in :59.20 in company under the watchful eye of assistant trainer Nolan Ramsey.
Former jockey/now exercise rider Katie (Clawson) Ramsey, wife of the young assistant, guided Pawnbroker through a :59.20 move which was the quickest of 49 at the distance.
Boyhood Dream, on the outside, was edged by Pawnbroker and while he was given the same clocking he was adjudged to be going 'handily'.
The pair shared the 'bullet' of 49 workers at the distance.
Pawnbroker has raced just once, finishing fourth in a six-furlong maiden race. Boyhood Dream won a maiden $30,000 claiming race over 1 1/16 miles at Keeneland this spring and finished fourth, beaten eight lengths, in the Plate Trial.
Marriage Counselor, a third Plate-bound colt from the Ramsey outfit, breezed three furlongs in :35.60 under new rider Jalon Samuel.
The homebred graduated here last out in a maiden claiming race at 1 ¼ miles on the turf course.
Real Dude, who is heading into the Queen's Plate as a maiden after two starts, breezed six furlongs in 1:14.40 under his new rider David Moran, going in company with stablemate Atypical.
"It went well," said Sid Attard, who trains the homebred Real Dude for Stronach Stable. "David liked the way he worked,"
Atypical, a 7-year-old gelding, is a five-time winner.
PLETHORA OF WAGERING OPTIONS FOR PLATE DAY
With a 13-race card expected for Queen's Plate day, racing fans will be treated to a bounty of wagering options including a total of $700,000 in Guaranteed Pick 4 and 5 pools. The wagering menu will include:
Early Pick 5: $100,000 Guaranteed, Races 2-6
Early Pick 4: $200,000 Guaranteed, Races 4-7
Late Pick 5: $100,000 Guaranteed, Races 6-10
Late Pick 4: $300,000 Guaranteed, Races 10-13
TREAT YOURSELF TO THE ROYAL BLUSH
Woodbine Entertainment will be serving up a new signature cocktail, the Royal Blush, for the 2018 Queen's Plate.
The Royal Blush is a mixed cocktail that features Absolut Vodka with McGuinness Triple Sec, strawberry mix and a splash of cranberry juice topped with Villa Sandi Prosecco sparkling wine. A maraschino cherry garnish completes this blushing beverage, which reflects Woodbine's new brand colours with a salute to the Canadian tradition of the historic race.
"Inspired by Woodbine's new brand launch, we set out to develop a special signature drink to enhance the overall Queen's Plate experience," said Jorge Soares, Vice President of Hospitality. "The Royal Blush is a delectable drink with fruity tones and a hint of sweetness that should appeal to our Queen's Plate guests. The addition of sparkling wine is a unique touch and adds a flair of elegance to complement the essence of the event."
The Royal Blush will be served on the rocks for $13.50 (taxes included) or in a commemorative Queen's Plate glass for $15. The new cocktail will be available across the property during the Queen's Plate Festival at locations including the dining rooms, grandstand, trackside apron, Paddock Party in the Budweiser Paddock and Hats & Horseshoes Party presented by Stella Artois.
Learn how to mix your own Royal Blush by visiting QueensPlate.com.