AN EARLY LOOK AT THE PROBABLE FIELD FOR THE $1 MILLION RICOH WOODBINE MILE (11)
Horse – Trainer – Owner – Jockey
Admiralty Pier – Barbara J. Minshall – Hoolie Racing Stable LLC and Bruce Lunsford – Luis Contreras
American Guru – Michael J. Doyle – Stronach Stables – Rafael Hernandez
Awesometank (GB) – William J. Haggas – Lee Yuk Lun – TBA
El Tormenta – Gail Cox – Sam-Son Farm – Eurico Rosa Da Silva
Emmaus (IRE) – Conor Murphy – M and J Thoroughbreds LLC and Riverside Bloodstock LLC – Jamie Spencer
Got Stormy – Mark E. Casse – Gary Barber and Southern Equine Stable LLC – Tyler Gaffalione
Lucullan – Kiaran P. McLaughlin – Godolphin LLC – Luis Saez
Mr Havercamp – Catherine Day Phillips – Sean & Dorothy Fitzhenry – Junior Alvarado
Raging Bull (FR) – Chad C. Brown – Peter M. Brant – Joel Rosario
Silent Poet – Nicholas Gonzalez – Stronach Stables – Gary Boulanger
Synchrony – Michael Stidham – Pin Oak Stable – Flavien Prat
STAR FILLY GOT STORMY ANOTHER TOP RICOH WOODBINE MILE CONTENDER FOR CASSE
TORONTO, September 5, 2019 —When Got Stormy made her first Woodbine appearance last summer, she was an up-and-coming three-year-old filly who was winning her first graded stakes race in the Grade 3 Ontario Colleen over one mile of turf.
Next Saturday, Got Stormy will be the talk of the town when she returns for the Grade 1 Ricoh Woodbine Mile, an E.P Taylor Turf Course showpiece which will sport a $1 million purse on Saturday Sept. 14.
"That was one of my reasons for coming back there," said Mark Casse, who conditions the Get Stormy-Super Phoebe filly for owners Gary Barber and Southern Equine Stable LLC. "Having had some success at Woodbine never hurts."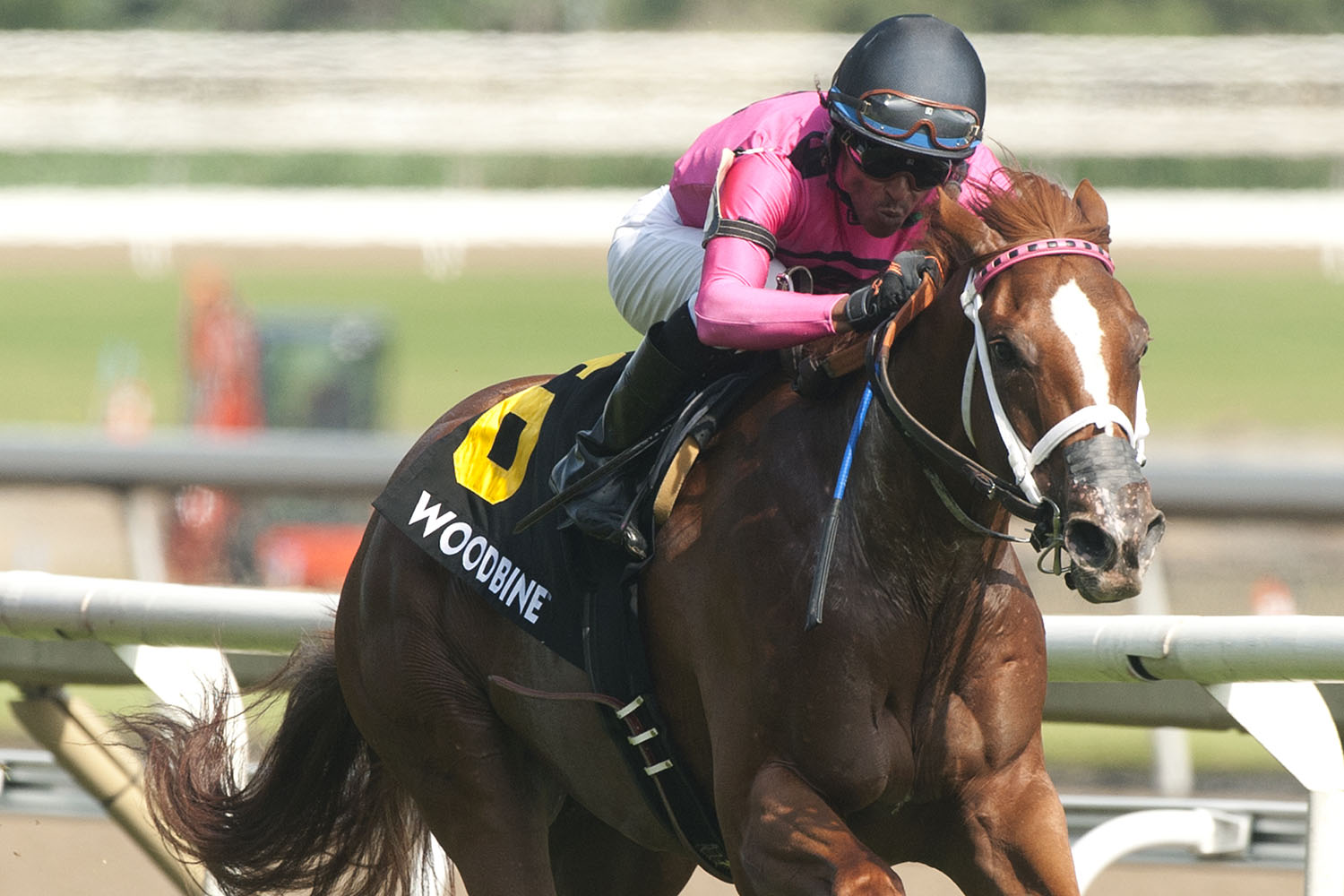 Another primary reason for Got Stormy's presence in the Woodbine Mile is the fact that she will be seeking her third straight victory over one mile of turf after capturing Saratoga's restricted De La Rose and the Fourstardave, a Grade 1 race in which she defeated males just one week later.
That quick turnaround, even before Got Stormy's highly impressive performance, had become one of the "buzz" stories of the Saratoga meeting.
"I initially had planned going right from the De La Rose to the Woodbine Mile," said Casse. "Gary was the one that pushed so hard for the Fourstardave. I gave him all the reasons why we shouldn't do it and he said, 'Okay, that's good, but unless you tell me you're not happy with her I want to run her back in a week.'
"I said, 'Okay, fair enough.' And as the week went on between the De La Rose and the Fourstardave, she just got bigger and stronger. She just started thriving. The day we entered, which would been Wednesday, I said, 'I don't think I've ever seen her train so good as we did today."
It is inevitable that the No. 1 question that Casse will be asked heading into the Ricoh Woodbine Mile is how Got Stormy stacks up against Tepin, the supermare whom he sent out to win the Woodbine Mile in 2016. The Woodbine Mile was the sixth Grade 1 stakes for Tepin, who had captured the Breeders' Cup Mile the previous year and finished second in that race in what turned out to be her final start in 2016.
Got Stormy may have a way to go before she commands equal billing with Tepin, who also was a two-time Eclipse Award winner in the turf female category. But when Got Stormy returned with a smart allowance score in her four-year-old bow at Gulfstream this March, Casse did speculate.
"I gave her her three-year-old campaign and took her home," said the trainer. "Same thing I did with Tepin. When (Got Stormy) won that allowance race at Gulfstream, it reminded me a lot of how Tepin had done when she came back after giving her a break. I sent the PPs to Gary Barber and said, 'It reminds me a lot of Tepin.' I wasn't comparing her yet to Tepin; I just was saying there were some similarities there."
Now, a scant four starts later, mentioning Got Stormy and Tepin in the same breath does not seem to be fantastical.
"After her last race, it was brought to me, 'Can we compare her to Tepin?'" said Casse.  "I said, 'Well Tepin's accomplished a lot of things, but you've definitely got to think you can start talking about it a little bit. She did something no other filly's ever done when she won the Fourstardave. She did it off a week's layoff, and broke the track record by a second.
"I think you can start talking about her about being on the exceptional side. She still has a lot to do and to prove to be in the same league as Tepin but she does seem to be on her way there."
SILENT POET MAKING PLENTY OF NOISE AHEAD OF RICOH WOODBINE MILE
TORONTO, September 5, 2019 – Stronach Stables' homebred Silent Poet comes into the biggest race of his career, the Grade 1 $1 million Ricoh Woodbine Mile, at the top of his game.
Trained by Nick Gonzalez, the four-year-old Silent Name-Cara Bella gelding heads into the fall turf classic riding a two-race win streak, including a track record performance in the Grade 2 Play The King Stakes on August 24 at the Toronto oval.
Under regular rider Gary Boulanger, Silent Poet set a new E.P. Taylor Turf Course record of 1:19.22 for seven furlongs. It bested multiple stakes winner and 2004 Woodbine Mile (then known as the Atto Mile) champ Soaring Free's former record of 1:19.38, a mark that had stood for 15 years.
"He showed a lot of try last year," said Boulanger after the win. "This year, he's so focused on his job. He's just been a lot of fun to be around. Nick's done a tremendous job with him, I'm just grateful I get to ride him."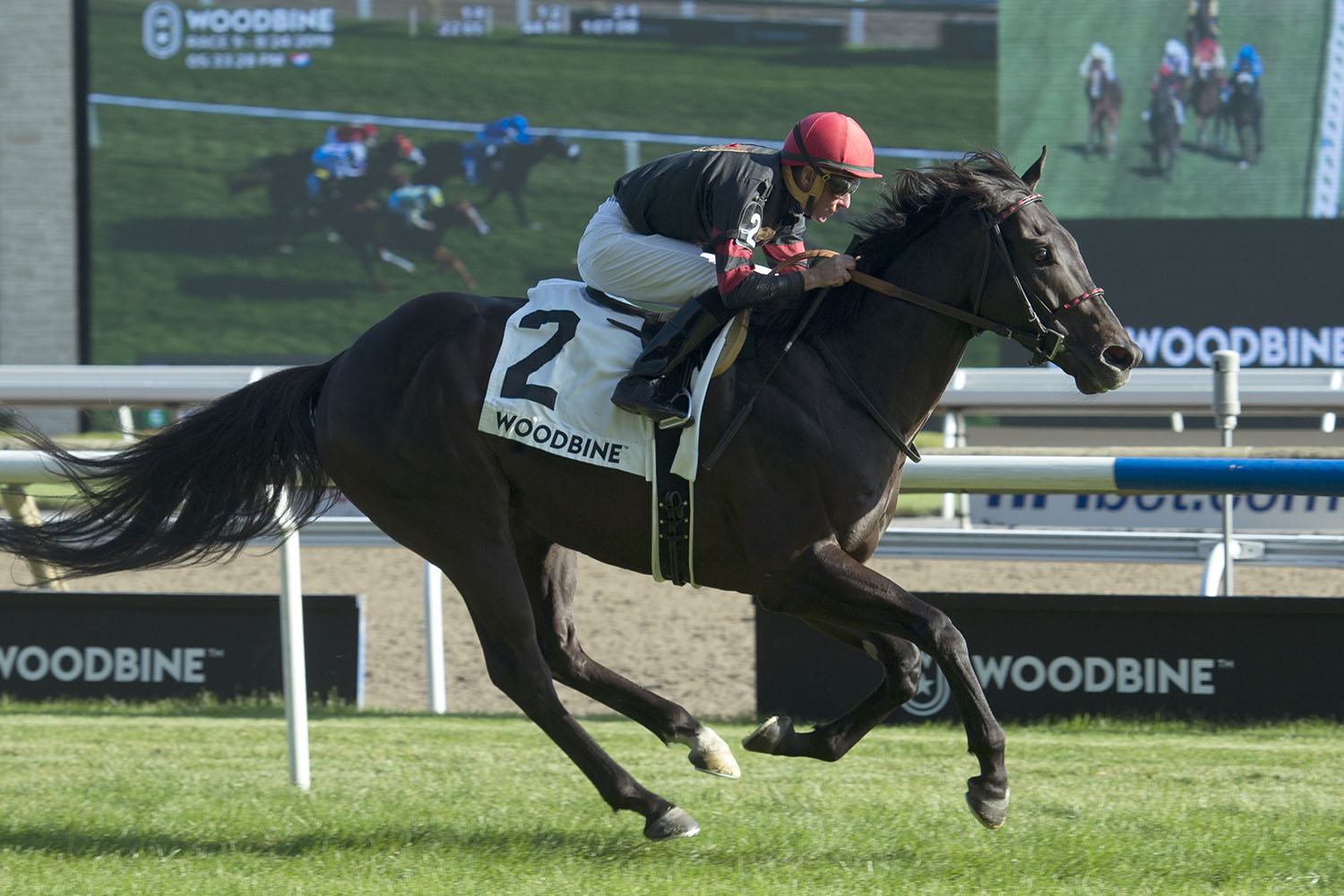 Gonzalez, who has 1,504 career wins to his name, including a pair of Queen's Plate triumphs (2010, Big Red Mike, and 2013, Midnight Aria) was admittedly looking ahead to the Woodbine Mile in the final strides of the Play the King, the dark bay's first graded stakes crown.
"I was saying that, yes," offered Gonzalez. "I kind of had thoughts about it before the race, but I was trying to play it cool. After he did what he did, and the way he did what he did, in track record style, you had to be pretty excited. Even though we trainers don't like to get too far ahead of ourselves, you couldn't help but think what might happen in three weeks."
Silent Poet has been as consistent as they come in his career, boasting six wins, three seconds, and a third from 11 lifetime engagements, including a 2018 Vice Regent Stakes victory over one mile of turf. He's banked nearly $400,000 lifetime and has missed the board on just one occasion when competing in last year's Queen's Plate.
Gonzalez knows Silent Poet, who was equally impressive in winning his 2019 debut on July 21 at Woodbine, will have to step up his game even more when he loads into the gate on September 14.
He's confident he can.
"We're just going to keep things simple. We're not going to breeze him because the race comes back in three weeks – we'll just gallop him into his race. It's going to be a different cast of characters for this race, and we know that, but I can't worry about anyone else that's coming. He deserves to be there."
RICOH WOODBINE MILE POST POSITION DRAW SET FOR SEPTEMBER 11
The field for the 23rd running of the $1 million Ricoh Woodbine Mile will be finalized at the post position draw and media conference next Wednesday, Sept. 11 with NBA Champion Norman Powell of the Toronto Raptors serving as guest drawmaster. The media event will begin at 12 noon.