AN EARLY LOOK AT THE PROBABLE FIELD FOR THE $1 MILLION RICOH WOODBINE MILE (10) 
Horse – Trainer – Owner – Jockey
Admiralty Pier – Barbara J. Minshall – Hoolie Racing Stable LLC and Bruce Lunsford – Patrick Husbands
American Guru – Michael J. Doyle – Stronach Stables – Rafael Hernandez
Awesometank (GB) – William J. Haggas – Lee Yuk Lun – TBA
El Tormenta – Gail Cox – Sam-Son Farm – Eurico Rosa Da Silva
Emmaus (IRE) – Conor Murphy – M and J Thoroughbreds LLC and Riverside Bloodstock LLC – Jamie Spencer
Got Stormy – Mark E. Casse – Gary Barber and Southern Equine Stable LLC – Tyler Gaffalione
Lucullan – Kiaran P. McLaughlin – Godolphin LLC – Luis Saez
Raging Bull (FR) – Chad C. Brown – Peter M. Brant – Joel Rosario
Silent Poet – Nicholas Gonzalez – Stronach Stables – Gary Boulanger
Synchrony – Michael Stidham – Pin Oak Stable – Flavien Prat
RAGING BULL TARGETS RICOH WOODBINE MILE WIN
TORONTO, September 10, 2019 – The movie "Raging Bull," screened in 1980, was the story of boxer Jake LaMotta, portrayed by Robert De Niro in an Academy Award-winning performance.
The horse Raging Bull, figures to have a serious fight on his hands when he attempts to turn the tables on the filly, Got Stormy, in Saturday's Grade 1, $1 million Ricoh Woodbine Mile.
Raging Bull was cutting back to a flat mile with trainer Chad Brown hoping that a good pace would enhance his chances in the Grade 1 Fourstardave at Saratoga last month. The pace wound up to be scorching but was not particularly of a helpful nature as Gidu sped off to a double-digit lead. That one couldn't come close to lasting the distance, but it left his opponents with a difficult choice as to when to go for the knockout punch.
Got Stormy pulled the trigger earlier than Raging Bull, who was still trailing the field of 10 with a quarter-mile to run and was unable to seriously threaten the winner. He did show tenacity, however, in closing for second money in a late battle with his favoured female stablemate Uni and March to the Arch, who like Raging Bull is conditioned by Mark Casse.
"He ran a good race," said Brown, who is at the Keeneland yearling sales this week with Raging Bull's owner, Peter Brant.
Raging Bull, unraced at two, came out as a sophomore, winning his first two starts prior to ending second when making his stakes debut in Belmont's Manila. The four-year-old Dark Angel colt subsequently has won three stakes, headlined by Del Mar's Grade 1 Hollywood Derby at 1 1/8 miles on the grass last December 1.
In his first try at the mile distance this season, which came in his 2019 debut, Raging Bull finished a close fourth in Keeneland's Grade 1 Makers Mark Mile in his usual honest effort. Will he appreciate the sweeping turn and long stretch run on the E.P. Taylor Turf Course?
"I think so—that's my hope, anyway," said Brown. "He's doing really well."
BATTLE-TESTED AWESOMETANK READY TO TAKE ON THE BOYS
TORONTO, September 10, 2019 – This Saturday at Woodbine, Awesometank, a four-year-old daughter of Intense Focus, will look to go one better than she did in her impressive Grade 1 effort last time out.
Owned by Lee Yuk Lun Alan, and trained by William Haggas, the dark bay heads into the Grade 1, $1 million Ricoh Woodbine Mile off an outstanding North American debut in the Beverly D. Stakes on August 10 at Arlington.
Under Florent Geroux, Awesometank, at 15-1, finished second to favoured Sistercharlie in the 1 3/16-mile turf feature in Illinois.
England-based Haggas, who trains horses for Queen Elizabeth II, was ecstatic with the performance of the British-bred miss.
"She ran a terrific race in Chicago," he said. "She took to the training really well. As soon as she got there, she loved being ponied on the track. She was relaxed and calm. I knew she was going to run well because she'd gone into the race well."
Prior to a seventh-place effort in the Group 2 Fred Cowley MBE Memorial Summer Mile at Ascot in July, Awesometank finished second in the Group 3 Princess Elizabeth Stakes on June 1 at Epsom.
Last year, she took the Coral Distaff at Sandown Park, and in May of this year, she was victorious in the Conqueror Stakes at Goodwood.
In the latter, Awesometank duelled with a rival in the late stages, eventually getting the better of that foe, before Anna Nerium came calling late. At the wire, Awesometank held on for a gutsy head score in the one-mile race run over 'good' going.
A five-time winner, along with five seconds, the filly appears to be on the right track heading into her Canadian debut.
Haggas believes the world-renowned E.P. Taylor Turf Course suits his starter well.
"It's a big, galloping track," he noted. "And that's what she's used to."
The accomplished trainer knows Awesometank will have to step up her game on Saturday afternoon at Canada's Showplace of Racing. After contesting the Mile, she'll head south of the border to continue her North American racing career.
"We've had her from a yearling," said Haggas. "She's always been a very sound, very tough, very consistent filly. She upgraded her performances in Chicago. The plan is to leave her in America now. After she runs in Canada, she'll go down to Keeneland to run. We'll take it from there."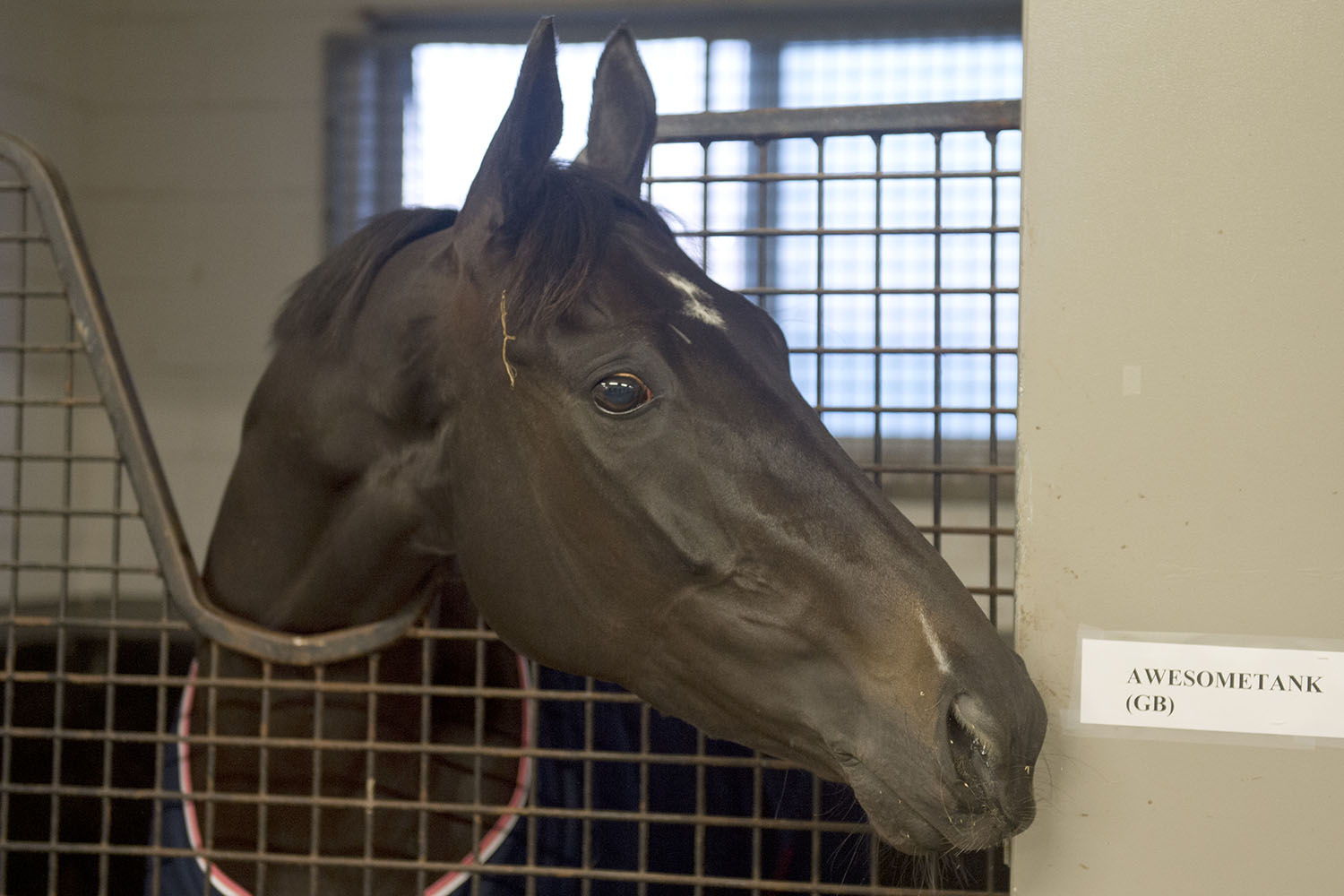 EUROPEAN CONTENDERS ARRIVE FOR RICOH WOODBINE MILE WEEKEND
TORONTO, September 10, 2019 – Awestometank was one of four Europeans who checked in late Monday night for the major turf stakes here this weekend following a flight from Amsterdam.
Magnetic Charm, a candidate for Saturday's Grade 2, $250,000 Canadian Stakes; Walk In Marrakesh and Diamond Sparkles, for Sunday's Grade 1 Natalma; and Vitalogy, for Sunday's Grade 1 Summer, were on the same transatlantic flight.
Magnetic Charm, like Awesometank, is trained by Haggas, whose only previous starter in Canada was 2016 Woodbine Mile finisher Mutakayyef. The three-year-old is owned by Her Majesty, The Queen, whose only previous starter here was 2016 Canadian International runner-up Dartmouth.
Exercise riders Annie Martin and Jessica Campbell accompanied the fillies and Haggas is expected to arrive on Friday.
The $250,000 Natalma, a one-mile race for two-year-old fillies, is a "Win and You're In" for the Breeders' Cup Juvenile Turf Fillies.
Mark Johnston trains Walk In Marraskesh, who is here with traveling head lad Mark Billingham.
Diamond Sparkles, a recent private purchase who will race for Eclipse Thoroughbred Partners and Gary Barber, now is trained by Mark Casse and will be heading south of the border next week.
The Summer, also at one mile and worth $250,000, is a "Win and You're In" for the Breeders' Cup Juvenile Turf.
Vitalogy, conditioned by Joseph O'Brien, was accompanied by traveling head lad Gary O'Connor and will be his trainer's first Canadian starter.
Old Persian, whose target is Saturday's Grade 1, $300,000 Northern Dancer, has been on the grounds since last Saturday night and cantered on the main track Monday and Tuesday.
Trained by Charlie Appleby, Old Persian won the Group 1, $6 million Dubai Sheema Classic over 1 ½ miles of "good" going in Dubai this spring.
Traveling head lass Sophie Chretien and rider Jason Tate will oversee Old Persian's preparations here.
Chretien also was here with Hawkbill when that Appleby trainee ran in two editions of the Northern Dancer, favoured on each occasion but eighth last year after ending a close second in 2017.
Both of those Northern Dancers were won by locally-based Johnny Bear, who currently is on the farm after being injured in Florida this winter.
RICOH WOODBINE MILE COVERAGE ON TSN
TSN and Woodbine Entertainment will deliver live television coverage of the Ricoh Woodbine Mile on Saturday (September 14). The broadcast will air on TSN3 from 5 p.m. to 6 p.m., with hosts Brian Williams, Jim Bannon, Laura Diakun and Jason Portuondo. The Woodbine Mile is scheduled as Race 9 with an approximate post time of 5:42 p.m.
The Summer Stakes will also be broadcast live on TSN4 and TSN5 from 4:30 p.m. to 5 p.m. as part of a special Sunday (September 15) show that will include coverage of the Natalma.
RICOH WOODBINE MILE POST POSITION DRAW TOMORROW
The field for the 23rd running of the $1 million Ricoh Woodbine Mile will be finalized at the post position draw and media conference tomorrow (Wednesday, Sept. 11), with NBA Champion Norman Powell of the Toronto Raptors serving as guest drawmaster. The media event will begin at 12 noon.