​By: Eric Wing for woodbine.com
TORONTO, February 23, 2018 – When last we checked in with Chris Littlemore, the 58-year-old retired auto worker from Whitby, Ontario had just won a Breeders' Cup Betting Challenge entry at Woodbine and was looking forward to his November trip to Del Mar for the competition. That tournament didn't go too well for Littlemore. He finished in 138th place.
So much can change in three months.
After becoming one of the last to qualify for the National Horseplayers Championship via a Top 150 finish in the 2017 NHC Tour, Littlemore made the very most of his opportunity by finishing first of 697 entries in the three-day event at Treasure Island and capturing the gaudy $800,000 (U.S.) first prize.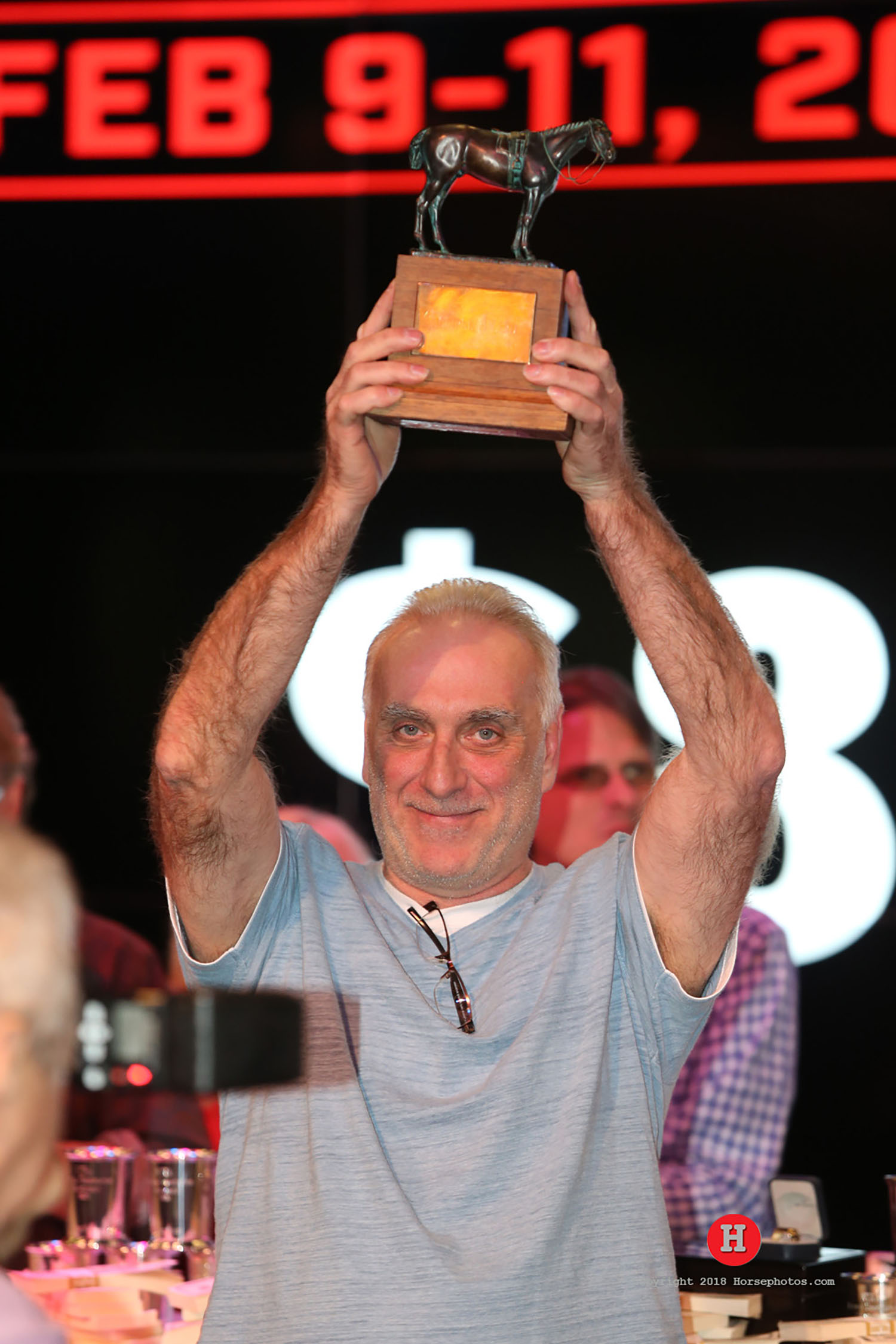 "I'm still a bit in shock," Littlemore confessed, "though it's beginning to sink in now. When it first happens, you don't know what to think. Now, I'm just happy. I feel like I've accomplished something pretty good."
Littlemore accomplished something pretty good not just for his own bank account, but even for Canadian pride. He is the third winner to call Canada home in the NHC's 19-year history and the second in as many years—following Thornhill, Ontario resident Ray Arsenault's $800,000 victory in 2017. Toss in the NHC win in 2010 by Barrie, Ontario's Brian Troop, and it seems that Canada in general—and Ontario in particular—has become the hotbed of NHC Champions.
"It's nice to keep it in Canada," Littlemore said. "After the fact, I guess it's kind of amazing. But I'd be happy for anyone to win one."
Ray Arsenault feels much the same way.
"It wasn't a repeat for me, but it was a repeat for Canada," he said. "It was great. I was happy for him [Littlemore]. But we're all horseplayers, and I find myself rooting for so many different people. I don't know what it is about Canadians. We don't drink a special potion before the contests. But between the three NHC victories and two BCBC wins (Peter Behr and Tommy Massis), it is pretty special."
Littlemore's NHC got off to what he called a "decent" start on Friday's first day of competition. By Littlemore's standards of understatement, however, that meant finishing the day in 11th place—within the top 2 per cent of the field. He had hoped to amass $100 in contest earnings that first day, and he ended with $124.60.
Despite the auspicious beginning, Littlemore still wasn't confident entering Day 2 due to what he considered an overabundance of terrific players in the field. However, he was determined not to make the same mistake he made in the previous year's NHC.
"Last year, I finished about $25 short of making the top 10 per cent and advancing to Day 3," Littlemore said. "There were some horses I liked that I didn't play because I was too conscious about saving plays for later. The horses I didn't play won, and I wound up blanking on the last eight plays that I did make. This year, I told myself, 'If you see a horse you like, you can't wait.'"
The self-reminder paid its first big dividend in optional race eight at Gulfstream, in which Littlemore pulled the trigger on the Mark Casse-trained Biloxi Bay. The win/place payoff of $32.20 and $14 shot Littlemore from 11th to second place.
Littlemore then focused on the last race at Aqueduct, but when the horse he liked was going off at unacceptably low odds, he decided to pass on the Big A and take a look at the seventh at Oaklawn.
The race, to be run over a sloppy track, looked like a wide-open affair to Littlemore.
"I don't normally like betting slop," he said, "but the race seemed pretty even, and then I saw this horse that was one-for-one on a wet track."
That horse was Holiday's Angel. As post time neared, her odds were drifting and drifting, so Littlemore made the play. When Holiday's Angel reported home first by a length, Littlemore suddenly added $51 ($39 to win and $12 to place) to his score. He was now in first place.
"I still had a couple of bullets left too," Littlemore recalled.
After a couple of hours had passed, Littlemore was still in first place, but not by much. Then he connected with Dano's Dream ($27.60, $11) in the eighth at Golden Gate. "That's the one that really vaulted me ahead," Littlemore said.
Littlemore finished the day with $311.70—$51 more than Keith Fenton in second place. Buoyed by the three longshot scores, his total score on Day 2 alone was $187.10. Only one player amassed a higher Day 2 score.
By Saturday night, Littlemore was exhausted though—perhaps not surprisingly—he had trouble getting to sleep.
"I just looked at a few Sunday races, and I wasn't confident. I didn't see anything I liked. So I went down to the sports book for a couple of beers, and I bet $20 on one horse. It won."
Did that winning $20 bet give Littlemore a good feeling somehow about how the next day might turn out?
"Yeah," he chuckled. "It actually did."
As it turned out, Littlemore still needed a measure of good luck on Sunday—because his premonition about not having a feel for Sunday's races proved all too accurate. He made just two place collections during the day's 10 optional plays. That added an underwhelming $20 to his score, but he still maintained a $40 lead as the top 10 proceeded on to the final table. No one was making any significant move at Littlemore.
"Guys were just creeping up," said Littlemore. "Then I got lucky in the 'final seven.'"
Littlemore was referring to the final table of 10 competitors who squared off over the course of seven mandatory races that would bring the contest to its conclusion. And Littlemore's luck related to how those final seven races played out.
"There was a lot of chalk," Littlemore said, "and there were some other horses that no one had."
Taking advantage of his opponents' lack of momentum, Littlemore finished the three-day marathon with a final score of $348.30—$33.10 more than Keith Fenton, who prevailed in a tight battle to hold second position. Fenton's second-place prize money was a bountiful $250,000. But during and after the third and final day, the majority of eyes were focused squarely on Littlemore.
"People near me were amazed that I was so calm. I told them that, inside, I'm churning," Littlemore said. "I'm just not a jump up and down guy."
Perhaps Littlemore will leave the jumping up and down to his wife Eliane. Or his daughter Sophie—currently in her third year at Wilfrid Laurier University—and son Luke, who will either be heading off to university next year or playing Junior hockey. Both Sophie's and Luke's educations are suddenly taken care of. As is Chris and Eliane's mortgage.
"It feels good," Littlemore stated with customary understatement. "Being retired, I'm starting to think about the amount I won and what I can do with it."
One of the things he will do in 2018 is continue to play contests. His berth to the 2019 NHC Finals is now secured via the automatic bid that all defending champions receive. (His Eclipse Award as North America's Horseplayer of the Year is also in the bag.) He doesn't plan to try overly hard for a second NHC seat because he questions his ability to manage two entries successfully, but he does have something of a wish list for 2018.
"I'd like to go to the BCBC again, and I'd like to do a couple of road trips," Littlemore said. "I've never been to Keeneland or Saratoga. I'll definitely go to Saratoga, but I've never bought in directly to a contest. I always try to feed in from the bottom (via low-cost, online satellite tournaments). That's how I got into the NHC qualifiers that I played in. My Woodbine seat—which led to my BCBC entry—I got for $33. It's extra satisfying for me if you can get there that way. For me, it's always about the competition. It's like a hockey game. You're trying constantly to win."
One can imagine Littlemore perhaps taking a figurative victory lap around the ice on Monday, the day after his NHC victory, holding his newly-won Eclipse Award aloft.
By Tuesday, there was no more resting on laurels. Chris was back home in front of his computer screen in Whitby that day, playing a $27 HorseTourneys feeder on the Parx races, trying to win a spot in a qualifier for Keeneland's big Grade One Gambele tournament in April.
"I'll still try to do it the way I've always done it," he said.
And so will "Team Canada" in next year's NHC.
*
Eric Wing is the Communications Director at HorseTourneys and the longtime emcee at the National Handicapping Championship. Prior to joining HorseTourneys, Wing headed up Communications at the National Thoroughbred Racing Association and The New York Racing Association. Eric's Player Profile will be published monthly on the last Friday of each month on woodbine.com.