TORONTO, November 18, 2020 – Multiple stakes winner and 2017 Canadian Horse of the Year, Pink Lloyd, looks to add to his black-type bonanza with a win in the $175,000 Kennedy Road Stakes (G2), while Canadian Triple Crown standouts Mighty Heart and Belichick meet again, this time in the $125,000 Ontario Derby Stakes (G3), Saturday at Woodbine.
Multiple Sovereign Award recipient and 23-time stakes champion Pink Lloyd will seek to top the Kennedy Road charts for the third time, having won the event in 2017 and 2019.
Trained by Robert Tiller for Entourage Stable, the eight-year-old gelded son of Old Forester is unbeaten in four starts – all stakes – this year.
His latest tour de force was a victory in the Vigil Stakes (G3) on September 5, an effort that pushed Pink Lloyd's career earnings over $2 million (CDN). It was also his fourth straight Vigil Crown.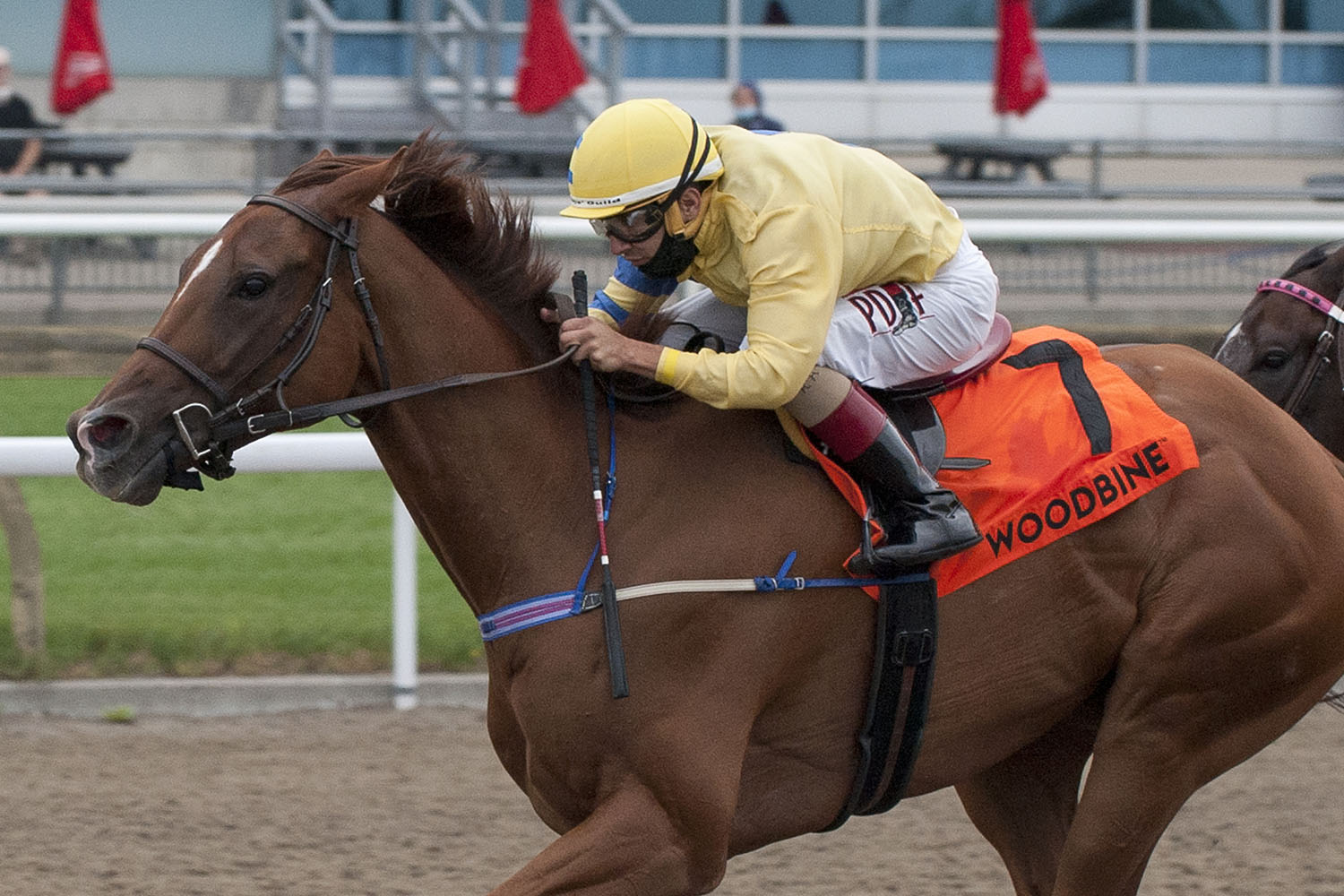 Pink Lloyd launched his 2020 campaign with a triumph in the Jacques Cartier (G3) on June 25, followed by a win in the Shepperton Stakes on July 23, a Bold Venture (G3) score on August 15, and a one-length win in the Vigil.
"We're both very happy," said Tiller. "He's doing well. We haven't run for two-and-a-half months, so we're in new territory. That's the big question, 'Is it going to help him or is it going to hurt him?' He's eight, but I can't worry about all of that stuff. I've done my job and he's doing his job. I think he's in good order. There are going to be some tough horses in there, some tough competition. But as far as Pink Lloyd's concerned, it's a horse race. We're going into it very happy and I think he'll be very fit and happy. Hopefully, he's not too sharp because when he does, he sometimes can get a little goofy at the gate."
Pink Lloyd previously reeled off 11 consecutive victories from 2017 into 2018, and is currently riding a 10-race win streak following an unblemished season in 2019. He has delivered his connections six Sovereign Awards.
Although coming up with more superlatives to describe the star of his barn isn't an easy task, Tiller finds a way.
"He's doing very, very well, and I expect a big race out of him. If you look at his record, he does well about 14 months out of the year. Well, at least 13. All you have to do is look at his record. He runs well in the cold and he runs well in the hot.
"I talk to him 10 times a day. He's bobbing his head outside the door. It's almost like he can hear you. He's just a super-amazing animal. I'm getting older and he's getting older, and maybe we're getting long in the tooth, but he owes us nothing. We'll always love him."
As will local racing fans, who regard Pink Lloyd as a bona fide rock star.
"I don't know what people say on social media," said Tiller, who has his own Instagram account. "But they do say nice things? Well, that's just great to hear. I'm going to be 71 on December 11, so I'm not a big computer guy. I've been doing this for 54 years, and I'm still doing it. But you realize that you're only as good as you are because of your horses. It's like a hockey coach – if you don't have the good players, you're in trouble. Good players make you. But I think we've done very well managing this horse and our other horses. As far as 'Pinky,' there are just no words for him. He's running because he wants to run. He just likes what he does. And it's nice to know people appreciate that. It will be a sad day when this all ends, but it will also be a happy day. I never thought he would turn into this monster that he is. He's a legend."
In 31 career starts, Pink Lloyd is 26-1-1. His dam, Gladiator Queen, was 2-2-2 from 17 starts. David Sorokolit bred the grey daughter of Great Gladiator.
Dual hall of famer conditioner Mark Casse sends out the pair of Ride a Comet and Souper Stonehenge.
Owned by John Oxley and My Meadowview Farm LLC, Ride a Comet, a five-year-old son of Candy Ride (ARG), made a spectacular return to racing after a 25-month absence.
Under Patrick Husbands, the Kentucky-bred, who took the 2018 Del Mar Derby (G2T), recorded a two-length win at seven panels on the Woodbine main track on October 16.
"Ride a Comet is an extremely, extremely talented horse," praised Casse. "I was very impressed with his first race in over two years. I thought it was a tremendous race. He won with ease. This race is a little shorter than he prefers, but we've got to give him a shot. He's had a couple of injuries along the way, but he's very healthy now. If he can stay healthy, he will be a horse to be reckoned with throughout North America, not just Woodbine, in 2021."
A four-year-old son of Speightstown, bred and owned by Live Oak Plantation, Super Stonehenge also comes into Sunday's engagement off a victory.
The Florida-bred powered to a one-length win over 5 ½ furlongs on the Woodbine Tapeta on October 4.
"Super Stonehenge is a horse that we've always thought was extremely talented. He had a throat issue that set him back, and we gave him some time. I thought his last race was really good. This is a big step for him. Unlike Ride a Comet, who has competed with the best horses in North America, Super Stonehenge hasn't got there yet, but he's a horse we like a lot. We think he can be an extremely good 2021 horse."
Other starters include Silent Poet, a five-year-old son of Silent Name (JPN), who goes for his third straight score. The Stronach Stables' homebred arrives at the Ontario Derby off a half-length triumph in the Nearctic (G2T).
Sporting a record of 10-4-2 from 18 career starts, Silent Poet tries the Tapeta for the first time since a runner-up performance in the Sir Barton Stakes, on December 2, 2018.
Casse is looking forward to what should be one of the most compelling stakes on the 2020 Woodbine calendar.
"This is going to be a heck of race… it's a great race."
***
Queen's Plate and Prince of Wales Stakes champion Mighty Heart will meet up with stablemate and Breeders' Stakes victor Belichick in the $125,000 Ontario Derby, set for 1 1/8 miles on the Woodbine Tapeta.
After Mighty Heart took the first two legs of the OLG Canadian Triple Crown series, Belichick turned the tables on the bay colt in the 1 ½-mile Breeders' Stakes on October 24, putting an end to Mighty Heart's quest to become the country's first horse to sweep all three races since Wando achieved the feat in 2003.
The Ontario Derby, for three-year-olds, will mark the first race for both since the Breeders'.
Hall of Fame trainer Josie Carroll, enjoying an outstanding 2020 campaign, is looking forward to seeing them back in action.
"I couldn't be happier with how they both came out of that last race and how they are coming into this one. They're doing really, really well."
Owned by NK Racing and LNJ Foxwood, Belichick is now 1-2-1 from four starts in his career.
The son of Lemon Drop Kid, unraced at two, finished third in his career bow on July 4, following it up with a runner-up performance in his second start on August 1. After his second-place finish in the Plate, Belichick broke his maiden in style, taking the Breeders' Stakes by four lengths.
"They kind of broke early in the race so I just tried to see them and relax my horse as much as I can," said jockey Luis Contreras after the Breeders' win. "He was very uncomfortable; this horse has a different style to run so I just let him be happy wherever he wants to be.
"Turning for home, I was just in hand all the way to the quarter pole and I asked him to run from the stretch home and he did. I was just watching, just feeling my horse at the same time. And he was doing great the whole way. He came into this race very ready, good thing for Josie and all the crew."
Carroll is hoping for a similar performance on Saturday.
"It might be a little short for him, but he's just continuing to get better and better with each race. Obviously, it was a tremendous effort in the Breeders'. It was very impressive."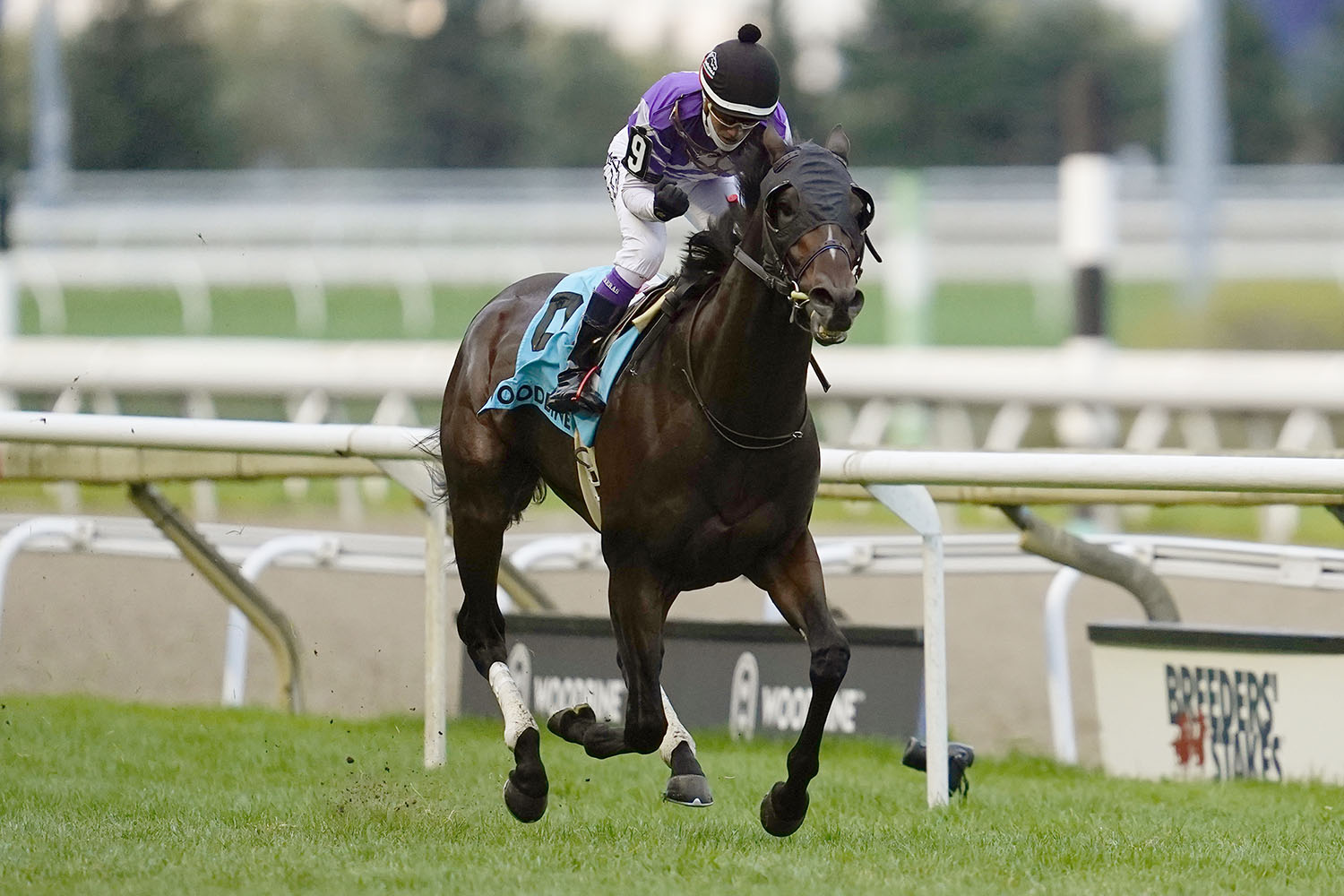 One-eyed Mighty Heart, who garnered big attention in his quest to win the Canadian Triple Crown, will look to rebound off his seventh-place effort in the Breeders' Stakes.
Bred and owned by Larry Cordes, Mighty Heart, a bay son of Dramedy, was at the top of his game in taking the Queen's Plate at Woodbine on September 12 and the Prince of Wales Stakes at Fort Erie on September 29.
Carroll expects a strong effort from the Ontario-bred, who will have Rafael Hernandez in the irons on Saturday.
"He's a horse that just tries every time he runs. He'll give you his all every race."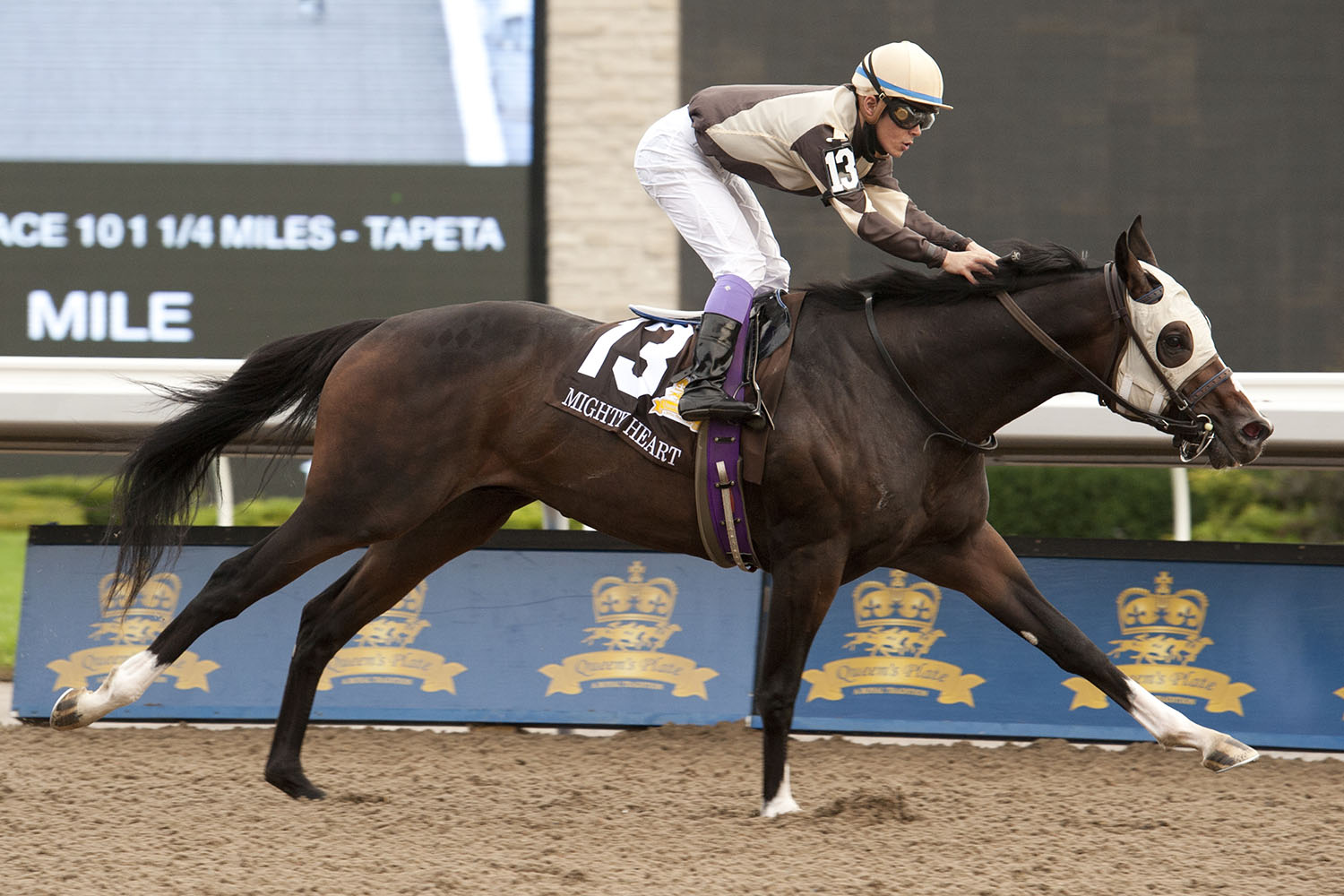 Mark Casse will be represented by Deviant, who was fourth in the Breeders' Stakes, and Lucky Curlin, who has two runner-up stakes results to his name.
A chestnut son of Daredevil, Deviant will chase his third career win in what will be his 11th lifetime start.
"I thought he ran really well in the Breeders'," offered Casse. "He had a crazy thing happen to him. We trained him about two-and-a-half months ago, and he trained on the main track and came back. When he got back to the barn, he was lame. Somehow, through his training and walking back, he had about a three-inch screw stuck in his foot. We don't where he got it. So he missed a bit of time and I was worried he might miss the Breeders' Stakes. But he ran well and had a little bit of a troubled trip turning for home. I'm not positive he's as good on the synthetic as he is on the turf, but we're going to give him a try."
Bred and owned by John Oxley, Lucky Curlin, a chestnut son of Curlin, comes into the race off back-to-back second-place finishes in the Marine Stakes (G3) and Toronto Cup Stakes.
The Kentucky-bred is 2-2-3 from 11 career starts.
"Lucky Curlin is a horse we had high hopes for early on in his career, and he disappointed us," admitted Casse. "But he's come around really well. I thought his last two races have been improved. He's equally effective, turf or synthetic, I would expect him to run well."
Casse is happy to have the Ontario Derby contested at this point in the season.
"This is the time of the year when you're trying to run against straight three-year-olds. I think it's extremely smart that Woodbine moved this race back. I think it gives the three-year-olds one more chance, the horses that ran in the Queen's Plate and those types of races. It gives them one more shot to race against their own age group, which I think is a good thing. That was a great move by Woodbine."
Malibu Mambo, considered at one point a top Queen's Plate contender, will make his third start of the season.
Trained by Kevin Attard for Stronach Stables, the dark bay son of Point of Entry won his most recent start, a three-length victory over 1 1/16 miles on the Woodbine main track on October 11.
Also on tap Saturday, the $175,000 Bessarabian Stakes (G2) for fillies and mares, three-year-olds & upward, contested at seven furlongs on the Tapeta, and the $150,000 Ontario Damsel for Ontario-bred three-year-old fillies, run at 1 1/16 miles on the Tapeta.
Post time for Saturday's 11-race card is 1:25 p.m. Fans can watch and wager on all the action via HPIbet.com.
$175,000 KENNEDY ROAD STAKES (Race 9)
Post – Horse – Jockey – Trainer
1 – Souper Stonehenge – Emma-Jayne Wilson – Mark Casse
2 – Ride a Comet – Patrick Husbands – Mark Casse
3 – Eskiminzin – Darryll Holland – Carlos Grant
4 – Silent Poet – Justin Stein – Nicholas Gonzalez
5 – Dixie's Gamble – Luis Contreras – Josie Carroll
6 – Roaring Forties – Kazushi Kimura – Daniel Vella
7 – Pink Lloyd – Rafael Hernandez – Robert Tiller
$125,000 ONTARIO DERBY (Race 8)
Post – Horse – Jockey – Trainer
1 – Field Pass – Kazushi Kimura – Michael Maker
2 – Belichick – Luis Contreras – Josie Carroll
3 – Mnemba Island – Emma-Jayne Wilson – Julia Carey
4 – Lucky Curlin – Patrick Husbands – Mark Casse
5 – Deviant* – Jerome Lermyte – Mark Casse
6 – Mighty Heart – Rafael Hernandez – Josie Carroll
7 – Dune of Pilat – David Moran – Brendan Walsh
8 – Malibu Mambo – Justin Stein – Kevin Attard
* denotes supplemented  
$175,000 BESSARABIAN (Race 10)
Post – Horse – Jockey – Trainer
1 – Souper Escape – Emma-Jayne Wilson – Michael Trombetta
2 – Boardroom – Luis Contreras – Josie Carroll
3 – Painting – Patrick Husbands – Josie Carroll
4 – Artie's Princess – Kazushi Kimura – Wesley Ward
5 – Amalfi Coast – Justin Stein – Kevin Attard
6 – Jakarta – Daisuke Fukumoto – Michael Maker
7 – Our Secret Agent – Rafael Hernandez – Mark Casse
8 – Outburst – David Moran – Eddie Kenneally
$150,000 ONTARIO DAMSEL (Race 3)
Post – Horse – Jockey – Trainer
1 – Curlin's Voyage – Patrick Husbands – Josie Carroll
2 – Merveilleux – Rafael Hernandez – Kevin Attard
3 – Afleet Katherine – Justin Stein – Kevin Attard
4 – Ann of Cleves – Keveh Nicholls – Ricky Griffith
5 – Ami's Samurai – Daisuke Fukumoto – Josie Carroll
6 – Justleaveitalone – David Moran – Nicholas Gonzalez