By: Dave Briggs for WoodbineRacetrack.com
TORONTO, December 6, 2017 – Trainer Malcolm Pierce jokes that he doesn't remember what he had for dinner last night, but nearly 30 years on, he can still recall seeing Sam-Son Farms' homebred colt Sky Classic for the first time.
"I remember him as a very precocious two-year-old. Right off the bat we thought he was a runner just from his early training before he even started," said Pierce, who at that time was the assistant trainer to Jim Day. "He was a big, precocious two-year-old, a big chestnut colt. He just did things right from the start."
A son of UK Triple Crown champion Nijinsky II out of future Hall of Fame mare No Class, Sky Classic was foaled on St. Patrick's Day in 1987 at Sam-Son in Ontario.
As Pierce correctly remembers, Sky Classic was, indeed, precocious. Racing strictly at Woodbine at two, the colt finished second in his first two starts, then reeled off four straight wins — including the Summer Stakes (Grade 3) and Grey Stakes (Grade 3) — in his inaugural year en route to the Sovereign Award as Canada's Champion Two-Year-Old Male Horse of 1989.
Hampered by injuries for much of his three-year-old season, Sky Classic made just five starts in 1990, his most impressive outing a second-place finish in the Rothman's International (Grade 1).
It was in 1991 that Sky Classic truly began to shine. He won six of nine starts, including the Rothman's in a course record time of 2:27.80 for 1-1/2 miles and ended the year with earnings exceeding $1 million and two more Sovereign Awards for his trophy case — the Champion Older Horse and Champion Male Turf Horse.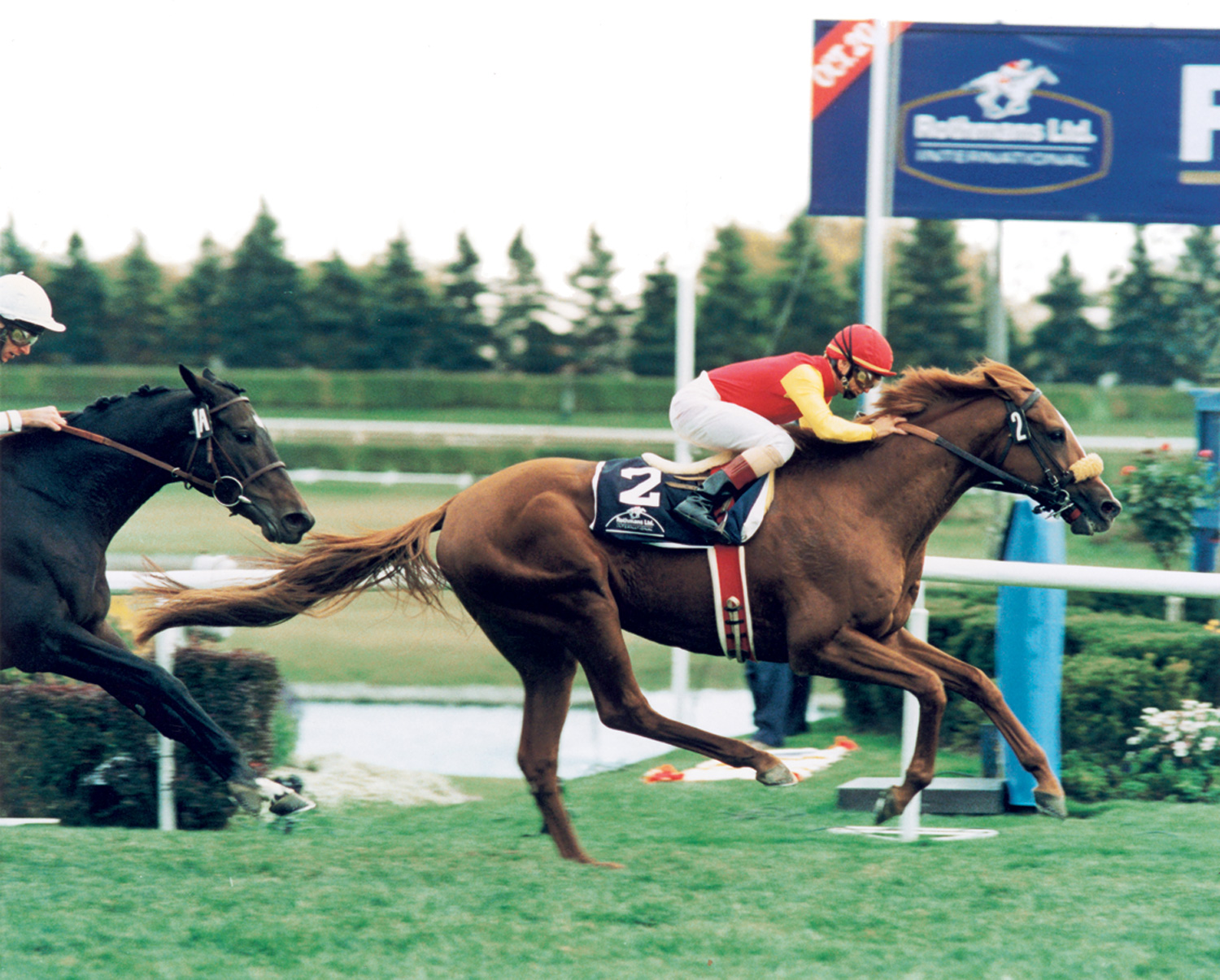 At age five in 1992, Sky Classic raced predominantly in the United States and posted a record of 5-3-0 in nine starts with earnings of more than $1.7 million. He set a 2:00.62 record in the Arlington Handicap, defeated Fraise in the Turf Classic Invitational at Belmont Park and, in his last start, was second by a nose on Halloween to Fraise in the Breeders' Cup Turf. He won the 1992 Eclipse Award as the Outstanding Male Turf Horse in the United States.
"I remember Marianne Windridge was the girl that used to gallop Sky Classic a lot. She did a lot of traveling with him," Pierce said.
Sky Classic, who was predominantly ridden by Pat Day, retired with wins in 15 of 29 starts and career earnings of $3.32 million, a record at that time, for a Canadian-bred. Just six years after his last start, Sky Classic was inducted into the Canadian Horse Racing Hall of Fame.
"He was pretty easy to ride and was a pretty nice horse," Pierce said of Sky Classic. "He gave 110 per cent every time you led him over there."
Pierce said Sky Classic was not only blessed with outstanding talent, but also a pedigree to match.
"He was by Nijinsky II and out of No Class. You could breed No Class to the teaser and get a runner," Pierce said. "She was just a great broodmare and produced some champions and we're still looking for another one like her, I think."
Sky Classic also proved to have talent in the stallion barn. Retired to Pin Oak Stud in Versailles, KY, Sky Classic sired six champions, 59 stakes winners, 10 Grade 1 winners, and a total of 106 stakes horses in 19 crops to race. Additionally, he is the sire of the dams of 43 stakes winners including three champions, as well as English Classic winner Speciosa and 2014 Grade 1 winner La Tia. He was retired from breeding in January of 2015 and passed away of natural causes on April 30 that same year.
"Not a bad life. He was at a good place," Pierce said. "I've been to the farm where he stood and saw him in his later years when he was maybe 23 or 24 and he still looked great."
Pierce said Sky Classic one of the best horses he's ever been around in a long, prestigious career in which he's trained the winners of more than $37 million.
"It's between him and Dance Smartly. Those are probably the top two horses I've been around in my life. Smart Strike might be another one," he said.
"He was also one of Jim (Day's) favourite horses — between Sky Classic and Regal Classic," Pierce said, adding it was a heady time at Sam-Son with champions racing all over North America. "Going back 28 years to when (Sky Classic) was a two-year-old is tough to remember, but they were good memories and good times spent around good horses."
To watch the Titans Of The Turf video, click here.
***
Steeped in tradition, Woodbine's world-famous turf races have been captured by some of the greats of the sport including recent Woodbine Mile champs Tepin and Wise Dan; the Hall of Fame mare All Along, who captured the International in a standout campaign; and the incomparable Secretariat, who concluded his historic career with a runaway score in the 1973 edition of the International. Join us as we profile Titans of the Turf, highlighting those who have triumphed on the Woodbine green.
August 29, 2017 – Titans Of The Turf: Dreaming Of Anna
September 4, 2017 – Titans Of The Turf: Tepin
September 7, 2017 – Titans Of The Turf: Catch a Glimpse
September 11, 2017 – Titans Of The Turf: Wise Dan
September 15, 2017 – Titans Of The Turf: Shakespeare
September 30, 2017 – Titans Of The Turf: Champs Elysees
October 7, 2017 – Titans Of The Turf: Joshua Tree
October 9, 2017 – Titans Of The Turf: Secretariat
October 12, 2017 – Titans Of The Turf: All Along
October 20, 2017 – Titans Of The Turf: Leroidesanimaux
November 6, 2017 – Titans Of The Turf: Sheikhzayedroad
November 10, 2017 – Titans Of The Turf: Mrs. Lindsay
November 12, 2017 – Titans Of The Turf: The Pizza Man