By Jennifer Morrison for Woodbine.com
TORONTO, August 2, 2018 – Sine Metu will look to ascend to the top of the table in the second leg of the unique Turf Endurance Series on Sunday, at Woodbine.
Julie Belhumeur has only had the 7-year-old gelding Sine Metu in her care for a little over two months but already the highly energetic Ontario-bred has quickly become an important horse for the 39-year-old trainer.
Purchased privately by Belhumeur from owner/trainer Debra Rombis in May, Sine Metu won his first start for the Montreal native on June 10 in a $30,000 claiming race as a 48 to 1 longshot.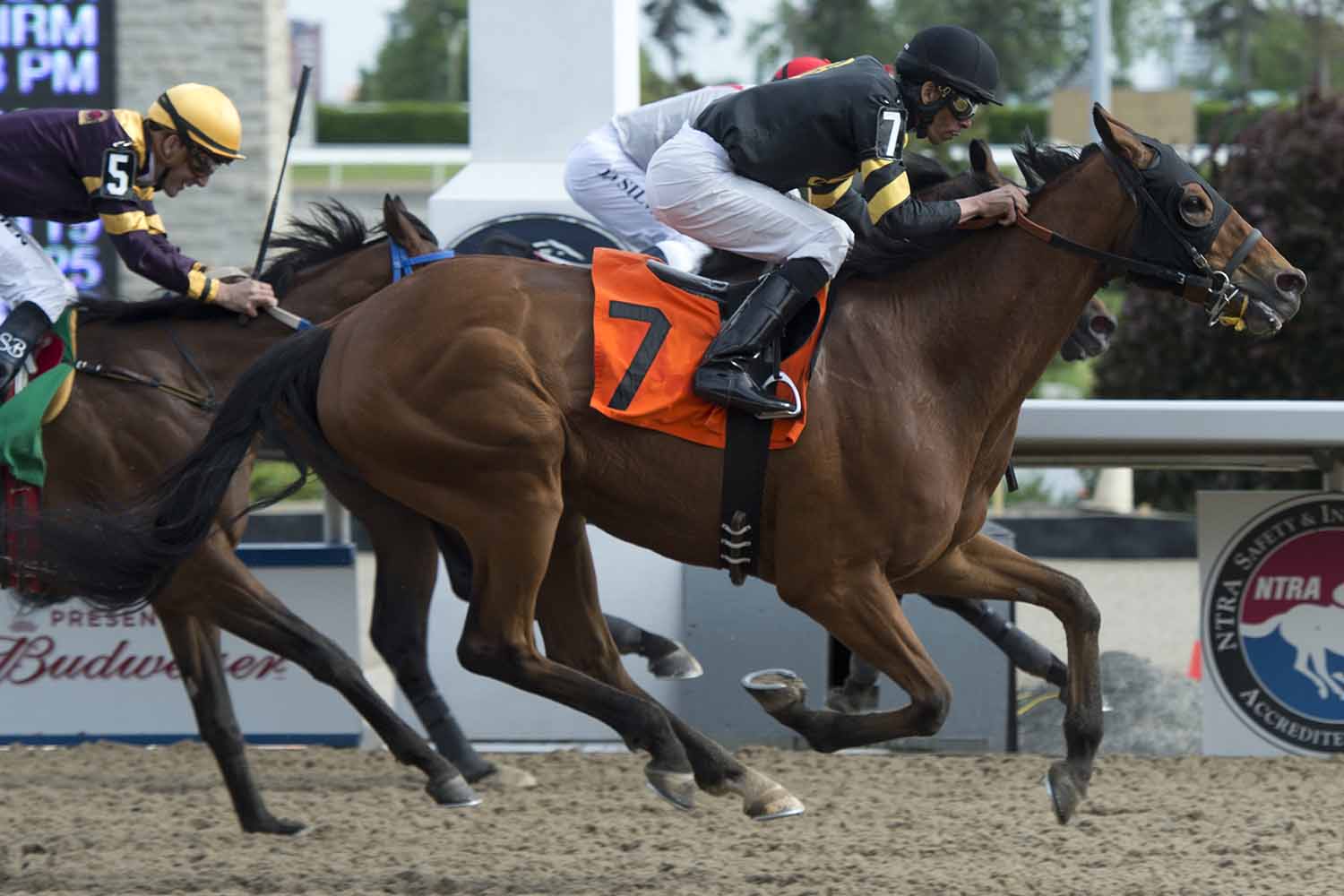 Most recently, the gelding finished fourth in the first leg of Woodbine's Turf Endurance Series on July 1 and Sunday, he looms a serious contender in the second leg of the four-race series.
Adding to the excitement for Belhumeur is that she has since sold the horse to first time racehorse owner Glen Thomas of Bolton, Ontario and she will continue to be Sine Metu's trainer.
The second leg of the Turf Endurance series, featuring a field of 14, is race 10 on Sunday's card at Woodbine and is a 1 ½ mile tour of the E.P. Taylor Turf. The four races are all optional claiming ($45,000)/starter allowance (starters for $25,000 claiming or less). The horse who collects the most points during the series will earn a $25,000 bonus for the owner and an extra $15,000 for the trainer.
"I was looking for a distance horse before I bought him," said Belhumeur, who began training horses in 2007. "I couldn't understand why he was 48 to 1 the first time I ran him, he's a pretty nice horse."
In fact, Sine Metu, whose name means "without fear" in Latin and is the slogan on the Jameson's whisky bottle, did well in the first Turf Endurance Series in 2017. Competing for Rombis, Sine Metu finished second in two legs of the series to eventual points leader champion Tesseron.
Belhumeur admits that Sine Metu is not the easiest horse to work around but she says the son of Rebellion is a very happy horse.
"He's just a bit hyper,' said Belhumeur. "But he has a lot of personality."
In the first leg of the Turf Endurance Series, at 1 3/8 miles on turf, Sine Metu stayed well back off the early pace and closed some ground to be fourth.
"It was very, very hot that day and I think that took something out of him," said Belhumeur. 'I considered scratching him, but it was the first leg of the series and I wanted him to be in it. He settled pretty far back and didn't fire but he has been back to himself this week. I am really looking forward to the race on Sunday."
Simon Husbands will once again ride Sine Metu and they will break from post position six.
The first leg winner, Artistico, will not take part in Sunday's race but Tesseron and Kaigun, who were second and third in the opening race of the series, are in the 14-horse field.
Tesseron is trained by Harold Ladouceur for owner Kirk Sutherland and the almost-white 8-year-old gelding came within three-quarters of a length of winning the opening leg.
"I was very happy with his race,' said Ladouceur, who claimed Tesseron for $16,000 last June and sent him out to win two of the three races in the inaugural Turf Endurance Series.
"Patrick [Husbands] didn't push him too hard and when he worked him the other day (five furlongs on the Tapeta on July 28 in 1:03) he said it was like riding in a Rolls Royce."
Tesseron will start from post 13 with Husbands back in the saddle.
Kaigun, a multiple graded stakes winning millionaire recently claimed for $40,000 by Bermuda Blue Stable ands trained by Anthony Adamo, finished third in the first race of the series.
TURF ENDURANCE SERIES:
$25K Starter/Opt Claim $45K
Purse Each Leg $50K
Next Leg – Aug. 5th – 1 1/2 Miles on Turf
Leg #3 – Sep. 9th – 1 5/8 Miles on Turf
Leg #4 – Oct. 14th – 2 1/4 Miles on Turf
Series Bonus:
Owner – $25K
Trainer – $15K
Current Top 5 Standings
1. Artistico – 10
2. Tesseron – 7
3. Kaigun – 5
4. Sine Metu – 3
5. Bold Animaux – 2