TORONTO, July 20, 2022 – Multiple graded stakes placed White Flag goes after his seventh career win in Saturday's Grade 2 $175,000 Connaught Cup Stakes, at Woodbine.
Sent out by dual hall of fame trainer Roger Attfield, who recently recorded his 2,000th lifetime win, White Flag, an eight-year-old son of War Front-Shared Hope, will make the 24th start of his career in the seven-furlong turf Connaught, for three-year-olds and upward.
Bred and owned by Robert S. Evans, the bay heads into Saturday's race, to be contested over the E.P. Taylor Turf Course, off a banner effort in the Grade 2 Highlander on July 2.
Sent off at 35-1, White Flag, last of 11 at the half-mile juncture, moved into ninth spot at the stretch call, then powered home to finish third, 1 ¼ lengths behind winner Bound for Nowhere.
"I thought it was very good," said Attfield, of the Highlander performance. "I was very proud of him. If he had a little bit better trip down the lane, he might have been right there. It was very good for him."
Sporting a 6-2-5 mark from 23 starts, White Flag's last win came on September 19, 2021, a three-quarter length triumph at 6 ½ panels over an E.P. Taylor turf listed as good.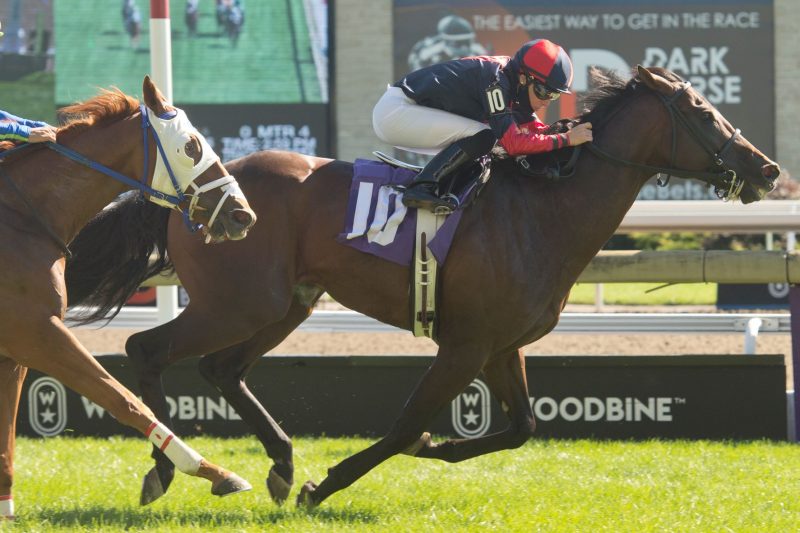 He contested the first six races of his career in New York, one at Aqueduct and five at Belmont, going on to win three straight, starting with his maiden win on June 14, 2017, and capped off with a victory in the Allied Forces Stakes in September. His first Woodbine appearance came that same year, in October, when he was third in the Grade 2 Nearctic.
Since then, White Flag has competed in New York, Kentucky, and California. His last six engagements have come at Woodbine.
"He's always been a horse that shows up wherever he finds himself, loves his job, and is a real gentleman," praised Attfield.
Just like his trainer?
"Actually, he is a little bit like me because he has terrible feet," quipped Attfield. "That's his biggest problem in his life, what has held him back. But at the moment, we've got them in very good shape. He really is a lovely horse."
Attfield, who won the 1990 Connaught with Izvestia, the 2001 edition with Red Sea, the 2007 running with Eccentric, and 2017 renewal with Tower of Texas, has great admiration for the veteran White Flag.
"He's lovely a horse to be around. You wouldn't know he's a stallion. He's a gentleman and everyone likes riding him. He's just a nice horse."
Attfield will also send out multiple graded stakes winner Shirl's Speight.
The five-year-old son of Speightstown-Perfect Shirl, who is 5-0-2 from 11 starts, won the Grade 1 Maker's Mark Mile on April 15 at Keeneland.
"He's also a very nice horse," said Attfield, of the Charles Fipke homebred who won three straight races to start his 2022 campaign. "He's always been a consistent runner over the years. Another lovely horse to have in your barn. I've always quite liked him."
The Connaught also drew other turf talents in the form of graded stakes winners Avie's Flatter, Olympic Runner, Silent Poet, and Tap It to Win. U.S. invaders, graded stakes winner Chewing Gum (Bill Mott), stakes winner Surly Furious (Glenn Wismer) and Turn of Events (George Weaver), will all make their first appearance at Woodbine.
Hall of Fame jockey Robin Platts has won a record eight editions of the Connaught, including back-to-back runnings (1968-69) with James Bay. Plate Glass won the two first runnings, in 1912 and 1913.
The Connaught Cup is race eight on Saturday's 10-race card. First post time is 1:00 p.m. Fans can also watch and wager on all the action via HPIbet.com or the Dark Horse Bets app.
FIELD FOR THE $175,000 CONNAUGHT CUP
POST – HORSE – JOCKEY – TRAINER
1 – March to the Arch – Patrick Husbands – Mark Casse
2 – Turn of Events – Gary Boulanger – George Weaver
3 – Chewing Gum – Declan Carroll – Bill Mott
4 – Artie's Storm – David Moran – Paul Buttigieg
5 – Tap It to Win – Rafael Hernandez – Mark Casse
6 – Vanbrugh – Sahin Civaci – Martin Drexler
7 – Filo Di Arianna (BRZ) – Kazushi Kimura – Mark Casse
8 – Wedgewood – Jason Hoyte – Michael Keogh
9 – Silent Poet – Justin Stein – Nicholas Gonzalez
10 – White Flag – Daisuke Fukumoto – Roger Attfield
11 – Surly Furious – Antonio Gallardo – Glenn Wismer
12 – Olympic Runner – Kazushi Kimura – Mark Casse
13 – Avie's Flatter – Luis Contreras – Josie Carroll
14 – Shirl's Speight – Emma-Jayne Wilson – Roger Attfield
Chris Lomon, Woodbine Communications / @WoodbineComms