TORONTO, December 7, 2019 – Six-time Sovereign Award-winning jockey Eurico Rosa Da Silva, who is approaching the finish line of his successful racing career with plans to retire at the conclusion of the meet, was feted in a winner's circle ceremony on Saturday afternoon at Woodbine Racetrack.
Jim Lawson, CEO of Woodbine Entertainment, and Jonathan Zammit, VP of Thoroughbred Racing Operations, made a special presentation to Da Silva in the winner's circle following the fifth race.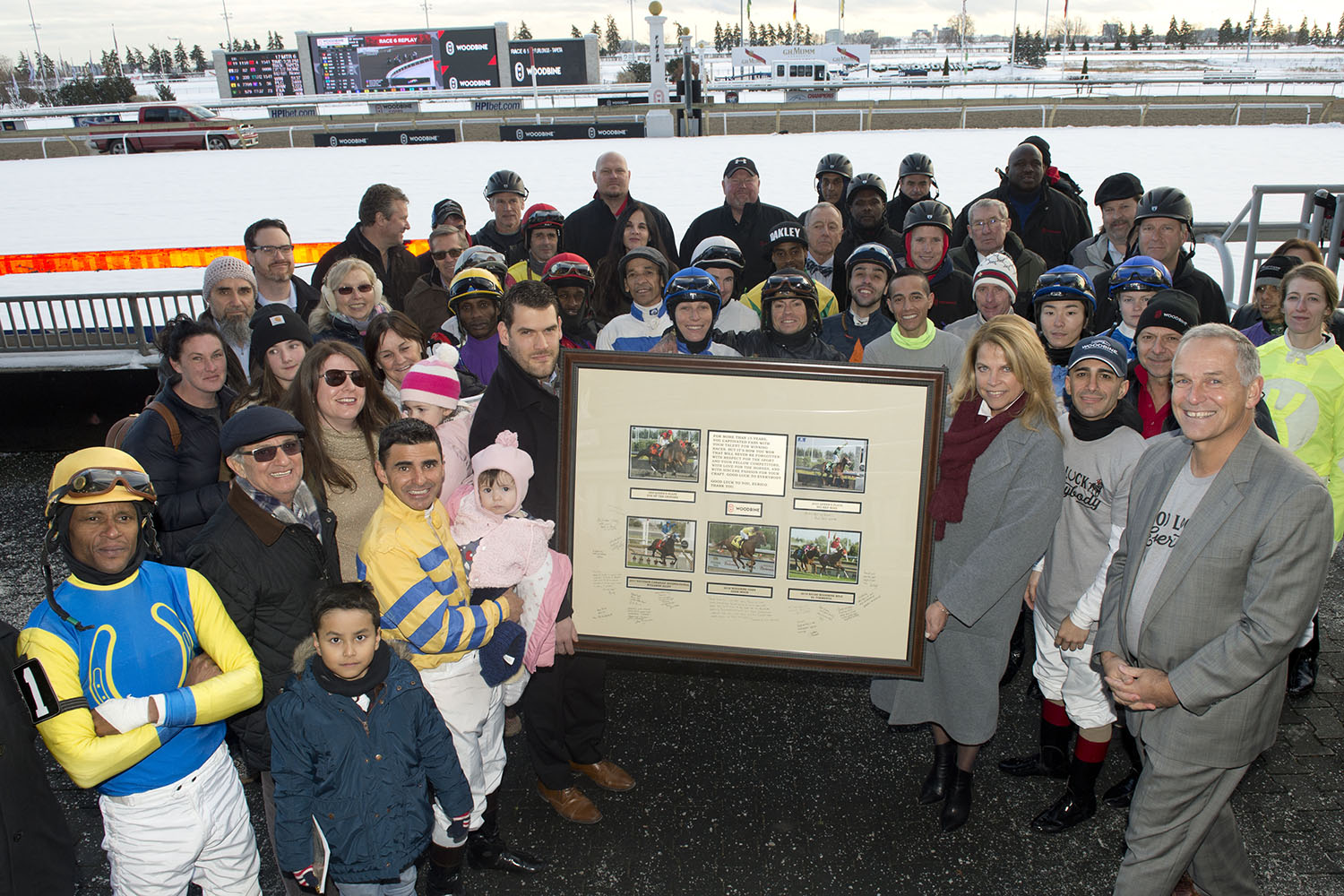 "This is certainly a special day," said Lawson during the presentation to Da Silva. "I think the nicest compliment you can pay to someone when they retire is that we'll miss them, and we'll miss you. On the other hand, you're a big part of the Woodbine family and we hope you remain part of the Woodbine family, so all the best in your retirement and don't be a stranger, Eurico. Thank you for everything."
Surrounded by his family, friends and fellow horsemen, Da Silva took the opportunity to thank the many people who have supported him both on and off the track throughout his career.
"I have no words to explain how I feel," said Da Silva. "I tried to not cry. All I want to say is nobody does it by yourself…  I work with great people. It's teamwork.
"You guys have been wonderful for me. My time came and it's time for me to walk away, but good luck to everybody!"
Prior to the race card, Da Silva signed autographs and took photos with guests in the grandstand. Fans received commemorative t-shirts that featured his popular catchphrase "Good Luck To Everybody" with a donation to LongRun Thoroughbred Retirement Society. Da Silva, a longtime supporter of LongRun, also pledged to personally match the donations from the t-shirts up to $3,000.
"Eurico has been a huge supporter of LongRun since he joined Woodbine's jockey colony.  He has supported individual horses, done stall sponsorships and even paid for operations and medical bills," said Vicki Pappas, Chair of LongRun. "We will be dedicating one of our paddocks on our Hillsburgh farm to Eurico for all his efforts on behalf of LongRun and our horses."
The special edition t-shirts were designed by Woodbine in partnership with Old Smoke Clothing Co., and will be sold by the racing lifestyle and clothing brand for $40 beginning on Monday at www.oldsmokeclothing.com.
Da Silva will be back in action on Sunday afternoon and continue to ride through the end of the 2019 Thoroughbred meet on December 15 as he looks to put the finishes touches on his sixth Woodbine meet title.