TORONTO, March 4, 2020 – Woodbine Entertainment and the Canadian horse racing industry are mourning the loss of longtime Thoroughbred trainer Laurie Silvera, who passed away on March 2, 2020.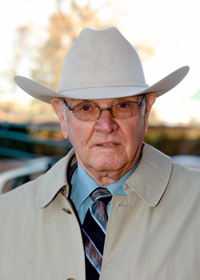 Born in Kingston, Jamaica, Silvera became a licensed Thoroughbred trainer in Canada in 1975. The graded stakes-winning conditioner earned more than 1,000 wins and nearly $26 million in purses throughout his career in North America.
"A true gentleman, Laurie was a longtime fixture on the Woodbine backstretch and highly respected among the local racing community for his horsemanship and willingness to help others. Racing fans will remember Laurie for his prowess in training horses at Woodbine for decades and the early season success he often achieved," said Jim Lawson, CEO of Woodbine Entertainment. "On behalf of Woodbine Entertainment, we offer our sincere condolences to Laurie's family and friends."
Silvera topped the trainer standings for three consecutive Spring Meetings at Greenwood in the late 1980s to early 1990s.
In 1991, Silvera posted a career-best 43 wins and campaigned the Sovereign Award-winning two-year-old colt Free At Last, who won the Grade 3 Summer Stakes.
The respected horseman recorded eight million-dollar seasons including back-to-back years with almost $1.5 million in purses in 2006 and 2007.
Other stakes winners trained by Silvera include Ariana D, Tusayan, Stormthebarricade, Madam Du Barri, Marvellous Silver, Right Regal, Courtly Candor, Parisinthespring, Try in the Sky, Hawk in Flight and November Snow.
Obituary: https://www.arbormemorial.ca/glenoaks/obituaries/laurie-silvera/46337
Service Information: https://www.arbormemorial.ca/glenoaks/obituaries/laurie-silvera/46337/Events