TORONTO, April 21, 2021 – Each week, in the lead-up to Opening Day of the 2021 Woodbine Thoroughbred season, we'll follow some of the top storylines of key horses and horsepeople, and also share other important news, notes and highlights.
From horses on the Queen's Plate trail, to horses to keep tabs on ahead of the upcoming Woodbine season, to catching up with Woodbine trainers, the weekly report keeps racing fans and the racing community in the loop.
In this week's report, trainer Michelle Love discusses her Plate hopeful Took a Wrong Turn, trainer Nathan Squires talks about his young stars and veteran campaigners, Ones To Watch, the inside track on Ontario stallion Souper Speedy, and more.  
*
Path to the Plate: Took a Wrong Turn (30-1 in the Queen's Plate Winterbook)
Sire: Souper Speedy
Dam: Gerty's Turn
Trainer: Michelle Love
Owner: Northern Dawn Stables Inc., Michelle Love, Brian Patterson and Kathleen Biers
Breeder: Northern Dawn Stables, Brian Patterson and Kathleen Biers
Record: 0-1-2 from 4 starts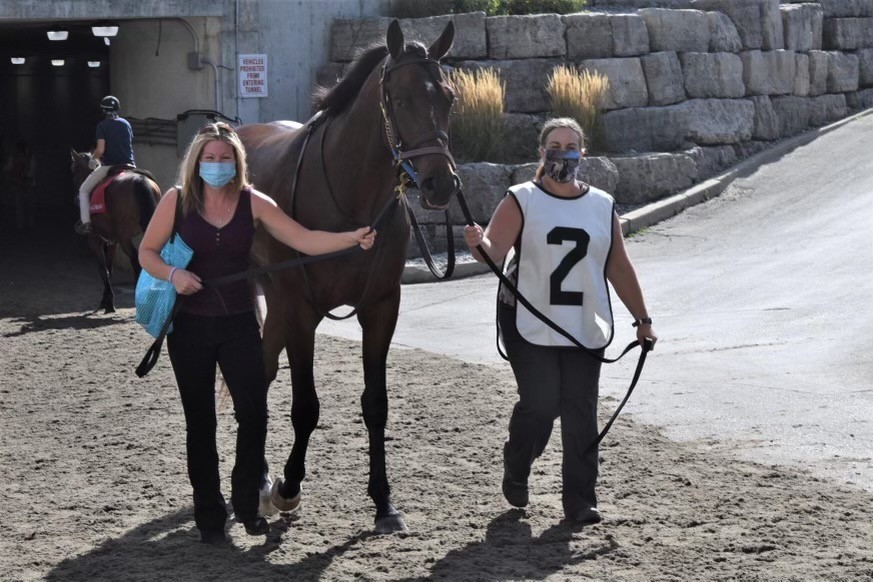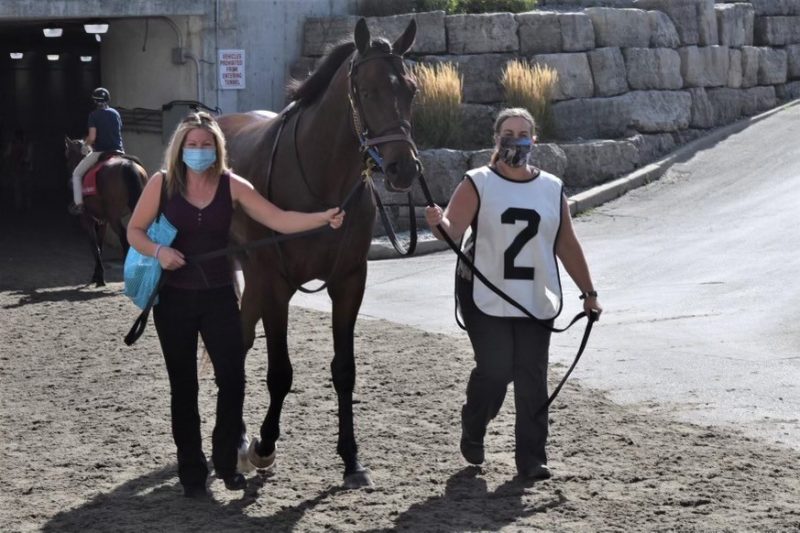 On first impressions… "He's very nice. The first time we worked him, his first quarter-mile, that's when we thought he was a talented horse. He's always been very forward and he's always had a big stride, which is what you're looking for in a racehorse."
On being a sound sleeper…. "He sleeps all day. When he races, we have to get him up to go race. It's amazing. That's what you want. It's better than them running their stall or being high-strung. He's quiet, he sleeps in his stall, and he goes out and trains like a bear. And he comes back in, cools out, and goes back to sleep. He gets up for his lunch and then goes back to sleep."
On earning rave reviews… "Patrick [jockey, Husbands] started working him really early on. He's been working him since his first half-mile and loved him. He'll message me all the time and ask me, 'How's the big horse doing?' At least you know you have something. Patrick knows what he's talking about."
On heading down the Plate trail… "Honestly, we are training him for it [Queen's Plate]. He had a few weeks off in December and he was right back training on the farm. He was supposed to race in December when we got shut down, and he was going to go two turns. That was the next move with him, to go a mile-and-a-sixteenth in a maiden race. That was the plan. He acts like he wants to go two turns in his works, and in his stakes, he's always galloping out with the winner. He's a big boy. We're training him for the Plate. It's definitely exciting."
On his big personality… "He is probably one of my strongest horses to gallop. I take him out right before the break on the main track, and I wait until I'm the last horse on the track and then I gallop him. He's galloping with two or three horses out there. If there's a horse in front of me, he's running it down. It's like pulling on a two-by-four. He's very competitive. He's a big, strong boy. He'll back up to the wire and I can sit there as long as I want. I can watch workers, pretty much do whatever I want. He's like a pony. When you turn him around, he's all business. When he's on his own, he settles, but if he sees a pack of horses, he's ready to go. He's a bit of a bully when he's walking in the barn. He had a history of getting loose at the farm this winter. When he decides he wants to go, he gets going on. He's so strong. He's such a neat horse. He can go from the sweetest pony to racehorse in a second."
*
Trainer Talk: Nathan Squires
Last season: "With the stock I had, just six horses, the highlight was everything. Every win to me is a good one. It doesn't matter if it's a stakes, allowance, or claiming race – once the horses go out and perform to the best of their ability, that's good enough for me. I'm not picky. Every horse has their value and their level. Once they go out and compete, and come back healthy – both horse and rider – I am happy."
More spaces, familiar faces: "I have 11 stalls and 15 horses. I have some clients in Florida and when the sale ends, if they don't sell anything, they send them to me and I race them here. I've got eight horses stabled at Woodbine. My top earner from last year, Royal Wedding, she's in Kentucky with another filly I have, Admonished. They are training there, which they did last year, and it worked out well. They are coming back here at the end of the month."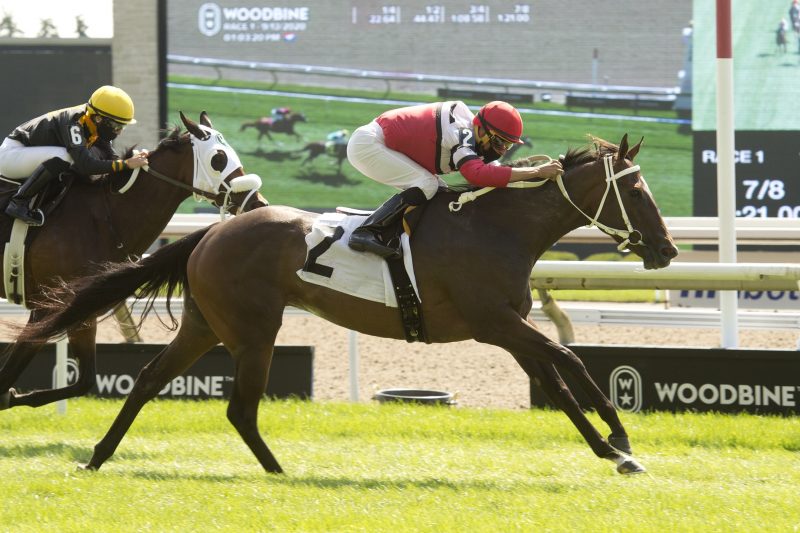 Music to his ears: "I have my good gelding, Gospel Way. He's back and he's training. He was with me in Ocala over the winter. He started back training and he's doing well. He needs two turns. I'm excited to see him race this year. I also have Lyrical Gangster. He's a big, gangly horse. I call him the class dunce. He was the type of horse where he had to teach him something 10 times before he actually learned. His first start, he was fit enough to run, but he's one of those horses that needs to race a couple of times before the light goes on in his head. He didn't run badly in his first start. His second start, he went head-to-head on the lead with the winner. At the top of the lane he went from 60 to zero in a few strides. When he came back, I could see a lot of mucus, which I hadn't seen before the race. He had no cough and he ate well. For some reason, that just happened. We gave him some time, we rested him, and made sure he was healthy. His third start was on the Inner Turf Course and he drew an inside post. Before the race was even 100 yards, there was a chain reaction from the outside. I don't know how he didn't fall down. Into the turn, the inside horse came out on him and he almost went down. It was a tough race. We ran him again, but it was too short. We dropped him in class and he ran a mile-and-a-sixteenth. Simon [jockey, Husbands] was adamant about putting him on the lead. So, he did that, and he won very nicely. He has grown and developed so well. We'll get him ready and hopefully we can get him his first start of the year."
Young stars: "My two-year-olds, I love working with them. Right now, I have six at the barn at Woodbine, and they are all at the same level. They are all very forward. I have a filly, Luz de la Luna, she is by Uncaptured out of Woven Lady. I trained Woven Lady her entire career. She wasn't the best horse, but she is one of my favourites because she would run on heart alone. She was a hard-knocking mare. I have another filly, Guileful. She is really, really nice. She could be any type of horse, the way she trains. She is so professional."
More rookies: "Another filly, her name is Pearlbdancing. She is very nice. I just got her very recently. She wasn't with me in Florida. I have a nice colt, Wild River Wolf. He's worked in Florida and we gave him two or three weeks on the farm because he was going through a growth spurt. And then there is a filly, We've Had Enough. She is by He Had Enough out of a mare I trained called Bwana Go Fast. They are all going forward and they are all smart. Knock on wood, they know what to do, and hopefully they can all have a good year."
Perfect balance: "I have four older horses and the rest are two-year-olds. I like having the two-year-olds. The three-year-olds, you know what to expect. The young ones, it gets the blood flowing. I like the horses that I have."
Ones to Watch:
From Canadian Thoroughbred's Jennifer Morrison…
It was an exciting time for owner and trainer Laura Krasauskaite in 2020 as the 36-year-old mother of two saddled her first winner, her $4,000 purchase Silent Causeway. The speedy filly by Ontario stallion Silent Name (JPN) was Krasauskaite's first start of the season and only her 14th starter since she obtained her trainer's license in 2018. Silent Causeway went on to finish second in the Algoma Stakes and has been working impressively this spring.
Born in Lithuania, Krasauskaite and partner Marco Raymon, have several other exciting prospects for 2021 including 3-year-old Shakoo Makoo, a son of Reload, who was a good third in his only outing a year ago. Shakoo Makoo was purchased at the 2019 CTHS yearling sale for just $2,000.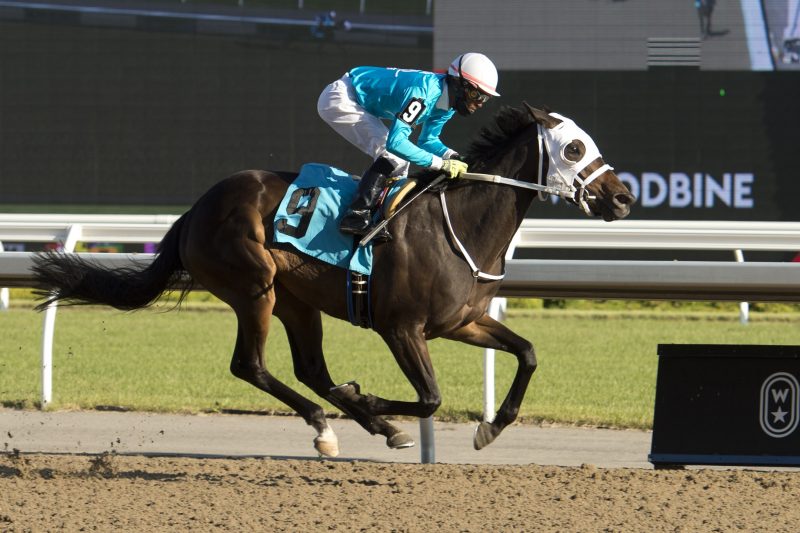 Krasauskaite enjoys sharing videos and photos of her horses on Facebook, and two of her auction purchases in 2020, the juveniles Lithuanian King and Auksine Kulka ('Golden Bullet'), have made good impressions in early training. This is a stable to watch in 2021.
Ontario Stallion Spotlight: Click here to get to know more about Souper Speedy, the stakes-winning son of Indian Charlie – Speed Succeeds, by Gone West.
2020 Race Rewind: Click here to watch watch Souper Sensational sprint away from her rivals in the $100,000 Glorious Song Stakes on October 17, 2020.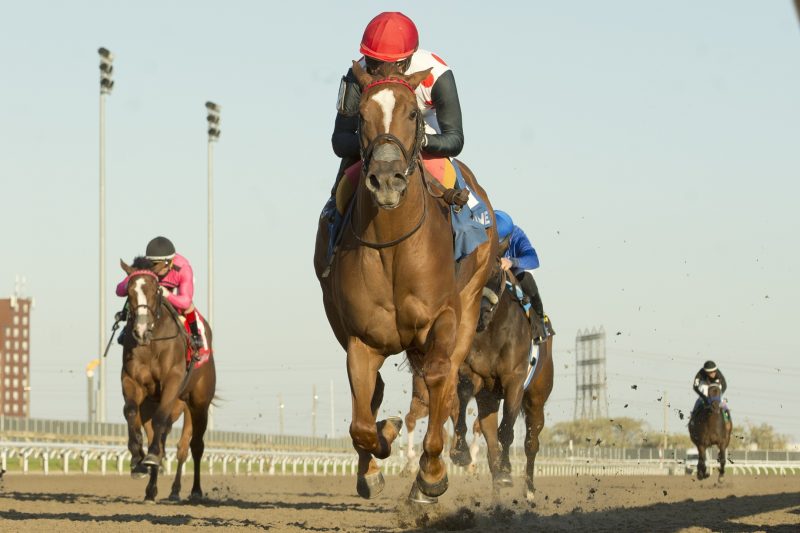 HPIbet: Click here to check out the latest promotions from HPIbet.