TORONTO, March 17, 2021 – Each week, in the lead-up to Opening Day (April 17) of the 2021 Woodbine Thoroughbred season, we'll follow some of the top storylines of key horses and horsepeople, and also share other important news and notes.
From horses on the Queen's Plate trail, to horses to keep tabs on ahead of the new Woodbine season, to catching up with Woodbine trainers, the weekly report keeps racing fans and the racing community in the loop.
In this week's report, Dale Romans hopes to add a Queen's Plate to his list of accomplishments, Robert Tiller hopes for another outstanding Woodbine campaign, Prime Attraction is in the Ontario Stallion Spotlight, plus much more.
Path to the Plate:
Horse: Smiley Sobotka
Sire: Brody's Cause
Dam: Dance Thewayyouare
Trainer: Dale Romans
Owner: Albaugh Family Stables LLC
Breeder: Track West Racing Inc.
Record: 1-2-0 from 4 starts (click here to watch Keeneland win on October 4, 2020 – race starts at 24:20 mark)
On when Romans knew he had a possible Plate horse in his barn…
"I've always liked him since he started training, but I also liked him when we bought him. He's always trained super, and he's always backed it up. The last race [a ninth in the Sam F. Davis, on February 6 at Tampa Bay Downs], we'll draw a line through. We're looking forward to the Canadian-bred races at Woodbine, the ones leading to the Plate. We'd love to come up to Woodbine and get in that series and try and win a Queen's Plate."
On the maiden win at Keeneland on October 4…
"There were four or five really good horses in that race. They kept coming after him every time, he just out-gamed them."
On the runner-up effort in the Grade 2 Kentucky Jockey Club Stakes at Churchill on November 28…
"That was an outstanding effort against some legit horses. He just battled the whole way. He's the real deal. I was very happy with that race, just not the last one. But he's doing great."
On adding a Plate win to his long list of accomplishments…
"I would love to win this race. I've been to Woodbine one time in my life and it was a long time ago. But I always enjoyed it. The people at Woodbine treated me so well. I'm looking forward to coming back."
Trainer Talk:
Robert Tiller
Career wins: 2,042
Last season: "It was great. It turned out great. We had a lot of horses that have some ability. I've always said you have to have horses with ability and who have the conditions. We had both. I'm very happy. I missed second leading trainer by a nose. I was very happy with 2020."
Stars of the barn: "I have a horse, Last American Exit, that loves to come running from way out of it. I really like that one. On a given day, if they stop running, watch out. I have another horse, Checkerboard Floor, who I really like as well. We also have Reconfigure, who is really good. He grinds out it really well. We also have Guitar George, who is nine… I have more old men in my barn, including me, than anybody on the grounds. We have a 10-year-old, Slip Kid, who I claimed for $5,000 at the end of the year. And of course, we also have the one and only Pink Lloyd, who is now nine. They are all still happy and they are still doing well. We expect them to have a good year. When they are ready to be retired, they will be. We listen to the horses. They speak to me."
The champ: "He [Pink Lloyd] is very happy to be here at Woodbine. He's not really happy when he's at the farm. He loves it here. He just finished training and there is no reason for him to not be doing what he's doing. He's just so happy here with his groom, Michelle Gibson. She just told me that he gets what he wants. When he wants to eat, he eats. When he wants to stop in the shedrow, he stops. He's kind of a spoiled sucker, but I guess if you earned $2.1 million (CDN), you'd be spoiled too. He does things his way. I'm sitting outside the barn in my truck watching him get his legs hosed off. He's a picture of health, he's happy and he loves being here. I love being here and I love these horses."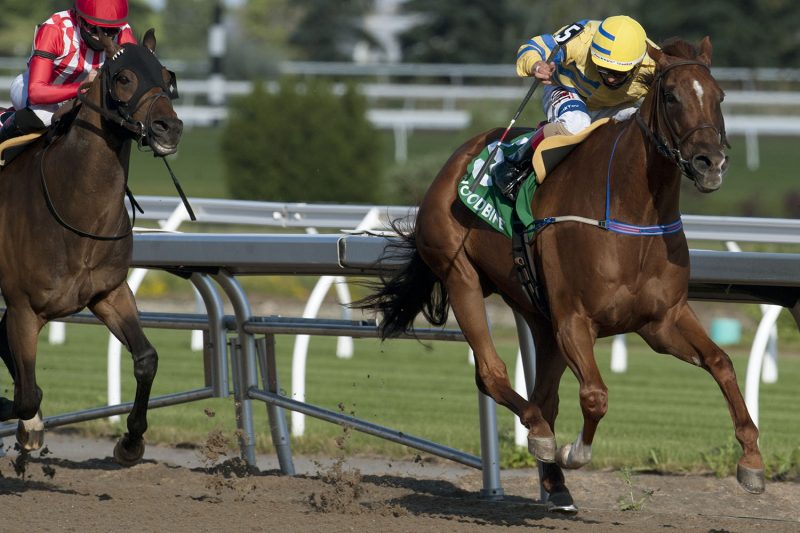 This season: "I always look forward to racing season. I just hope we can have the whole year, from April to December. It was a tough year for everyone in our industry."
Final furlong: "I'm so happy for Michelle winning the [2020] Outstanding Groom Award. She absolutely deserves it."
Ones to Watch:
From Canadian Thoroughbred's Jennifer Morrison…
There is plenty of excitement around horses in the barn of trainer Carlos Grant this spring.
Three-year-old Derzkii, a big son of Ontario sire Frac Daddy, had a pleasing juvenile campaign, ending the season with two straight wins.
Owned by Fieldstone Farms (Analisa Delmas), Derzkii was bred by 37-year-old Megan Allan and mother Lesley Kraus of Coldwater, Ontario. Allan, who operates under Megan Kraus Thoroughbreds, is thrilled at the success and potential of Derzkii, nicknamed 'Bruce' after the big shark in Finding Nemo.
Derzkii finished fourth in the Simcoe Stakes in his second career start and won two route races, on turf and Tapeta, finishing his first season of racing with over $150,000 in earnings. The gelding is Queen's Plate eligible and one to watch when the races get longer.
Grant also trains Jecara Farms' Eskiminzin, who is also back working at Woodbine. The six-year-old has been a wonder for Jecara, which is owned by Brett Delmas.
The stakes winner of over $440,000 won twice in 2020 and is being pointed to turf racing this summer.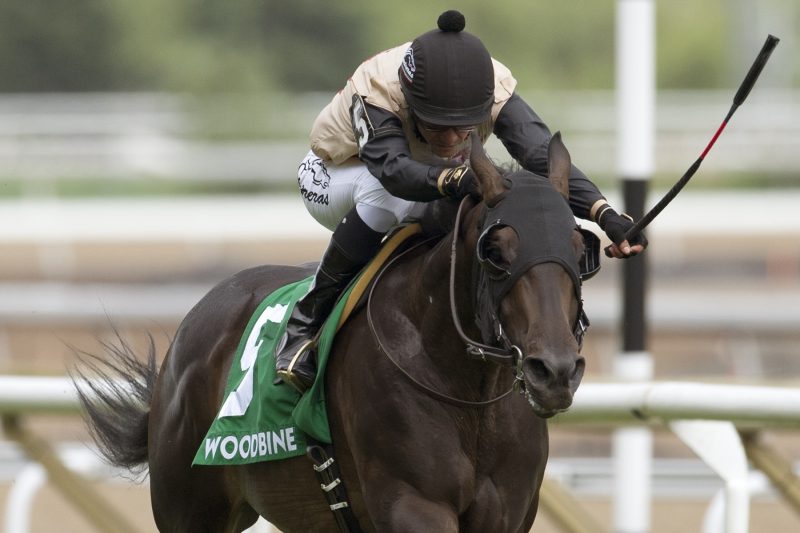 Ontario Stallion Spotlight:
Click here to get to know Prime Attraction. "We are thrilled to have the opportunity to stand such a remarkable horse in Ontario."
2020 Race Rewind:
Click here to watch Credit River flow to victory in the Ontario Racing Stakes on September 19, 2020.
HPIbet:
Click here to check out the latest promotions from HPIbet.
Key 2021 Woodbine Dates:
March 17 – Starting Gate will open on training track
April 17 – Scheduled Opening Day