TORONTO, March 3, 2021 – Each week, in the lead-up to Opening Day (April 17) of the 2021 Woodbine Thoroughbred season, we'll follow some of the top storylines of key horses and horsepeople, and also share other important news and notes.
From horses on the Queen's Plate trail, to horses to keep tabs on ahead of the new Woodbine season, to catching up with Woodbine trainers, the weekly report keeps racing fans and the racing community in the loop.
In this week's report, trainer Mark Casse gives the latest updates on Curlin's Catch and Master Spy, Stuart Simon speaks about his 2020 season and hopes for the 2021 campaign, Pink Lloyd is back at Woodbine, plus much more.
Path to the Plate:
Horse: Curlin's Catch
Sire: Curlin
Dam: Catch the Thrill
Trainer: Mark Casse
Owner: Breeze Easy, LLC
Breeder: Sam-Son Farm
Record: 2-1-0 from 5 starts (click here to watch Suncoast Stakes win here)
On when Casse realized she had talent…
"Breeze Easy bought her and paid a lot of money [$430,000 U.S.] for her, and we got her right after the sale. I can remember going to look at her – they had asked me to go see her before the sale – and I really liked her. She's my kind of horse. I like a taller, lighter type of horse, with more leg and that's what she is. So, I really liked her. We got her to our training centre and right from the get-go, she trained well."
On pivoting plans…
"It's interesting. Right now, she's shown more on dirt than she did on the Tapeta. But in fairness to her, nothing worked when I had her at Woodbine. I wanted to run her long against fillies, and it would have set up perfectly for the Princess Elizabeth, but the race didn't go. So, we had to go to Plan 'B,' and I ran her against colts. She ran well, but it was too close to the Princess Elizabeth. But I went ahead – you don't get the shot to run for $250,000 very often with a 2-year-old filly – and it wasn't her best effort."
On figuring out her surface preference…
"I don't know whether it's that she's not crazy about Tapeta or if she's that much better on the dirt. She did train well prior to her races at Woodbine, so I don't know. We'll see. Curlin's always improve as they get older, so that might be part of it as well."
On what the 2021 season holds…
"It's good to have options with her. Right now, our hopes and dreams are for the Kentucky Oaks, so that would be our first goal, obviously, and probably the Queen's Plate after that."
Horse: Master Spy
Sire: Silent Name (Jpn)
Dam: Smart Catomine
Trainer: Mark Casse
Owner: Tracy Farmer
Breeder: Bernard & Karen McCormack
Record: 2-1-1 from 5 starts (click here to watch Cup & Saucer Stakes win.)
On getting back into the swing of things…
"I'm just giving him a break. He worked well [3 furlongs, breezing, in :37.60 on February 23]. I have some serious questions about his ability to go that far [1 ¼-mile Queen's Plate distance]. He might be better on turf than he is on Tapeta. A lot of things can change over the winter time, so you never know."
On making the grade…
"As I mentioned before, I grade the horses A, B, C or D. Curlin's Catch was an 'A' from the beginning, as was Gretzky the Great and Master Spy. They all were horse that said, 'Hey, I may be something special.' They all had that in them."
On moving forward…
"The horses have to progress from what they've shown and go on from there. That's the fun part. It's that time of year right now with our young horses. It's fun to watch them every morning take their steps forward and to see who excels. You always want to be in those big races, but it takes a lot to get there, and continuing to develop the talent they have shown is key."
Trainer Talk:
Stuart Simon
Career wins: 824
Stakes wins: 55
Winter home: "I stayed in Ontario this year. We're like most everybody else, just staying close to home. My wife's a runner and she goes running every day. I'm not quite as sound as her, so I go walking every day. I've also been doing a lot of planning and organizing for this racing season."
Last season: "It was kind of a stop-and-go season, and I found it hard getting into a rhythm all year with the horses. I had horses that were away and ready to run at Woodbine in early April, and when you have to stop-and-go and stop-and-go, some of the horses get over the top on you. It seemed like I had to keep regrouping, but all-in-all, in the end, we wound up winning some pretty nice races, and progressed some young horses."
This season: "I ended up winning with a couple of two-year-olds near the end of the season that I think have a chance, if they step forward, can develop into some nice stakes horses at Woodbine. Lorena [a daughter of Souper Speedy], we ran her once and she won very easily. She's Ontario-sired and Ontario-bred, so she's Canadian-bred eligible for everything, and I think she has a lot of upside if she takes those steps forward. Lomaki's Gem [an Ontario-bred son of Gemologist] made his third start and won it going long. He looked like he could be developing into a really nice colt. Those are a couple of young horses that definitely could develop into something nice this year. They're down south training in Florida and they'll be back here probably between the middle and end of March. We'll take it from there."
"We also have [multiple stakes winner, 5-year-old] Sister Peacock and [multiple graded stakes winner, 6-year-old] Summer Sunday. They'll be back this year and hopefully we have a nice, smooth campaign, and they get back to being themselves again. We bought some yearlings here last year, and Chiefswood and Sam-Son are sending me some of their homebreds, which is going to be exciting."
Thinking big: "Right now, we're going to proceed on with the plan. We have those dates [Woodbine Oaks presented by Budweiser, on July 25, and the Queen's Plate, slated for August 22] set and know where they're at. We'll proceed on with those horses and gradually progress them mentally and physically up until then. Hopefully, they can progress and they can compete in those races."
Final furlong: "I'm just looking forward to hopefully a nice, regular season, a year that's not interrupted, one we can start on time and carry through the whole year. I'm looking forward to that more than anything."
Ones to Watch:
From Canadian Thoroughbred's Jennifer Morrison…
A newly minted Sovereign Award winner and a six-time Sovereign winner have returned to Woodbine for the 2021 racing season.
Michelle Gibson, who will be presented with the Outstanding Groom trophy at the upcoming virtual Sovereign Awards in April, is back to work for Hall of Fame trainer Robert Tiller. Gibson, 51, is a 20-year veteran on the Woodbine backstretch and is excited to get back to her horses. One of the seven that she grooms for Tiller is none other than the great Pink Lloyd, who "walked into his stall like he never left" when he arrived last week.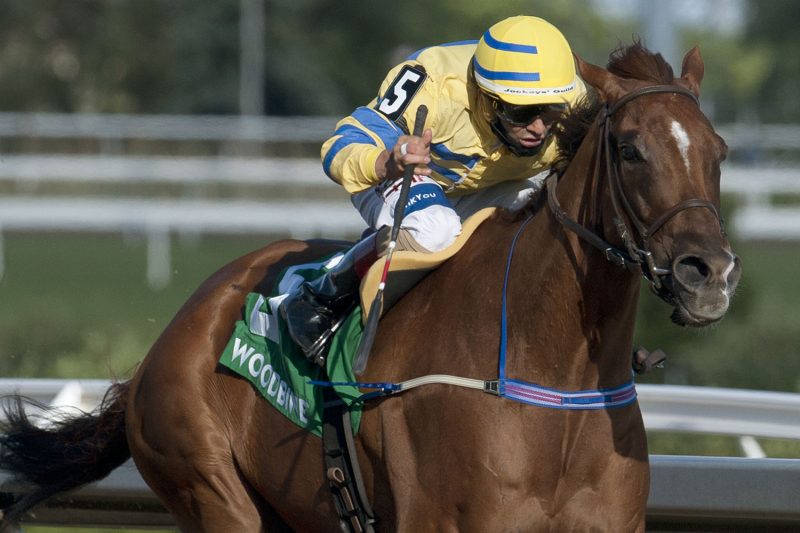 Now 9-years-old, Pink Lloyd, owned by Entourage Stable, had another stellar season in 2020 with four stakes wins in his five starts. 'Pink' is a finalist for a fourth Champion Sprinter Sovereign Award and a third honour for Champion Older Horse.
Pink Lloyd's connections are targeting the May 2 Jacques Cartier Stakes, a race he has won a record four times.
Gibson, who lives in Brampton and is a married mother of 20-year-old Devin, is excited about her other favourites from 2020, including stakes placed Corduroy Road and Reconfigure.
Ontario Stallion Spotlight:
Click here to get to know Society's Chairman, the graded stakes-winning son of Sadler's Wells.
2020 Race Rewind:
Click here to watch Silent Poet deliver an emotional win for trainer Nick Gonzalez in the Grade 2 Nearctic Stakes on October 18, 2020
HPIbet:
Click here to check out the latest exciting promotions from HPIbet.
Key 2021 Woodbine Dates:
March 6 – Clocking Department will start recording workouts
March 8 – Receiving Barn will open for the season. Please contact Stall Office with 24 hours notice for stall availability
March 17 – Starting Gate will open on training track
April 17 – Scheduled Opening Day