TORONTO, March 31, 2021 – Each week, in the lead-up to Opening Day (April 17) of the 2021 Woodbine Thoroughbred season, we'll follow some of the top storylines of key horses and horsepeople, and also share other important news, notes and highlights.
From horses on the Queen's Plate trail, to horses to keep tabs on ahead of the upcoming Woodbine season, to catching up with Woodbine trainers, the weekly report keeps racing fans and the racing community in the loop.
In this week's report, trainer Graham Motion gives his thoughts on Queen's Plate hopeful Dance Some Mo, Woodbine conditioner Sandy McPherson closes in on 900 career wins, Ontario Stallion American Guru, and more)
*
Path to the Plate: Dance Some Mo (30-1 in the Queen's Plate Winterbook)
Sire: Uncle Mo
Dam: Dance Again
Trainer: Graham Motion
Owner: Sam-Son Farm
Breeder: Sam-Son Farm
Record: 0-1-0 from 2 starts
Graham Motion was impressed by Dance Some Mo's impressive recent runner-up effort at Tampa Bay Downs on March 13. Click  here to watch the race.
On the horse's second start: "I thought that [March 13 race] was pretty encouraging. We tried him on the dirt [a seventh-place debut on February 12 at Tampa], which I really didn't really expect him to handle, but we thought we needed to try it. He's never handled it as well as the synthetic in the morning at Fair Hill, but he's a lovely, big horse. He's a well-bred horse. He didn't handle the dirt well, but in his latest start [one mile] on the grass, he was beaten by what looks like could be a serious horse [Chad Brown trainee, Sifting Sands]. I thought Dance Some Mo raced very respectably and galloped out strong. He's a horse we've always liked and it's a race [Queen's Plate] we've always had in the back of our minds for down the road."
On expectations going into the March 13 race: "I would have been disappointed had he not run well. I kind of put a line through his dirt race."
On when Motion thought the horse had talent: "He's always acted like a nice one. He's a very big, strong and attractive horse, who does things the right way in the morning."
On Dance Some Mo's maturity level: "He's pretty good, actually. He was a little cheeky early on as a 2-year-old, but he's definitely getting the hang of it."
On having a stable at Woodbine: "We're stabling up there at Woodbine, which is something I've always wanted to do. Having horses like this is what makes this make sense. You hope to have horses that can compete on those big weekends at Woodbine. Training horses for Sam-Son and Chiefswood gives you extra incentive to be up there. We have a lot of horses that we end up running up there any way, so it makes sense for our program. I know that's cliché, but it's true. We've been wanting to do this for a while."
On contesting the 2021 Plate: "This is high on their [Sam-Son Farm] list every year, to get a horse to the Queen's Plate. That's why they breed the horses they do. I just hope I can help them get there."
*
Trainer Talk: Sandy McPherson
On closing in on 900 career wins: "We want to get there this year and we should be able to. We've got enough horses. I'd like to get to 1,000, but I'm getting older. We just do what we do, and we do it because we like it. I look forward to going to work every day. That's the way it's always been for me. I walked on the racetrack in 1974. I wasn't there five minutes and I knew I'd never leave."
On his rookie band: "I have a grand total of 10 horses and four of them are 2-year-olds. The 2-year-olds, you just never know what you're going to get. Any 2-year-old could turn out to be a really good horse. They're training in South Carolina at Webb Carroll Training Center. They do a really good job there. We haven't won with all of them at 2, but they've all started at 2. They break them in the fall and they keep going with them. They've been to the gate a lot, it's a nice track there, and they get a real good foundation into them. They're probably starting to breeze right around now. They'll come to Woodbine in April and they'll have breezed two or three times already."
On last season: "We had a solid year. It was unfortunate things stopped [due to the pandemic] when they did because although we only had 10 horses, we had 10 live horses with races waiting for them. We won 10 races in 2020, but it's a safe bet to say we would have a lot more. We didn't get to run two horses that we claimed, and I really liked them. But that's the way it goes. A Broken Breeze [now 5] really started out like a house on fire, but her last couple races weren't as good. There was nothing the matter with her – sometimes it's just circumstance. Her early races were a big improvement from 3 to 4. I had her mother too, and she didn't win until she was 4. She ran well as a 5-year-old too."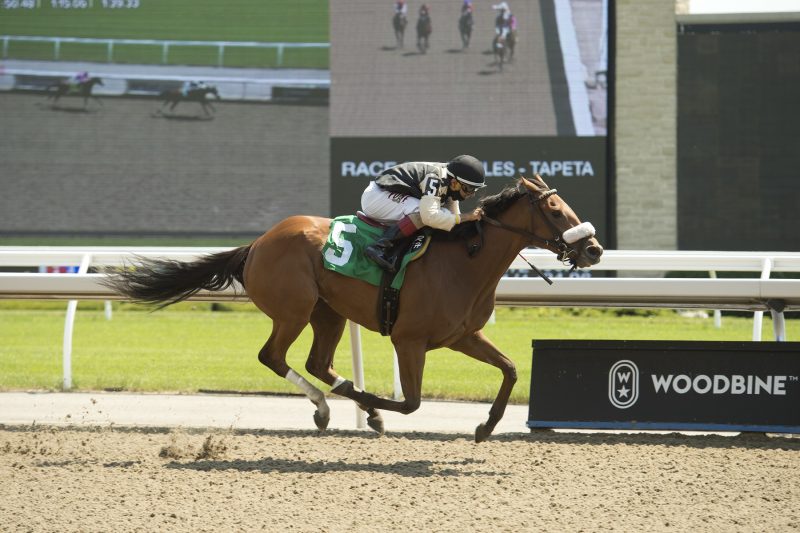 On goals for this season: "I've done this for so long that I don't count ahead of time. I know things go right and they go wrong. I'm hoping for some luck. I work hard. At the end of the day, luck is important. People really have no idea just how important luck is. It's a big part of it. The most important part is to have decent horses and I do have decent horses. But it only takes one to beat you, even when you're live."
Ones to Watch:
From Canadian Thoroughbred's Jennifer Morrison…
His nickname is 'Little Man,' but Timeskip is larger than life in the stable of trainer Renée Kierans.
Purchased from the 2016 CTHS Canadian Premier Yearling sale for $27,000 by Kierans for Wallace Standardbreds, Timeskip provided the trainer with her first graded stakes placings in 2020.
The son of Court Vision finished third in both the Autumn Stakes (G2) and Durham Cup (G3) Stakes last fall at Woodbine. Timeskip also won a very key allowance race in the summer as the third-place finisher that day, Mighty Heart, came back to win the Queen's Plate.
Kierans says Timeskip is 100 percent racehorse who gives his all every time.
A former amateur jockey and Woodbine and Mohawk simulcast host, Kierans gallops all her own horses.
For 2021, she looks forward to Timeskip returning to the track as well another old-timer, Gator Spy. Kierans also trains the only horse (Royal City Reign) for former radio personality Carol Mott, owner of TMEC Stable in Guelph, and has a new horse arriving soon from Kentucky, Thames River (GB), for new client Daniel Plouffe.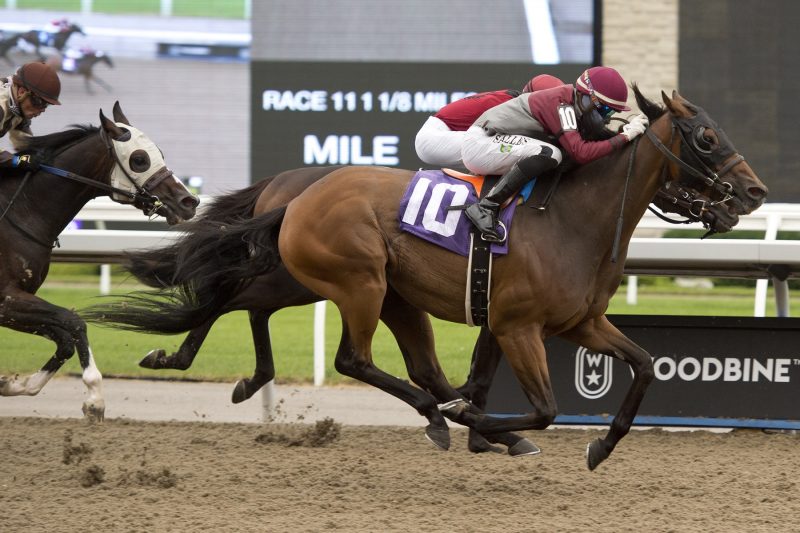 Ontario Stallion Spotlight:
Click here to get to know more about American Guru. The family is steeped in tradition, with a strong Mr. Prospector influence on both sides.
2020 Race Rewind:
Click here to watch Mizzen Beau, under a perfect ride from Steve Bahen, take the $250,000 Bison City Stakes.
HPIbet:
Click here to check out the latest promotions from HPIbet.
Key 2021 Woodbine Dates:
April 17 – Scheduled Opening Day