Chef de Cuisine Michael Mortensen discusses the unique flavours of hay smoked cooking in this month's edition of Woodbine's Chef Blog 'Nom de Course.'
TORONTO, May 2, 2019 – A fitting feature on Woodbine's menus, the technique of using hay to smoke food and infuse its flavours has been around for hundreds of years.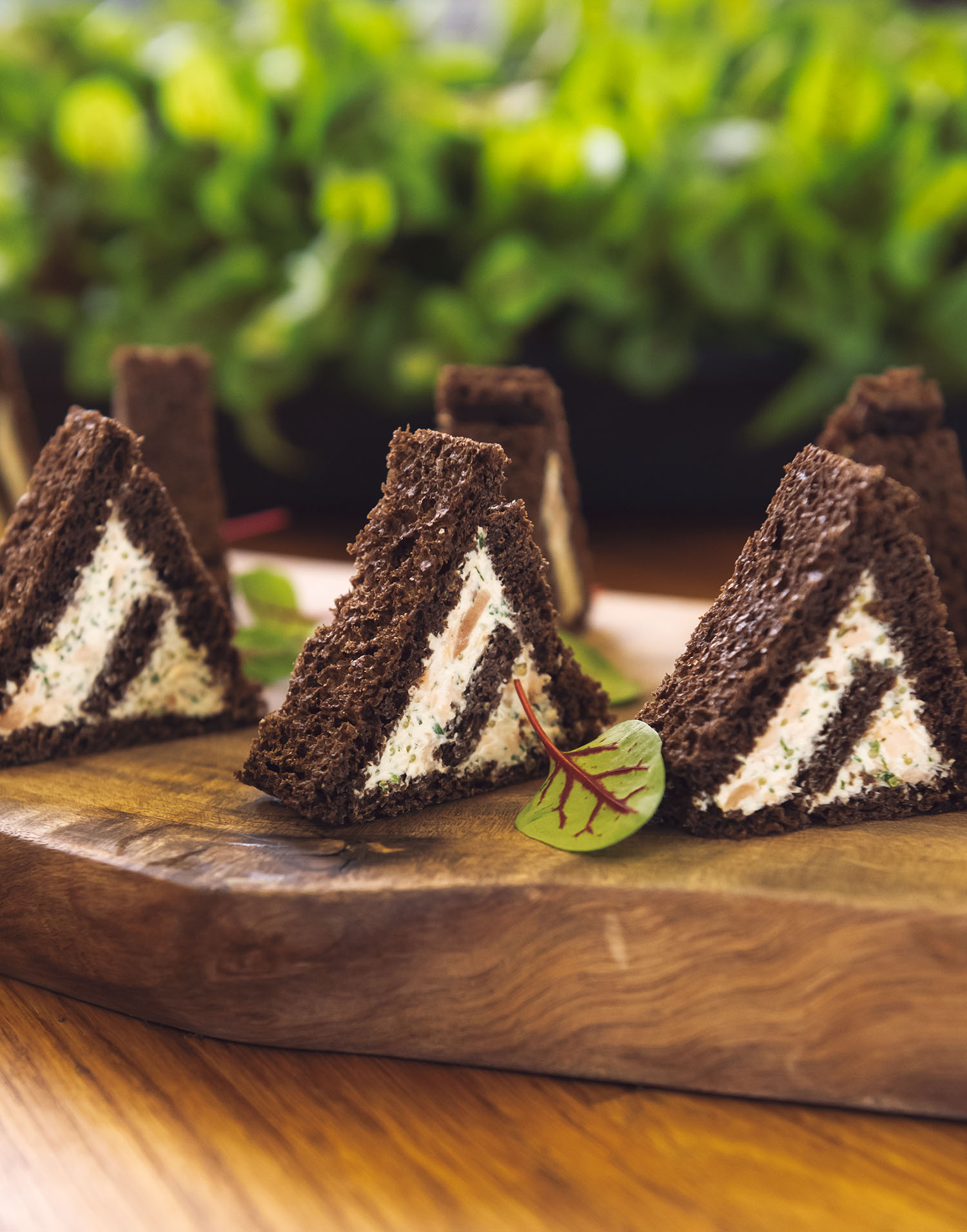 Natural hay is interesting and has earthy notes like mushroom. We were drawn to the subtle union between cuisine and nature… it's theatrical and smells amazing!
Cooking in hay boxes during the last century was a fuel-efficient method of gently finishing the cooking of food that had been boiled.
We have been experimenting with different types of smoke at Woodbine and are featuring Hay Smoked Trout among our selection of Kentucky-inspired Benedictine Tea Sandwiches offered on our exclusive Derby Day Party menu.
The aroma of hay brings back memories of my childhood, growing up in the country. We did not use straw for smoking; hay is a lot finer, it's stronger and it lasts a little longer.
Sometimes you will find that hay from different parts of the province or country is very different in taste due to the clay and minerals in the fields.
A traditional way of cooking wild trout was on planks on the open fire. You can also add branches of juniper, dried whole bunches of herbs or black currant leaves, which is a play on the original method. This leaves the smoked food with a slight citrusy flavour.
The quality of the hay used for smoking is very important; it must not be damp or it will give a musty aroma.
We get our hay right here at Woodbine from the backstretch!
Check out how we create our Hay Smoked Trout Benedictine Tea Sandwiches in the video below and join us at the third annual Derby Day Party on Saturday, May 4 to try this delicious appetizer and more.
RECIPE: HAY SMOKED TROUT BENEDICTINE TEA SANDWICHES
Our Hay Smoked Trout Benedictine Tea Sandwich recipe, which yields 30 small sandwiches, requires 1-1.5 lbs of whole trout fillet, deboned with the skin left on. We use local trout from the Kolapore Springs, 20 kilometers south of The Blue Mountains.
Ingredients for fish seasoning
3 pinches sea salt
2 pinches cracked black pepper
½ bunch finely chopped chives
4 handfuls fresh hay for smoking
Dried lemon slices
Dried fennel – or dried dill or black currant leaves
Ingredients for sandwich
1 pinch cracked black pepper
8 oz cream cheese (room temperature)
1 bunch finely chopped dill
250 grams tramezzini (crustless bread sheets)
Preparation for the Hay Smoked Trout…
Prepare 1-1.5 lbs of whole trout fillet for smoking by deboning and leaving the skin on. Add sea salt, black pepper and chives to season the trout.
Place four handfuls of dry hay into the bottom of a cast iron pot. Add dried lemon slices and dried fennel, dill or black currant leaves. Place the fish fillet on top.
Light the hay on fire. Hay combusts so much faster than wood and this will only take two minutes. A burst of smoke and fire will both cook and smoke the fish. The hay will burn off in a big flame then place the lid on top and let it rest as is for five to seven minutes. Eventually, the fire will burn out and the fish will be fully cooked.
Take off the lid and carefully lift the fish fillet away from the burnt hay and place it onto a plate. Brush off the ashes and remove the skin of the fish.  Chill the fish in the refrigerator for two hours or until fully cold.
Assemble the Benedictine Tea Sandwiches…
Fluff the fish and mix in a bowl with black pepper, cream cheese and dill. Spoon mixture into a piping bag.
Prepare tramezzini by cutting crustless bread into desired shape. We are using a triangular mold, with bread cut into rectangular strips.
Line the mold with saran wrap and place the bread into the mold. Pipe the smoked trout mixture into the mold and layer with another slice of bread. Pipe the remaining mixture into the mold and layer another piece of bread on top. Press down on the bread and refrigerate for 12 hours.
Unwrap sandwich, slice and serve.