By: Eric Wing for Woodbine.com
TORONTO, April 27, 2018 – Ontario has always laid claim to a group of contest players that can hold their own with any in the world. Any doubts on this matter were certainly put to rest in recent years with the National Handicapping Championship wins by Barrie's Brian Troop (2010) and Thornhill's Ray Arsenault (2017) plus the Breeders' Cup Betting Challenge (BCBC) victories posted by London's Peter Behr (2013) and Toronto's Tommy Massis (2015). What has occurred in 2018, however, has been nothing short of remarkable.
Following the triumphs of Whitby's Chris Littlemore in February's NHC and Ottawa's Bob Montgomery in March's Horseplayer World Series, John Kimove of Wasaga Beach made it a veritable hat trick for Ontario with his conquest of 194 foes in yet another major 2018 North American handicapping tournament, the April 15 Keeneland Grade 1 Gamble.
Why the recent run of Canadian success at the big events? Kimove has a theory.
"We grow up playing other tracks," said the 54-year-old roadside assistance driver who has two grown daughters—Cindy, 28, and Kaitlin, 26. "A lot of us are playing seven or eight U.S. tracks along with Woodbine. A New York guy, with their year-round schedule, might just play New York tracks. A West Coast guy might just play West Coast tracks. I think most of us in Canada know there are good races to play everywhere."
It was Keeneland, in Lexington, Kentucky, where Kimove found his biggest stage—and his biggest success. "It was just one of those days where everything went my way," he said.
Indeed, for his single afternoon of playing Keeneland runners over what was a wet, rain-drenched racing strip, Kimove earned $57,963 (U.S.) plus seats to the 2018 BCBC and the 2019 NHC.
"The funny thing is, I normally hate betting sloppy tracks," Kimove admitted. "Usually it throws me off my game. If I sit down to play a bunch of tracks, and I know that one of them is sloppy, I typically skip over that track."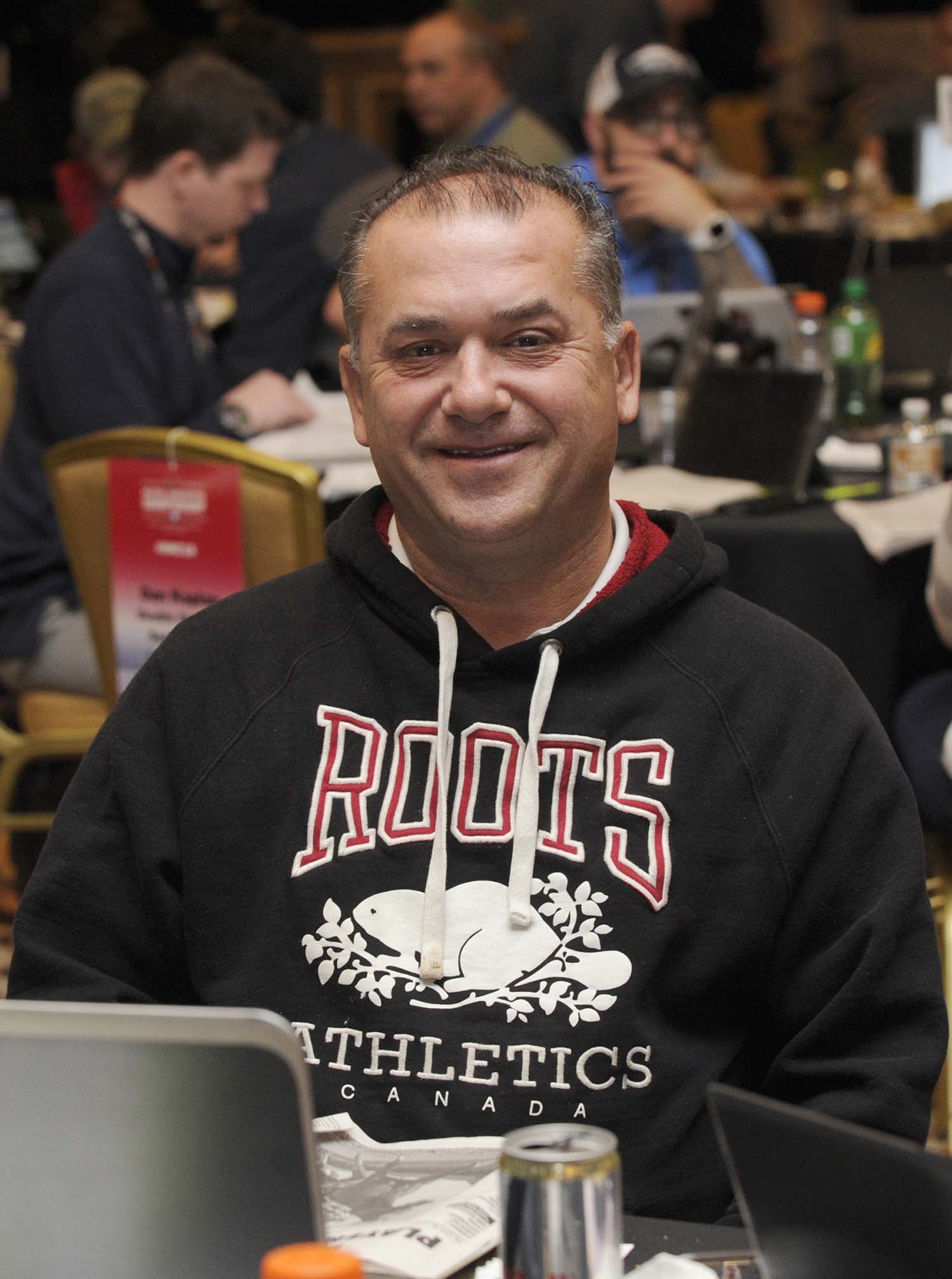 Having ventured to Kentucky specifically to play in the Grade 1 Gamble, skipping over Keeneland was hardly an option for Kimove. The tournament required that player start with a bankroll of $2,000, then make five plays of at least $400 each—all on the Sunday Keeneland card—and wager at least half their remaining bankroll on one of Keeneland's last two races.
Kimove got off on the right foot with a $400 win wager in the first race on a horse that seemed aptly named for the weather—Terrible Day. The $8.60 win mutual quickly boosted his bankroll to $3,400. Some uneven results over his next three plays, however, left Kimove with about $2,500 heading into the next-to-last race, race eight.
"I liked the #1 horse and was contemplating whether to bet half my bankroll on him," Kimove recalled. "Instead I just spent $500, playing $100 to win and place on the one, and playing him up and down in exactas with three others."
For a moment in midstretch, it looked like Kimove might crush the race. His 1 horse, Vici, had been sent off at 14-1 and opened up a one-length lead with just an eighth of a mile to go. He could see a horse closing fast, though. Suddenly nervous, he strained to identify the late charger through the dreary conditions. It was the 6 horse—one of the three he had played in exactas with the 1—and he, too, was 14-1.
Heartwood went on to win by a length and a half, but Vici held second. Between the $100 place bet on Vici and a $20 exacta with Heartwood over Vici, Kimove's total was now up to $4,700.
Still, there was work to do. Kimove was in 11th place with just that one race to go, and the leader was right around the $10,000 mark. Fortunately, one of his most preferred plays of the day was in the last race, #4 Ironclad, and he reminded himself of a lesson he had learned over the years while playing live-money contests.
"If you get to your race, pound your numbers," he laughed. "If it loses, you will lose, of course, but if it comes in then, yes, you will win the tournament. In the past, in similar situations, I've messed up by playing too many $2 and $4 triactor combinations. This time, I said to myself, 'Make it count!'"
Kimove decided he'd bet $2,700 and put the other $2,000 aside so he could return home with a nice sum even if he lost. Now the battle was to figure out how to make that $2,700 with Ironclad count the most.
He arrived at a play consisting of $900 to win and $400 to place on Ironclad, a $350 exactor on 4-8, $250 on 8-4, a $50 exactor box on 4-6-8, $20 exacta wheels keying the 4 with all, and $5 triactors keying 4 and 8 in the first and second slots with all; and also in the first and third slots with all.
Sent off at 5-1, Ironclad "chased the pace early, swung into the six-path in the far turn, drove past the leaders in the stretch and drew away in the final stages," according to the Equibase chart. Holding the others safe for second was #8 Shareholder Value. Between the $12.40 win mutual, a $6.00 place price, the $2 exactor payoff of $43.20, and the $1 triactor return of $226.40, Kimove turned his $2,700 race investment into nearly $17,000. His final total: $19,963. Kimove was a going-away winner!
"I certainly didn't expect to win it," he said, "but I got myself in a position to do well and I did. Sometimes you get to the end of a contest, and nothing jumps out at you. This time, it did. I liked everything about that horse [Ironclad]. He had a no-name trainer, Jordan Blair, but he'd been a winner, he was by Midshipman, the jockey Brian Hernandez was having a good day and had jumped off the 6 to ride the 4. Everything just fell into place."
In addition to his cash winnings, Kimove is now assured of his first BCBC appearance and his sixth at the NHC. Four of those previous NHC berths were earned in tournaments at Woodbine.
"I don't think I've missed one since 2012," Kimove said of Woodbine's annual contests. "I've never finished first there—Keeneland was my first win ever—but I've done pretty well at Woodbine. I'll certainly be there again this year."
When handicapping in a tournament—or just playing the races during an afternoon at the track—Kimove primarily looks for one thing.
"Change," he said. "It's really key for me. It can be a trainer change, or it can be jockey, class, surface, Lasix, equipment, distance or some other change. When you see a horse showing 10 [past performance] lines doing the same thing every time, he'll probably do the same thing the 11th time. I'm on the lookout for horses showing some sort of change."
One thing Kimove hopes never changes is his close relationship with fellow contest players like Ray Arsenault, Stephen McNatton, Gerry McLenin and Lawrence Katz. While the Keeneland victory was sweet, such triumphs are not what he treasures most about tournament play.
"Keeneland was a great experience. I guess it justifies me as someone who can compete with the big guys. First and foremost, though, I'm blessed and proud to have two daughters like Cindy and Kaitlin," he said. "And Ray, Steve, Gerry and Lawrie are like family too. We just click. One time Cindy came out to Las Vegas with me for the NHC. Racing isn't her thing, but she saw me out there in the contest setting having fun hanging around with those guys, and she said to me, 'Now, I can see why you like doing this so much.'
"That's what it's all about for me."
TOURNAMENT NEWS
You can meet John Kimove—and test your skills against him and Ontario's other many formidable handicappers—in the four horseplayers tournaments scheduled at Woodbine in 2018.
First up on the calendar is the Woodbine Spring Meet Horseplayers Tournament on June 16. The entry fee is just $150, and two National Horseplayers Championships (NHC) packages will be up for grabs.
On July 21 comes the Woodbine Mid-Summer Horseplayers Tournament. Two more NHC spots will be on offer at this competition and the entry fee for this annual event has been lowered in 2018 to $250.
The lone-two-day competition on the 2018 docket is the August 25-26 Woodbine Weekend Horseplayers Tournament, where four NHC seats and one Breeders' Cup Betting Challenge entry await at the end of the contest's rainbow. Here, again, the entry fee has been lowered for 2018—just $350.
Woodbine saves the best—and the biggest—for last with the Woodbine Mile Horseplayers Tournament. Details and prizes for this contest are still pending, but the date is firmly set: September 15. We hope you can join us at one or all!
***
Eric Wing is the Communications Director at HorseTourneys and the longtime emcee at the National Handicapping Championship. Prior to joining HorseTourneys, Wing headed up Communications at the National Thoroughbred Racing Association and The New York Racing Association. Wing's Player Profile will be published monthly on the last Friday of each month on woodbine.com.