AN EARLY LOOK AT THE PROBABLE FIELD FOR THE $800,000 GRADE 1 PATTISON CANADIAN INTERNATIONAL (7)
Horse – Trainer – Owner – Jockey
Alounak (FR) – Waldemar Hickst – Darius Racing – Clement Lecoeuvre
Desert Encounter (IRE) – David Simcock – Abdulla Al Mansoori – Andrea Atzeni
Nessy – Ian Wilkes – Sierra Farm – Chris Landeros
Pivoine (IRE) – Andrew Balding – King Power Racing Co. Ltd. – Rob Hornby
Pumpkin Rumble – Kevin Attard – Al and Bill Ulwelling – Eurico Rosa Da Silva
Tiz a Slam – Roger Attfield – Chiefswood Stables Limited – Steven Bahen
Ziyad (GB) – Carlos Laffon-Parias – Wertheimer et Frere – Maxime Guyon
AN EARLY LOOK AT THE PROBABLE FIELD FOR THE $600,000 GRADE 1 E.P. TAYLOR STAKES (8)
Horse – Trainer – Owner
Durance (GER) – Peter Schiergen – Gestut Ebbesloh
Holy Helena – James Jerkens – Stronach Stables
Imperial Charm (GB) – Simon Crisford – Sheikh Mohammed Obaid Al Maktoum
Platane (GB) – Carlos Laffon-Parias – Wertheimer et Frere
Red Tea (GB) – Joseph O'Brien – Capel Street Syndicate
Secret Message – Graham Motion – Madaket Stables LLC, Heider Family Stables LLC, ERJ Racing LLC, Elayne Stables and Steven Bouchey
Si Que Es Buena (ARG) – Graham Motion – Takaya Shimakawa
Starship Jubilee – Kevin Attard – Blue Heaven Farm LLC
AN EARLY LOOK AT THE PROBABLE FIELD FOR THE $250,000 GRADE 2 NEARCTIC STAKES (10)
Horse – Trainer – Owner
Admiralty Pier – Barbara Minshall – Hoolie Racing Stable LLC and Bruce Lunsford
Blind Ambition – Mark Casse – Gainesway Stable
Boreal Spirit – Jennifer Shafer – ShayD Lane Farm
City Boy – Michael Keogh – The Estate of Gustav Schickedanz and Donald Howard
Ikerrin Road (IRE) – Vita Armata – Alpine Stable Ltd.
Lookin to Strike – Mark Casse – Gary Barber
Richiesinthehouse – Larry Rivelli – Richard Ravin and Patrica's Hope LLC
Sable Island – Gordon Colbourne – Box Arrow Farm
Woody Creek (GB) – James Stack – Craig Bernick
Yorkton – Stuart Simon – Chiefswood Stables Ltd.
ATTITUDE, AGILITY AND ABILITY: ZIYAD HAS IT ALL… AND THEN SOME
TORONTO, October 8, 2019 – Ziyad, a four-year-old son of Rock of Gibraltar, brings a rock-steady record, plenty of personality, and winning form to Saturday's Grade 1 $800,000 Pattison Canadian International, at Woodbine.
Owned by Wertheimer et Frère, the British-bred will look to make it two straight scores when he goes postward in the 1 ½-mile turf event run over the E.P. Taylor Turf Course.
Trained by Carlos Laffon‑Parias, Ziyad showed great gumption in galloping to a half-length triumph in the Group 2 Lucien Barriere Grand Prix de Deauville, on August 25.
It was the first victory on the campaign for the dark bay, who also has a trio of seconds, and a third from six starts in 2019. On June 30, Ziyad just missed taking the Group 1 Grand Prix de Saint Cloud, losing by a neck to Coronet in the 1 ½-mile event contested on 'good/soft' ground.
"I was pleased they [the Nagano Gold team] put in a pacemaker because otherwise there was a worry that he would have to do all the work again," noted the Wertheimers' racing manager Pierre-Yves Bureau after the Deauville performance. "On the line of his run in the Grand Prix de Paris, we were expecting a good run and so we're very happy."
With 13 top-three efforts in 16 lifetime races, Ziyad has displayed a competitive edge – with the exception of a 10th and 11th-place finish – throughout his career.
Ziyad's also shown a penchant for giving his riders a rough and tumble experience.
"He's a very delicate horse," said travelling assistant Stephane Duprey. "He throws his riders around. When he's in good form, he's terrible."
Showcasing a 2-4-1 record from nine stakes appearances, Ziyad will certainly garner his fair share of support on the tote board for Saturday's International.
He'll also look to deliver his connections another 'double.' Last year, Ziyad won an allowance race at Nantes in July, and then one month later, he was back in the winner's circle via a victory at Deauville in the Michel Houyvet Listed Stakes.
The gelding will have the services of Maxime Guyon for the International. The native of France has 1,878 career wins.
Guyon, aboard for the Houyvet victory and Saint Cloud runner-up finish, will no doubt have his hands full this weekend.
"Ziyad's cheeky, but not nasty," said Duprey.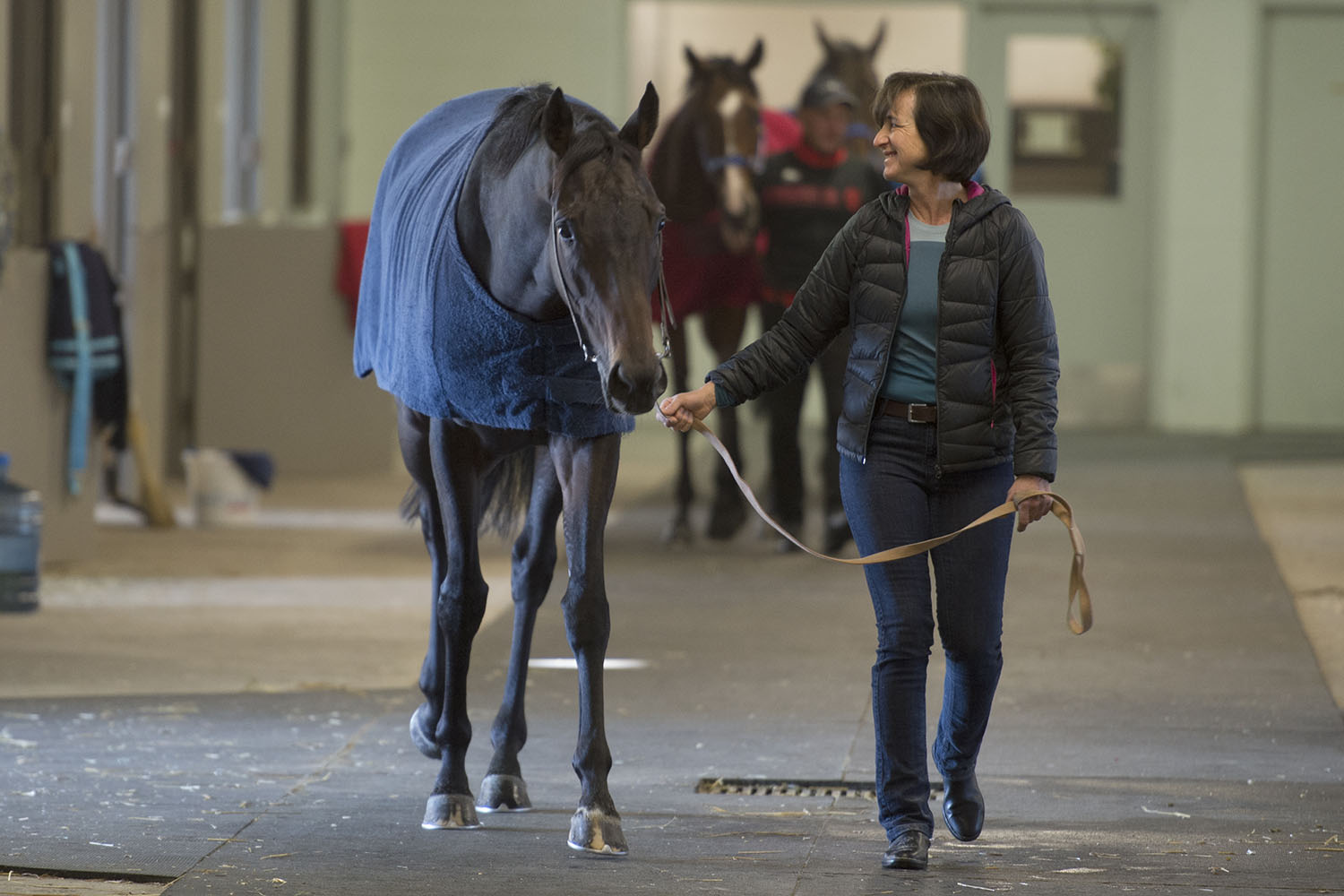 ALOUNAK ARRIVES FOR PATTISON CANADIAN INTERNATIONAL
TORONTO, October 8, 2019 – Germany has yet to field a winner of the Grade 1 Pattison Canadian International, with Paolini coming closest as the half-length runner-up behind Mutamam in 2001.
On Saturday, the French-bred but German-owned and trained Alounak will be looking to make the breakthrough for his adoptive homeland when he goes postward in search of his most important victory to date in the $800,000, 1 ½ mile turf race for three-year-olds and upward.
"We do like this race at the end of the European season," said trainer Waldemar Hickst, in remarks translated by Holger Faust, racing manager for the colt's owner Darius Racing.
''So yes, Alounak was always scheduled to run this race. He could run once more after Sunday, but we will decide that afterwards."
The four-year-old son of Camelot comes into the Canadian International off his first graded stakes win, a head score in a Group 3 at Baden-Baden. The colt was cutting back to 1 ¼ miles that day.
"He ran good on every distance, 1 1/4 miles up to 1 3/4 miles," said Hickst.
Two weeks earlier, Alounak had tackled Group 1 company in the Longines Grosses Preis von Berlin, where he finished fifth but was beaten just four lengths. Group 1 stakes winner Old Persian, who ran third there, came to Woodbine to score impressively in the Grade 1 Northern Dancer and is Breeders' Cup Turf-bound.
"We were not so happy with the tactic that day, with a better trip he might have even finished closer to Old Persian," said Hickst, who believes the spacious E.P. Taylor Turf Course will suit Alounak's style of running.
"He likes to be with the lead but also has some turn of foot," said Hickst, adding that his charge is versatile in terms of going.
"Alounak likes firm ground as you could see in Baden-Baden when winning the Group 3 in August, but he can also handle soft ground."
Hickst also thinks that Alounak's disposition will help him cope with the demands of his first international journey.
"He is an easy fellow, a lovely horse and we are very happy that he is back for the big races," said Hickst. "He was injured last year, and it took him some time to get his confidence back, so we are very excited about his appearance in Toronto."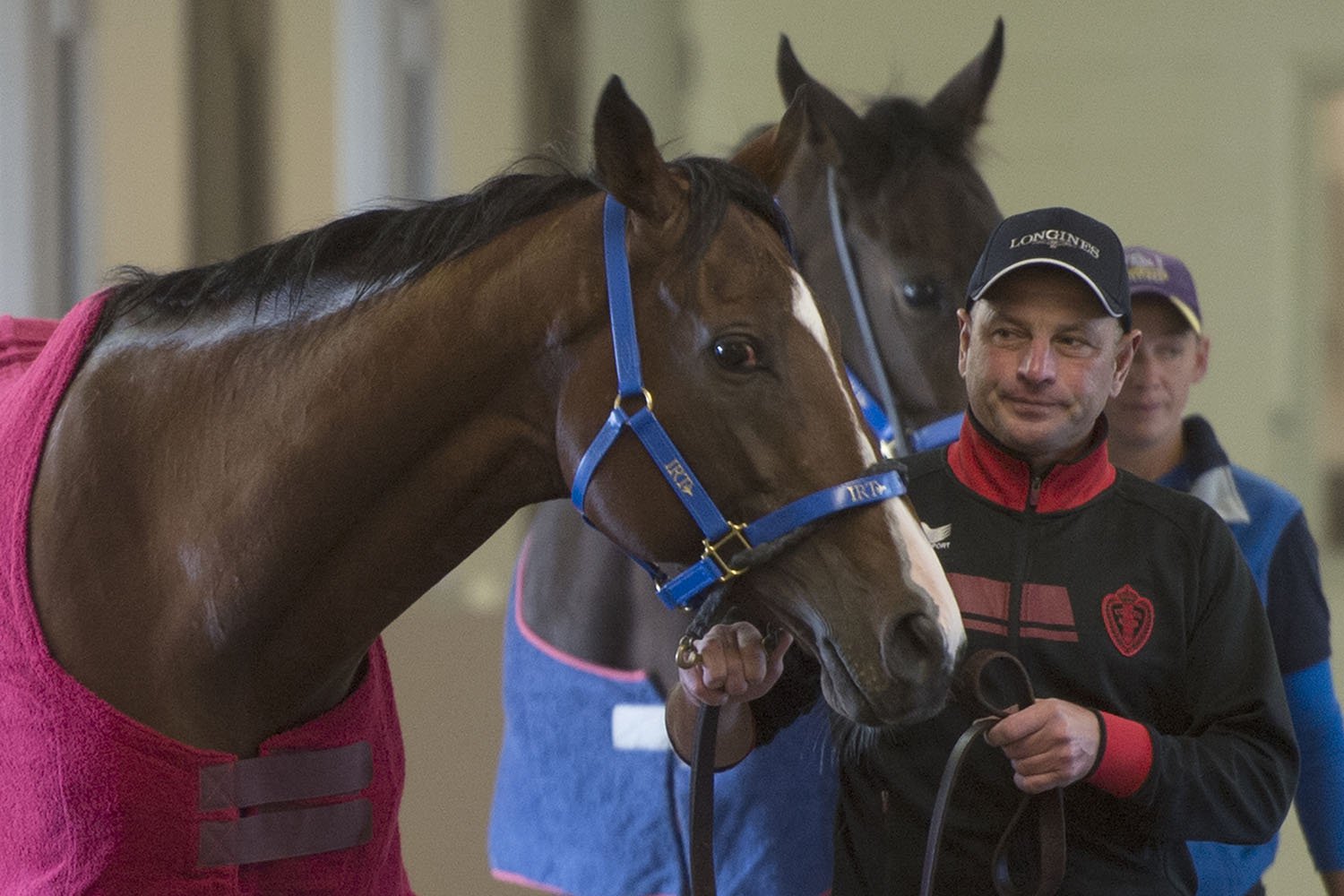 Ziyad and Alounak checked into the quarantine barn at Woodbine just before midnight on Monday. Also on the flight from Amsterdam were Pivoine for the Canadian International; Red Tea, Platane, and Durance for Saturday's Grade 1 E.P. Taylor; and Woody Creek for the Grade 2 Nearctic.
Desert Encounter, the defending Canadian International champion, and Imperial Charm, here for the E.P. Taylor, have been on the grounds since late Saturday afternoon and took some light exercise over the Tapeta surface for the second straight morning.
Exercise rider Pep Singh did the honours on Desert Encounter, who is here with Ian Russell, a travelling head lad for trainer David Simcock. Seamus O'Gorman rode Imperial Charm, here with assistant Les Reynolds for conditioner Simon Crisford.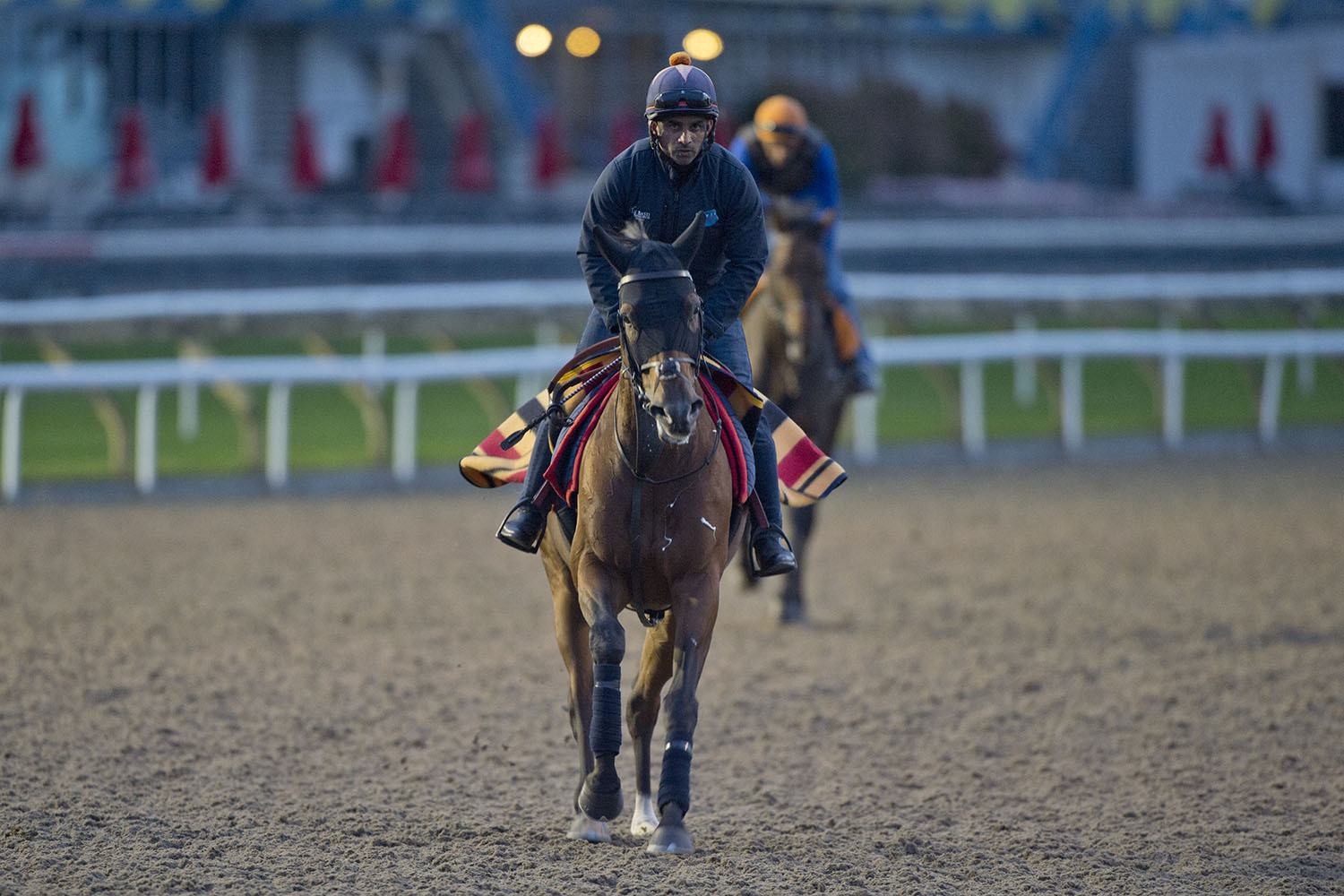 Andrea Atzeni, returning to ride Desert Encounter, also upset last year's E.P. Taylor with Sheika Reikha and has the mount on Imperial Charm this time around.
Imperial Charm, a three-year-old, has won just once but has ended in the top three in seven of her eight attempts. The English-bred had Atzeni in the irons when she turned in two solid efforts in Group 1 company at Longchamp this spring, finishing a close fourth in the Group 1 Poule d'Essai des Pouliches and third in the Group 1 Prix Saint Alary.
Pivoine is trained by Andrew Balding, whose successes here include the 2003 Canadian International with Phoenix Reach, the 2017 E.P. Taylor with Blonde Me, and the 2005 Play the King with Vanderlin. The Irish-bred five-year-old gelding is coming off a second-place finish behind Desert Encounter in the Group 3 Duty Free Legacy Cup at Newbury. Madeline O'Meara and Cheten Singh will oversee Pivoine's final preparations here.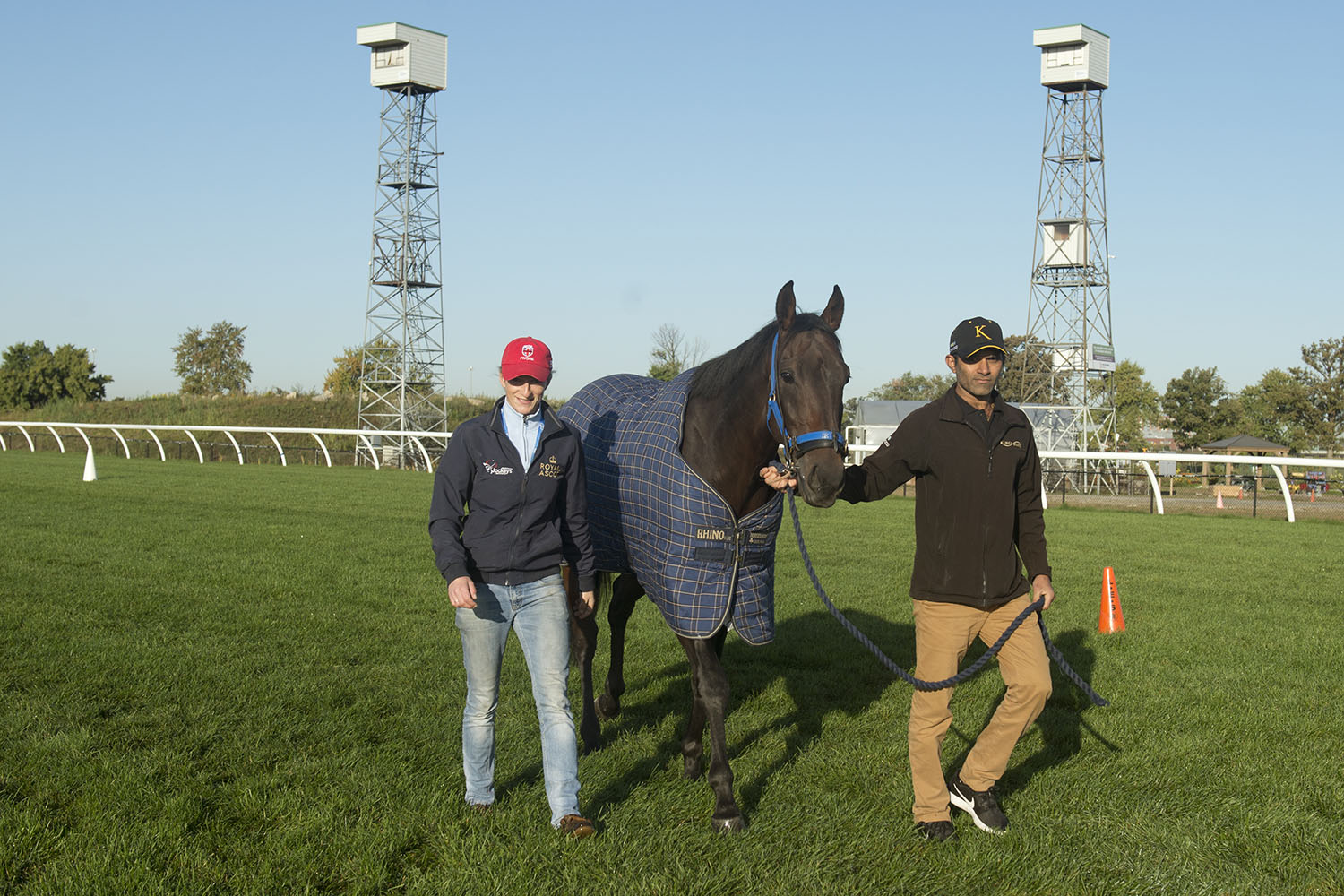 Red Tea, trained in Ireland by Joseph O'Brien, is here with Gary O'Connor, the traveling head who was at Woodbine with Vitalogy when that two-year-old finished a good third in last month's Summer Stakes. The six-year-old English-bred became a Group 2 winner in the 1 1/8-mile Kilboy Estate Stakes at the Curragh two starts back and followed up with a third in the Group 1 Prix Romanet won by the talented Coronet.
Platane, a stablemate of Ziyad's, is a lightly-raced three-year-old who is a Group 3 winner and has been facing some formidable company in France. Katrin Hozang will join Duprey in putting the finishing touches on the Laffon-Parias runners.
Durance, from Germany, is here with travelling assistant Sabrina Krusemann. The homebred three-year-old, trained by Peter Schiergen, won a Group 3 over 1 3/8 miles at Hamburg this spring and is coming off a second-place finish in a 1 ½ mile Group 2 race at Baden-Baden.
Schiergen was represented by Quijano, third-place finisher in the 2007 Canadian International in his first of three consecutive appearances in the race. Quijano also finished second in the 2008 running of the Grade 1 Northern Dancer and third in the following renewal.
Woody Creek, a three-year-old, will be looking to become the first filly to win the Grade 2, $250,000 Nearctic since Serious Attitude upset the 2010 edition of the six-furlong turf race for three-year-olds and upward. Eimear McHugh, an assistant to Woody Creek's trainer James Stack, is here with the filly.
REMINDER: PATTISON CANADIAN INTERNATIONAL POST POSITION DRAW SET FOR TOMORROW
The post position draw and media luncheon for the 82nd running of the $800,000 Pattison Canadian International (Grade 1) will be held tomorrow (Wednesday, Oct. 9) at 12 noon in the Trackside Clubhouse. Former NHL player and Toronto Maple Leafs alum Carlo Colaiacovo will assist with the proceedings as guest drawmaster.