EARLY LOOK AT THE GRADE 1 PATTISON CANADIAN INTERNATIONAL (13)
Horse – Owner – Trainer – Jockey
Arklow – Donegal Racing, Bulger, Joseph and Coneway, Peter – Brad H. Cox – TBA
Bandua – Calumet Farm – Jack Sisterson – Adam Beschizza
Desert Encounter (IRE) – Abdulla Al Mansoori – David Simcock – Harry Bentley
English Illusion – 4U Thoroughbred Racing Stable Inc. – Sylvain Pion – Rafael Hernandez
Focus Group – Klaravich Stables & William H. Lawrence – Chad C. Brown – Jose Ortiz
Funtastic – Three Chimneys Farm – Chad C. Brown – John Velazquez
Johnny Bear – Colebrook Farms and Bear Stables, Ltd. – Ashlee Brnjas – Luis Contreras
Khan (GER) – Darius Racing – Henk Grewe – Clement Lecoeuvre
Markitoff – Three Diamonds Farm – Michael J. Maker – Eurico Rosa Da Silva
Mekhtaal (GB) – Al Shaqab Racing – H. Graham Motion – Alan Garcia
Spring Quality – Augustin Stable – H. Graham Motion – Edgar Prado
Thundering Blue – Clive Washbourn – David Menuisier – Fran Berry
Tiz a Slam – Chiefswood Stable – Roger L. Attfield – Steven Bahen
EARLY LOOK AT THE GRADE 1 E.P. TAYLOR STAKES (9)
Horse – Owner – Trainer – Jockey
Elysea's World (IRE) – Sheep Pond Partners and All Pro Racing LLC – Chad C. Brown – Joe Bravo
Golden Legend (FR) – Mrs. Henri Devin – H.F. Devin – Alexis Badel
Pollara (IRE) – Peter M. Brant and Allen Stable Inc. – Chad C. Brown – Irad Ortiz Jr.
Proctor's Ledge – Patricia L. Moseley – Brendan P. Walsh – John Velazquez
Santa Monica (GB) – Mrs. John Magnier, Madaket Stables LLC and Deron Pearson – Chad C. Brown – Jose Ortiz
Sheikha Reika (FR) – Sheikh Mohammed Obaid Al Maktoum – Roger Varian – Andrea Atzeni
Sky Full of Stars (GER) – Gestut Karlshof – Henk Grewe – TBA
Starship Jubilee – Soli Mehta and Kevin Attard – Kevin Attard – Luis Contreras
Summer Luck – Gary Barber – Mark E. Casse – TBA
Hall of Famer Roger Attfield seeks first Pattison Canadian International win
Tiz a Slam did not win the Northern Dancer, the Grade 1 turf race over the Pattison Canadian International course and distance which is the major local prep for the $800,000 main event at Woodbine. But the Chiefswood Stable homebred, who is conditioned by Roger Attfield, was beaten just two lengths in a sixth-place finish and played a crucial role in the outcome.
With Steven Bahen in the irons, Tiz a Slam forced the pace of the favoured English invader Hawkbill, who finally gave up the ghost to finish eighth in the field of 10.
"He sort of got messed by the speed horse, although I think we got blamed for that horse not running well," said Attfield, alluding to the fact that Hawkbill's rider Jamie Spencer had been unhappy with Tiz a Slam's close attention.
"We wanted to sit just about a length off that horse, and then that horse started to take us out right from the get-go–to the middle of the track, almost–going up the hill. Then my horse got on the bridle, and never really relaxed after that and we were sort of running in tandem, almost, the whole way.
"We really killed each other, but we killed him more than he killed us.  We were just a target for everybody else."
Tiz a Slam will be looking to give Attfield, Chiefswood and Bahen their first Canadian International wins and showed no signs of flagging when breezing five furlongs in a bullet :58.40 on a "good" turf training course last Sunday.
"It was a very good, solid work," said Attfield.
Tiz a Slam displayed talent from the outset of his career, winning on the Tapeta his debut at age two and becoming a stakes winner later that year in the restricted Cup and Saucer on the turf.
But the Tiznow colt, who went on to finish second in the following year's Queen's Plate and to win the Grade 3 Ontario Derby, can still be defined as a late-bloomer as he has been in the best consistent form of his career in his recent forays.
"He's a big, big, still-growing horse," said Attfield. "I think he's just starting to mature now. He can play now, a little bit. He's got some coordination– he never did, all his life. Some horses take a lot longer to come to themselves. When I first got him, I really didn't believe that I'd ever start him as a two-year-old."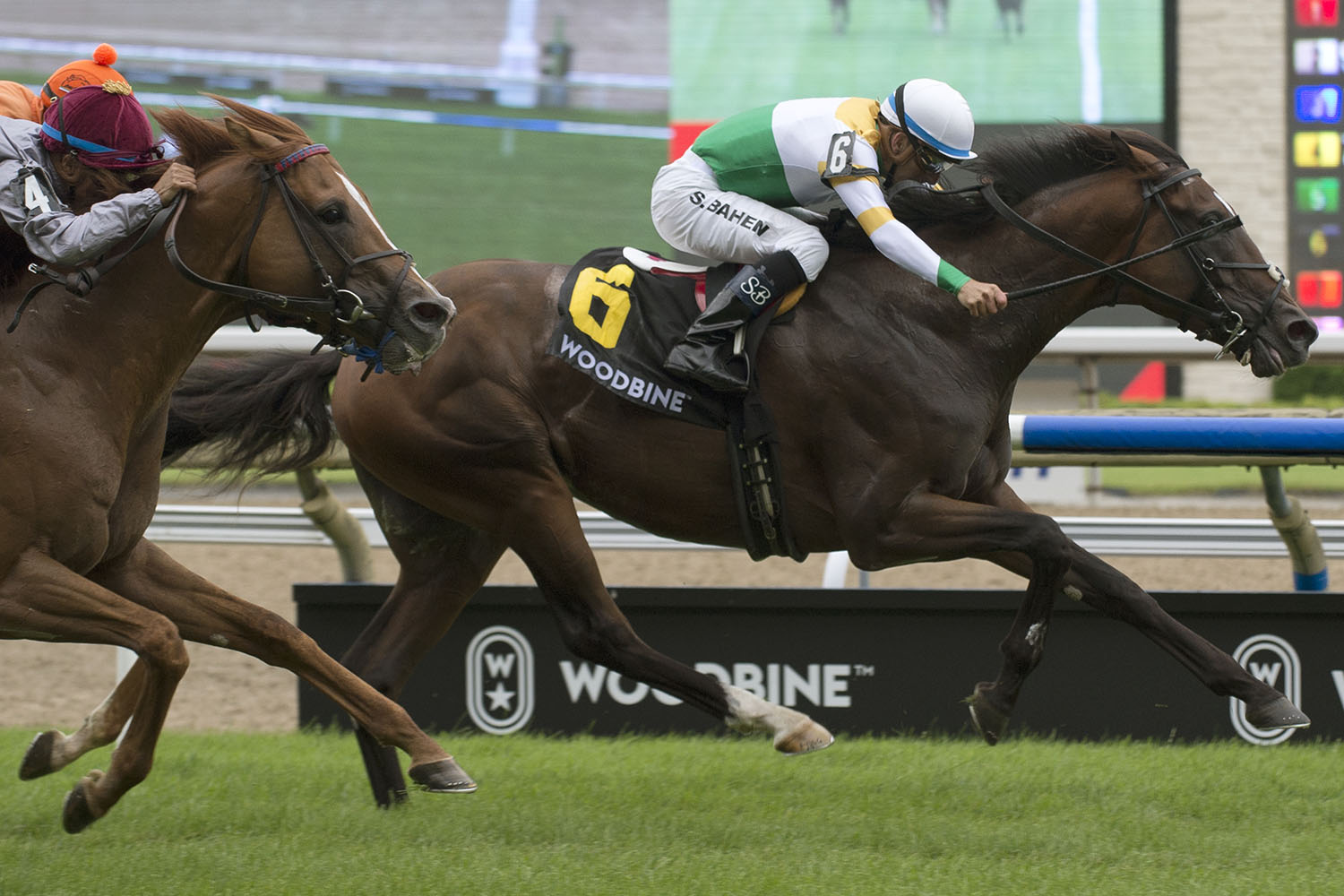 Tiz a Slam's recent resurgence has coincided with a take-no-prisoners approach under new rider Bahen.
"He has a big, big, strong stride and he needs to be able to use that stride," said Attfield. "You can't check him in a race and then get him going again. He doesn't have to be on the lead but if he's on the lead, and he's striding well, that's all I want to see."
And that is exactly what Attfield did see when Tiz a Slam led throughout both the Grade 3 Dominion Day on the Tapeta and the Grade 2 Nijinsky on the turf with Bahen riding to the trainer's instructions.
"He enjoys getting out in a big rhythm and then he just keeps that rhythm up," said Attfield. "He doesn't have a really big turn of foot."
***
Johnny Bear and English Illusion, the first and third-place finishers in the Northern Dancer, both had their final major tune-ups for the Pattison Canadian International on Friday morning, breezing five furlongs on a "good" dirt training track.
Luis Contreras was aboard Johnny Bear, who went in 1:02.20, while Rafael Hernandez guided English Illusion through a 1:03.60 clocking.
Boxes checked: Markitoff ready to roll in Pattison Canadian International
Markitoff's first test over the Woodbine turf resulted in a fourth-place finish, albeit just one-length out of top spot. On October 13, the connections of the four-year-old son of Giant's Causeway hope the second time at the Toronto oval is the charm, this time in the Pattison Canadian International.
On September 15, the Three Diamonds Farm colour bearer contested the Grade 1 Northern Dancer Turf Stakes, just missing out on the third spot (English Illusion, who'll also run in the International) and finishing a neck ahead of Patterson Cross.
Now, Markitoff, with Woodbine's leading rider Eurico Rosa da Silva getting the call, takes his shot at Grade 1 glory.
Nolan Ramsey, assistant trainer to Mike Maker, is buoyed by how the chestnut is coming into the 1 ½-mile turf classic.
"He had a little issue in the summer and we had to give him a couple of weeks off," said Ramsey. "We brought him back and he wasn't quite ready to go at Saratoga (fourth, on August 25), but he still ran a pretty good race against some nice horses. Coming into the Northern Dancer, we expected him to improve.
"We do think 1 ½ miles is his best distance. We only got beat a length in the Northern Dancer. He's doing absolutely great and seems to like it up here. He's good and happy. He holds his weight well."
Ramsey hopes Markitoff can throw some of that weight around once the gates open on the 81st edition of the International.
"I like his demeanor," he said with a laugh. "He's a pretty tough gallop. He knows he's the big horse. It takes a special rider to get along with him. He's pretty tough. He likes to test you, so I kind of like his attitude."
Having the services of da Silva, Woodbine's leading rider and multiple Sovereign Award winner as Canada's top jockey, certainly boosts Markitoff's chances.
Last year, the Brazilian-born rider partnered with Bullards Alley to pull the upset in the International.
"I think the Northern Dancer was one of Markitoff's better races and I expect him to improve off of that," said Ramsey. "I think Eurico will fit the horse really well and obviously, he knows this track extremely well, and won the race last year. I think all the boxes are checked off and we're looking really good."
Twenty-nine four-year-olds have triumphed in the International (since 1958), with Erupt, in 2006, being the most recent to take all the spoils.