EARLY LOOK AT THE GRADE 1 PATTISON CANADIAN INTERNATIONAL (13)
Horse – Owner – Trainer – Jockey
Arklow – Donegal Racing, Bulger, Joseph and Coneway, Peter – Brad H. Cox – TBA
Bandua – Calumet Farm – Jack Sisterson – Adam Beschizza
Desert Encounter (IRE) – Abdulla Al Mansoori – David Simcock – Andrea Atzeni
English Illusion – 4U Thoroughbred Racing Stable Inc. – Sylvain Pion – Rafael Hernandez
Focus Group – Klaravich Stables & William H. Lawrence – Chad C. Brown – Jose Ortiz
Funtastic – Three Chimneys Farm – Chad C. Brown – John Velazquez
Johnny Bear – Colebrook Farms and Bear Stables, Ltd. – Ashlee Brnjas – Luis Contreras
Khan (GER) – Darius Racing – Henk Grewe – Clement Lecoeuvre
Markitoff – Three Diamonds Farm – Michael J. Maker – Irad Ortiz Jr.
Mekhtaal (GB) – Al Shaqab Racing – H. Graham Motion – Alan Garcia
Spring Quality – Augustin Stable – H. Graham Motion – Edgar Prado
Thundering Blue – Clive Washbourn – David Menuisier – Fran Berry
Tiz a Slam – Chiefswood Stable – Roger L. Attfield – Steve Bahen
EARLY LOOK AT THE GRADE 1 E.P. TAYLOR STAKES (9)
Horse – Owner – Trainer – Jockey
Elysea's World (IRE) – Sheep Pond Partners and All Pro Racing LLC – Chad C. Brown – Joe Bravo
Golden Legend (FR) – Mrs. Henri Devin – H.F. Devin – Alexis Badel
Pollara (IRE) – Peter M. Brant and Allen Stable Inc. – Chad C. Brown – Irad Ortiz Jr.
Proctor's Ledge – Patricia L. Moseley – Brendan P. Walsh – John Velazquez
Santa Monica (GB) – Mrs. John Magnier, Madaket Stables LLC and Deron Pearson – Chad C. Brown – Jose Ortiz
Sheikha Reika (FR) – Sheikh Mohammed Obaid Al Maktoum – Roger Varian – Andrea Atzeni
Sky Full of Stars (GER) – Gestut Karlshof – Henk Grewe – Adam Beschizza
Starship Jubilee – Soli Mehta and Kevin Attard – Kevin Attard – Luis Contreras
Summer Luck – Gary Barber – Mark E. Casse – Eurico Rosa Da Silva
European stars invade Woodbine for Pattison Canadian International
Touching down in Toronto late Monday evening, Pattison Canadian International contender Thundering Blue had his first feel of Woodbine Racetrack on Tuesday morning with assistant trainer Kim Johnstone aboard.
"I think it was a massive culture shock for him," said Johnstone. "At home, the gallops, we don't really share them, he's on his own and he never really sees other horses.
"So I took him out this morning and he was like, 'What is this?' He was a bit shocked, bless him, but he will be fine tomorrow. He's like that, he will take one day to just check it all out and he will be fine tomorrow."
Thundering Blue, a five-year-old grey horse trained by David Menuisier is coming off a win in the Group 3 Stockholm Cup just over two weeks ago. Johnstone indicates the race at Bro Park was a good prep before he tackles the turf course at Woodbine.
"Obviously, we don't have courses as tight as this in the U.K.," said Johnstone. "So, that's why Sweden was a massive thing for us, to take him over there, because I think the track is quite similar (to Woodbine). We were super pleased with the way he handled Sweden, so we are pretty confident with him handling the track here."
The flashy son of Exchange Rate has been in Menuisier's yard since he was two. Johnstone, Menuisier's wife, has overseen the horse's care as well as watched his career blossom over the last two years. Not surprisingly, she's formed a close bond with the horse she simply calls 'Blue.'
"He's a gentleman," said Johnstone. "He is a good horse. He is so good-looking and he knows it. He's cheeky, but he's got the right amount of cheekiness.
"He makes me laugh everyday because everyday he does something and is just a character but without being over the top with it. He wouldn't hurt a fly, but he's got that certain amount of cheekiness on top of it. I don't think I will ever meet another horse like him, I hope I do but I don't think I will."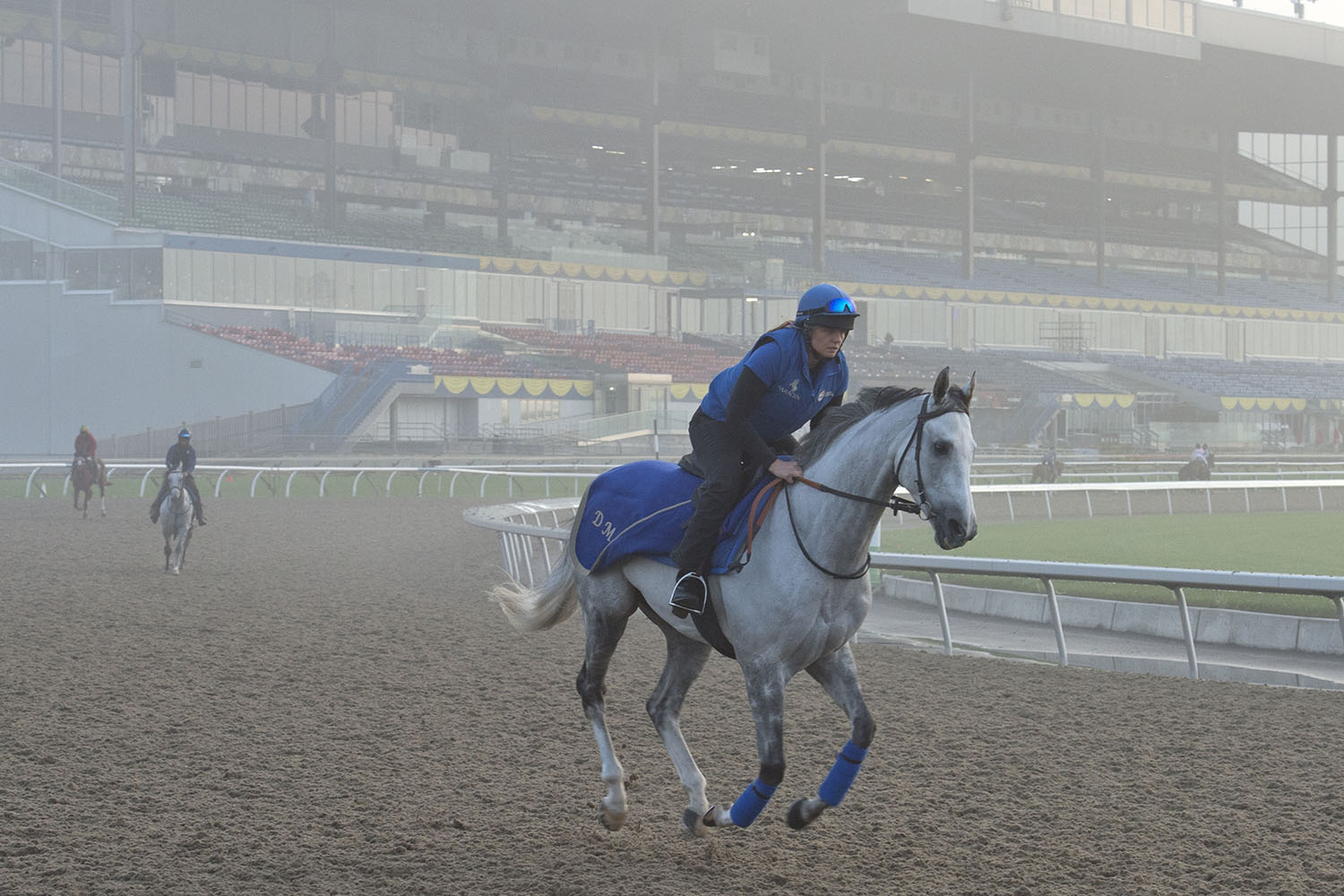 Johnstone will lightly train 'Blue' over the turf heading into the International.
"I just hacked him today," she said. "Tomorrow he will probably roughly do the same, just have a little hack around. On Thursday, David will be coming over and we might give him a bit more of a canter. We don't want to do too much with him when he's just travelled. And then Friday, we would like to give him a little bit of a breeze just to remind him what he's here for and then he will run on Saturday."
Grewe trainees Khan and Sky Full of Stars ready for North American debuts  
Another Pattison Canadian International contender that arrived on the heels of the long weekend is Khan. Coming off a stellar win in the Group 1 Preis von Europa in late September, the bay colt arrived with E.P Taylor contender and stablemate Sky Full of Stars.
Both horses, trained by Henk Grewe, made their way from Cologne to Canada via Amsterdam with assistant trainer Renata Beltermann and travelling lass Marina Fink.
While the Atlantic crossing was a first for both horses, Beltermann believes Khan handled the journey well.
"He is really relaxed," she said. "He is a good travelling horse, he looks good and we will see on Saturday."
The four-year-old bay colt has raced primarily across Germany in several Group 1 and 2 races since the spring. His impressive win in the Group 1 Preis von Europa last month, where the starters began without a starting gate and on a right-handed course, should be testament to the colt's versatility as well as staying power.
"On that day, it was raining and it was very soft ground and they had no chance to go for the gates on the racetrack. He loves soft ground. And that's what we hope that it can rain here – for soft ground. He is two classes better on soft ground."
Meanwhile, his travelling companion, the four-year-old grey filly Sky Full of Stars, is not opposed to running on firmer ground in the 1 1/4-mile E.P. Taylor Stakes, the Grade 1, $500,000 stakes for fillies and mares which is the companion feature on Saturday's program.
Beltermann notes the filly is comfortable running on either a firm or yielding turf course.
Sky Full of Stars will face off against eight other competitors including French filly Golden Legend. Trained by H.F. Devin, the four-year-old bay made her way from France to Canada this week with assistant trainer Benoit Peyrot.
Golden Legend is fresh off a win in the Group 3 La Coupe de Maisons-Laffitt and Peyrot is quick to point out that she defeated males there.
"She won in front of Robin of Navan," said Peyrot. "A good English horse, he won a Group 1 at two years old, he is very hard horse."
Despite the long trek to Toronto, Peyrot is happy with how his charge has travelled.
Moreover, like his Euro counterparts, he acknowledges that turf conditions will also factor into her performance.
"She won when it was soft and she won when it's been hard, but she would prefer soft ground."
It's no 'Illusion': Ontario-bred English Illusion ready for International stage
An Ontario-bred claimer, four local owners, an astute conditioner and a Grade 1 dream – English Illusion and his connections are hoping for a storybook finish in the Pattison Canadian International.
Owned by 4U Thoroughbred Racing Stable (Ron McRae, brothers Dave [Ron's son-in-law] and Steve Robinson, along with Rob Loescher [Dave and Steve's cousin]), English Illusion, claimed by Pion for $45,000 in August, will now get his shot at glory in the Grade 1, 1 1/2-mile International on October 13.
While Pion wasn't thinking of contesting an $800,000 fall turf classic when he brought the horse into his barn on the Woodbine backstretch, the career path of English Illusion took his connections in a direction they still can't quite believe.
"I like my distance horses," he said. "And he's a good horse. I paid attention to him when he came over to the paddock. The main thing that I was thinking about was the Turf Endurance Series (a four-leg grass series with expanding distances, contested at Woodbine). I have Artistico – who leads the Series – and I thought if anyone else is going to come and beat him, it could be English Illusion. We could have gone there and he would have been an all-star, but we had the Halton Stakes."
Sent off at 8-1 in the Halton, English Illusion won the grass event by 1 ½-lengths in 2:29.72 over 'good' ground on August 29.
After that, it was a spot in the starting gate for the Grade 1 Northern Dancer Turf Stakes on September 15, where the Ontario-bred finished third to International foe Johnny Bear in the 1 1/2-mile race.
"After that race, everything went out the window with thoughts of the Endurance Series," said Pion with a laugh. "There was no more discussion about that. It didn't feel like a losing situation. I was very fortunate. He came from a great barn, a great trainer (Dan Vella) and good people who take great care of their horses. Sometimes it's a change of scenery that helps. Sometimes that works and sometimes it doesn't."
Pion's hoping his new stable star can come up with another big performance on the world stage this Saturday.
"He's coming into the race in really good shape or else I wouldn't be going," he said. "He's training well. I know the competition will be a lot tougher than the last one (Northern Dancer). He's earned the right to be here. I know there are some very good horses, but this is his home turf. They're going to have to run to beat him. He's no slouch. He works hard."
Woodbine-based rider Rafael Hernandez, who won the 2015 Queen's Plate with Shaman Ghost, will be aboard for the International.
Post positions to be drawn Wednesday for Pattison Canadian International
The post position draw for the 81st running of the $800,000 Pattison Canadian International (Grade 1) will be conducted tomorrow (Wednesday, Oct. 10) at Woodbine Racetrack with Toronto Maple Leafs alum Darcy Tucker serving as guest drawmaster.
Retired NHL player Darcy Tucker, a fan favourite who played with the Toronto Maple Leafs for nine seasons, will assist with the post position draw at the media conference, which will be held in the New Standardbred Paddock beginning at 12 noon and will be streamed live online at Woodbine.com.
Instant Cash Giveaways up for grabs Saturday at Woodbine
There will be $2,000 in Instant Cash Giveaways up for grabs on Pattison Canadian International Day. Horseplayers will have the chance to instantly win by placing a bet through any self-serve wagering terminal from 1 p.m. to 7 p.m.